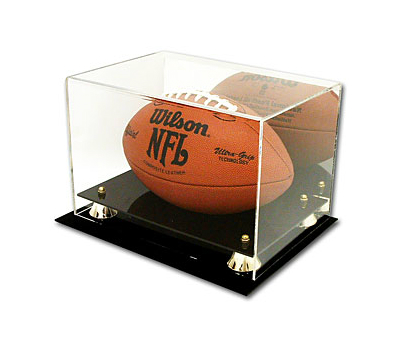 A significant number of football fans collect football memorabilia, although this realm also involves people who are collectors owing to the investment perspective. Football memorabilia can range from badges and caps, to clocks and magnets, to photographs and trading cards, to just about anything else associated with the game that commands some value. People who wish to buy football memorabilia are known to look for items based on different criteria, and while some simply buy memorabilia linked to their favourite players, some favour buying team-associated memorabilia, and others collect one particular type of memorabilia, players and teams notwithstanding.
Irrespective of the type of football memorabilia for which you are looking, you are presented with a plethora of alternatives when shopping on eBay, which includes all kinds of memorabilia linked with all of the top players and teams, and even those that do not do so well. Before you start buying football memorabilia on eBay, know how to differentiate between different types of memorabilia, learn about authenticity, and establish what else is required of a novice collector.
Types of Sports Memorabilia
Although the world of football memorabilia is wide ranging, just about anything of value can broadly be classified under three basic categories: officially licensed, limited editions, and collectibles.
Officially Licensed
Football memorabilia that falls under this category, as the name suggests, is licensed by the football body in question, which can be a local club, a league, the Football Association, FIFA, or other. Football memorabilia is looked upon as officially licensed when a professional body gives a business permission to use its trademark, logo, and images. When producing related memorabilia, and in such instances, these items come with tags or stickers specifying who the licensing body is.
Limited Editions
Limited edition products are those that have been produced in limited numbers, which often increases the value of such products, especially when the total number of produced items is on the lower side. When it comes to buying limited edition football memorabilia on eBay, looking for the total number of items produced is suggested, which can be used as some indication to arrive at the given product's rarity and worth. Limited edition items are generally known to come with certificates of authenticity.
Collectibles
Products that come without signatures and certifications are classified as collectibles, and these are comprised of signed replicas. Collectibles can include various products associated with the game, ranging from calendars to jerseys to footballs.
Verifying Authenticity
When shopping for football memorabilia on eBay, it is important that you pay attention to the authenticity aspect before you buy anything because even the seller may not be aware of whether the item in question is authentic or not. The good news is that you can expect to find different types of products that come with certificates of authenticity, and some even come with photographs to serve as proof of the signing sessions.
Certificates of authenticity, however, can be faked, which is why a number of leading businesses in this field have now resorted to using special tamper-proof holograms that cannot be replicated. Most modern certificates of authenticity normally come in the form of reflective holograms or paper slips, which carry individual numbers that help to link them to the products in question.
Why Are Certificates of Authenticity Important?
Various investigations have brought to light that almost half of the revenue in the field of autographed sports memorabilia is lost to counterfeiting and fakes, and certificates of authenticity help to add credibility to any given product. As a buyer, in addition to looking for a certificate of authenticity, you should also find out who issued the certificate of authenticity in question, because, in addition to being forged, they are issued by some less-than-reputable organisations as well.
Watch Out for Fake Signatures
Signatures can be faked, not just on paper, but even on products like jerseys, footballs, magnets, and so on; and there are various ways to do this. The use of an autopen, a device used to forge signatures by using a mechanical armature along with a pre-programmed pattern, is quite common in the forgery industry, and signatures produced by good autopens are not easy to detect. Instances of products carrying secretarial signatures, that is, players' signatures signed by their secretaries, are not uncommon, which can be hard to detect as well.
Preprints are also sometimes sold as originals, although they are fairly easy to detect, as is the case with instances of rubber stamp seals being passed off as original signatures. The quality of forgeries, when signatures are manually produced, can vary greatly, and while some forgers are great at their jobs, some forged signatures are pretty easy to detect.
The Internet can be used to good effect in trying to establish if you are dealing with a fake, which can be done by carrying out extensive research, interacting with fellow collectors, and finding out the worth of products before actually buying them.
Tips for Novice Buyers and Collectors
A good way to begin collecting football memorabilia is to collect as much information as you can about the realm that interests you. You can use the Internet to good effect in order to accomplish this, given that various websites and forums cater specifically to football memorabilia enthusiasts. Interacting with local football memorabilia collectors is another way to increase your knowledge. Know that you do not have to start buying by spending a lot of money. Establishing some kind of a budget at the onset is a good way to go since it keeps you from making impulse purchases.
When it comes to establishing the worth of any given item, referring to pricing guides is highly recommended, and many are easily available online. From time to time, you may find deals that seem too good to be true, and in such instances, following your gut feeling is suggested. However, what you should know is that seemingly great deals do not take too long to go south, which is why the importance of a reputable certificate of authenticity cannot be emphasised enough.
What Can You Expect to Find on eBay?
eBay is home to a wide variety of football memorabilia, which includes original and pre-printed autographs, badges and pins, journals and magazines, photographs, trading cards and stickers, and just about everything else of value you can associate with this sport. If you are looking for autographs, eBay gives you the option to search through signed balls, signed books, signed boots, signed cards, signed footballs, signed gloves, signed pennants, signed photos, signed prints, signed shirts, and signed trading cards. These comprise of players playing at different levels, ranging from lower division players to premiership players, and you can expect to find memorabilia signed by famous retired players as well. When it comes to how these original autographs are obtained, you can search through memorabilia where signatures were obtained personally, memorabilia signed at private screenings, and a number of uncertified alternatives as well.
Buying Football Memorabilia on eBay
eBay, as mentioned, gives you the ability to search through an assortment of football memorabilia, and in addition to the items mentioned, you can also expect to find bottle openers, ceramics and plates, figures, fixture cards and lists, handbooks and annuals, keyrings, lighters, medals, coins, menus, mouse mats, mugs, tankards, postal covers, postcards, records and CDs, scarves, towels, trophies, wristbands, and more.
When shopping on eBay, bear in mind that a number of sellers use this platform to sell their football memorabilia, and postage and handling costs vary from seller to seller. In addition, they do not follow any particular pattern when pricing their products, and extensive searches can result in you finding similar products, albeit priced differently.
The search box that can be found on every eBay page simplifies your search, and all that is required is that you type whatever you are looking for, and click on search. For example, if you are looking for a Manchester United signed shirt from the current season, typing "Manchester United signed shirt from current season" should do the trick.
Conclusion
Collecting football memorabilia has seen a significant boost owing to the online world's proliferation into people's everyday lives, with more and more people turning to websites like eBay to shop. Football memorabilia collectors are now given the ability to look for their favourite kind of memorabilia from the comfort of their homes, and acquiring seemingly rare memorabilia is no longer as difficult as it was a couple of decades ago. Irrespective of whether you wish to collect football memorabilia for passion or profit, bear in mind that many items can increase considerably in value, and as a result, nothing should be discarded or sold without suitable research.
If you wish to start buying sports memorabilia, remember that educating yourself is bound to hold you in good stead, and interacting with like-minded collectors and carrying out some online research can be great starting points. If you intend to spend any considerable sum of money, paying due attention to authenticity should go without saying. Lastly, irrespective of what you choose to invest in, make sure it is taken care of in the right manner, as this is something that helps extend the life of your football memorabilia collection.