No gift is complete without a gift tag that states who the gift is for and who the gift comes from. Gift tags are a great way to personalise and customise gift wrap, because they come in many styles, colours, shapes, and sizes. Choose the gift tags that best express the occasions or the recipients' personal tastes for gifts that look amazing on the outside and the inside.
Holiday Gift Tags

One of the most common types of gift tags is holiday tags. Christmas gift tags complement holiday gifts perfectly, and come in cheerful shades of red, green, blue, and white. There are tags embellished with Christmas trees, snowflakes, snowmen, stars, and candy, or pick shimmery silver or gold gift tags. Choose self-adhesive gift tags or string gift tags, or opt for tags that include Santa Claus, reindeer, or Disney characters. Stylish tags up the ante with glitter, sequins, beads, or cut-outs.
Personalised Gift Tags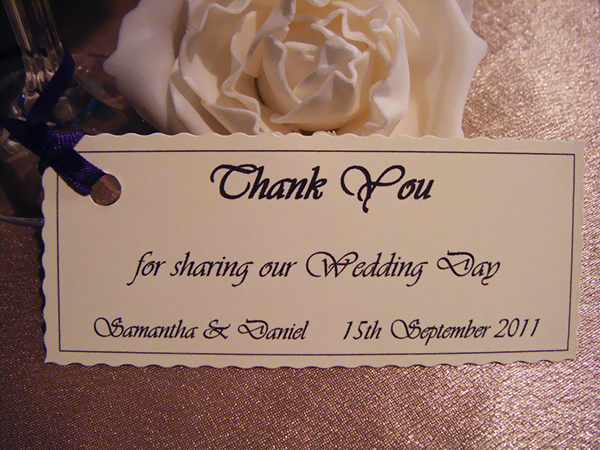 Create personalised gift tags to add a special touch to gifts for loved ones. Tags may include the recipients' names, the occasions, or your name as the giver. Personalised wedding gift tags are popular for adding to favour bags, and they include the couple's names and the date of the ceremony. Other customised gift tags may include your name or initials, and these tags are useful for any occasion. Purchase personalised gift tags specific to occasions, such as birthdays or holidays, or buy all occasion tags customised with your signature symbol, such as a heart, bird, cross, or some other decoration that represents your personality. Personalised Christmas tags make wrapping many gifts easy and quick, and they give gifts a polished look.
Wooden Gift Tags
Add a rustic, chic look to gifts with wooden gift tags. Shaped like hearts, rectangles, animals, apples, or flowers, wooden gift tags are fun to personalise using a number of materials, including fabric, paint, glitter, sequins, or beads. There are wooden tags for every personality and occasion, including Christmas wooden tags, feminine teapots or cupcakes, wooden stars, or horseshoes. Customise each tag according to the recipient and the occasion to make a truly one-of-a-kind gift tag.
Vintage Gift Tags
Charming and retro, vintage gift tags have an antique feel and look beautiful on any type of gift. Vintage gift tags feature old-fashioned images and patterns, such as shabby chic floral prints and distressed lace patterns, or images of birds, fairies, French cameos, or vintage postcards. Threaded with string or coloured ribbon, vintage gift tags come in many sizes and some have specific themes, such as vintage Alice in Wonderland gift tags or vintage playing card tags.