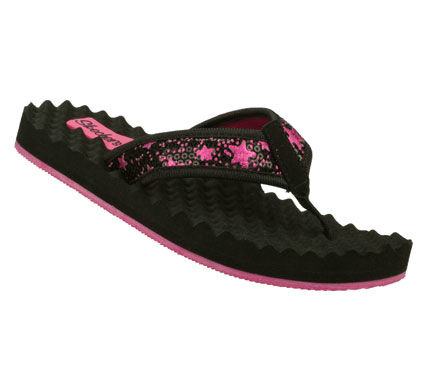 The history of early civilization indicates that humans invented coverings for the feet out of necessity in order to protect them while roaming around in search of food and shelter. Records imply that the early Egyptians were adept at making artistically designed footwear and had perfected the art using plaited papyrus leaves.
The flip flop design hugely popular today is a very basic one that was derived from these ancient patterns. Men, women, and children of all ages wear flip flops, which are a popular style of footwear found all over the world. Flip flops are in great demand during the summer months as they keep the feet cool, comfortable, and breathable.
Despite reports that extended use of flip flops may not only cause foot problems but also negatively affect a number of muscles involving the back, toes, ankles, and hips, the sales of flip flops, whether online or at brick and mortar stores, is on the rise. It is not just fashion that dictates this trend; they sell well because they are indeed easy-to-wear and comfortable.
Online stores like eBay offers quality flip flops in hundreds of designs and colours and shoppers can browse through the listings from the comfort of their homes. They are also available at boutiques, shopping centers, and malls. This guide educates the reader about the various type of flip flops available for girls, how to choose the right ones that are comfortable, and how to find them on the Internet.
How to Select the Right Kind of Flip Flops for Girls
Comfort is not the only criterion to consider when selecting flip flops. A couple of other important factors need to be considered as well. Buyers should avoid penny-pinching and choose high-quality flip flops to ensure that the person wearing it will not end up with blisters, inflamed feet, and sore leg muscles. Leather flip flops, a better choice, are easier on the feet as they do not cause blisters. When selecting a pair, bend the slipper from end to end. A slipper that bends at the ball of the foot is a good one in comparison to one that can fold in half.
A good, branded model is designed to take the strain from the forefoot and focus the weight on the heel, cushioning the arch and thereby protecting the feet and muscles from injuries. Look for flip flops approved by the American Podiatric Medical Association. They recommend using a pair of flip flops for just about a year or discarding them as soon they show signs of wear. However, if the buyer has taken a fancy to pair that has not been approved, make sure that those flip flops are worn only for a short duration.
Flip Flop Styles for Girls
Though the flip flop has a simple design comprising a V-shaped strap on a flat sole, girls have several styles to choose from, such as embellished flip flops. Flip-flops are colourful, and embellished ones are very girly. However, they may not have the necessary cushioning, which makes them flawed functionally. Therefore, it would only be sensible to wear them for a short duration, such as at the beach, the pool, or while out shopping.
Leather Flip Flops
A pair of soft leather flip flops is chic and elegant, besides being comfortable, especially during summer. Leather flip flops are available as flats, wedges, and with heels in several light colours and with various types of embellishments. These sandals are ideal for a day outdoors or even to a formal event. They can be paired with almost any outfit, such as mini skirts, jeans, shorts, dresses, and capris.
Rubber Flip Flops
These sandals are soft on the feet, but with a sturdy base, rubber flip flops provide an easier grip while walking. The more expensive rubber flip flops offer comfort, stability, and last long. Rubber flip flops are available in many colours and designs, and they can be paired with denims, capris, and skirts as well.
Jelly Flip Flops
The highly attractive jelly flip flops for young girls and teens are available in bright colours and made of transparent synthetic material, and some are embellished with rhinestones, buttons, and flowers. They are perfect to wear at the beach or park. These flip flops for little girls are available with slingback straps to keep the sandals securely in place.
Flip Flops with Ruffles
Flip flops with ruffles look adorable on tiny feet. These sandals are plain and brightly coloured, and they may have designs, such as polka dots or stripes, which can be paired with suitable dresses. Flip flops with ruffles designed for teenagers are available as well.
Wedge Flip Flops
Ideal for those who want to look taller, wedge flip flops are worn for casual as well as formal events. To make a fashion statement, girls pair wedge flip flops with pants, dresses, and skirts. Wedge flip flops offer good padding for the feet, and despite the bulky look, they are fairly lightweight and comfortable. Wedge flip flops are available in beautiful colours, designs, and embellishments.
Platform Flip Flops
Platform flip flops for girls are flip flop sandals that have heels of even height across the base, from the front all the way to the back of the sandal. Like wedge flip flops, they are available in various colours and designs with ruffles, rhinestones, flowers, and even Swarovski crystals on the straps.
Floatie Flip Flops
A hot favourite with teenagers and young children, floaties are perfect for a stroll by the beach. Soft straps and colourful spongy soles with designs of seashells, palm trees by the beach, zebra stripes, beach umbrellas, and various other designs. They are also available in plain colours with straps in a darker or lighter shade of the same colour as the soles. They are incredibly light, and as the name suggests, they float on the water.
Embellished Flip Flops
Flip flops have come a long way from being just casual wear worn at the beach, a poolside party, or while shopping for a couple of hours spent. Embellished flip flops are trendy and high fashion. They can be worn at formal occasions, even weddings. Embellishments include colourful bows made from various fabrics, decorations of iridescent, exotic flowers and florets, and studding with semi-precious stones, rhinestones, beads, and sequins. Bridesmaids and flower girls are seen wearing them with equal aplomb at weddings as much as girls do when wearing them to poolside parties or to the prom.
Flip Flops and Your Creativity
Embellished flip flops can be expensive, but there is an easy way to own one of those stunningly designed flip flops. You can design your own. Wearing a self-designed flip flop to a party can result in added fun, and here is how you can do it yourself.
Buy yourself decent pair of flip flops in a colour that matches the outfit that the flip flop will be paired with. Decide what type of embellishment would look good on the flip flops and go well with the chosen outfit. Cover the straps using ribbons or fake fur and decorate with satin or silk flowers, or tiny florets. Another alternative is to cover the straps with a plain ribbon using glue and then glue on feathers, bows, rhinestones, beads, sequins, roses with swirls, crystals, or any other moulded, plastic embellishments that are readily available in stores. There are a lot of choices, and the wearer can combine various elements to create unique designs to stand out in a crowd.
How to Buy Girls' Flip Flops on eBay
Seasoned eBay buyers will know about the wide variety of products that the website offers, but if you are a new eBay shopper, a quick run through the learning centre and registration will get you started with buying on eBay. You can start browsing by typing relevant keywords, such as flip flops, in the search bar, and you will see all the flip flops available on the website. Alternatively, you can also narrow down the search by typing in key phrases, such as girls' flip flops, or white flip flops, wedge flip flops, and so on. Doing so will narrow your search results and make it easier to find what you need. After you find flips flops you like, you can place them in the cart and review once more before making the purchase. The next step is to make the payment for the purchases. eBay offers several safe and secure payment options from which you can select the one that is the most convenient.
Conclusion
Summer and spring are the seasons when people spend a great deal of time outdoors and wear flip flops. Therefore, buying a couple of pairs before the onset of the two seasons ensures that you find good discounts and competitive rates. Flip flops are available in leather and rubber, flats and wedges, and in a wide variety of vibrant colours. Owning a couple of leather flip flops, both plain and embellished, is ideal because they can be worn to evening parties, the movies, or on a day out at the shopping centre. Poolside parties or a trip to the beach are great occasions to wear a pair of rubber or jelly flip flops for that carefree and breezy feel. While selecting flip flops for your little girl, ensure the straps are smooth, and extra slingback straps ensure the little one can walk easily in her flip flops. Embellished flip flops for little girls should ideally have ruffles, beads, ribbons, or florets and flowers rather than rhinestones or buckles, which may irritate delicate skin. With the right kind of flip flops, summer days frolicking on the beach sands or by the poolside can be fun.