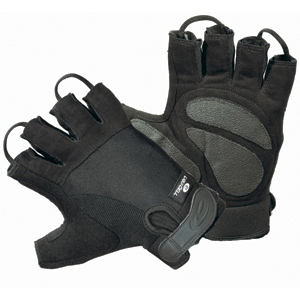 For the many people who are not able to use their legs in the same way that able-bodied people are, the wheelchair has proven to be an indispensable solution to every-day mobility problems. However, since operating a wheelchair requires the use of the hands, further complications can often arise in that area, including blisters, calluses and strains. Thus, wheelchair gloves were invented, to protect the hands when using a wheelchair.
It is the intention of this guide to explore all the various features that may be included in a wheelchair glove, so that the reader, or prospective buyer of wheelchair gloves, may then be adequately equipped to make the right choice. Further, this guide intends to examine the online auctioning platform eBay, and explain why it constitutes the ideal means of purchasing wheelchair gloves.
The Wheelchair Glove
Whilst all of the composite technologies that allow the wheelchair glove to exist have been available on the mass market for some time now, it was only recently that gloves specifically for use by people in wheelchairs were invented. There are several requirements of a wheelchair glove if it is to perform its function properly, and without causing any other inconveniences to the wearer. They must be:
Protective – damage to the hands, such as strains, calluses and blisters, is common amongst wheelchair users. A glove's primary purpose is to prevent these damages, and as such the glove must be made of a sturdy, resilient material, with plenty of grip.
Flexible – protecting the hand often comes at the cost of being able to move it freely. Since the act of manually operating a wheelchair includes a broad spectrum of hand shapes and movements, and also because it is likely that the wheelchair user will need to perform other tasks that require dexterity, a wheelchair glove must be highly flexible.
Able to grip – to turn the wheels, one must be able to fully grasp the wheels, thus the gloves must have an outer surface with high levels of grip, particularly in the areas that contact the handrim of the wheel.
Breathable – if the material from which the gloves are made is not breathable, the wearer's hands are liable to become sweaty, sore or irritated.
Comfortable – for obvious reasons, any glove should be comfortable to wear.
Supportive – since wheelchair users will be putting their hands under a lot of strain, it is beneficial for wheelchair gloves to provide support to the hand and wrist, thus minimising the risk of injury.
The Features of Wheelchair Gloves
Having identified above the most important traits for a wheelchair glove to have, this guide will now explore some of the more common features of wheelchair gloves, with an aim to demonstrate how they fulfil the aforementioned requirements.
Material
There are several materials from which it is practical to make wheelchair gloves. They each have various advantages and disadvantages compared to the others, and are thus best used for different purposes. In many cases, different materials are used in different parts of the glove, in order to provide optimal performance. The following is a list of the most frequently found materials, and some of their properties.
Leather – leather is a tough, durable material that has been in widespread use since ancient times. It is strong, and resilient to tears and punctures, but is also flexible enough to allow sufficient movement. As a material is somewhat breathable, and largely waterproof. These qualities make leather ideal for adventurous wheelchair users, likely to be battling the elements and requiring higher levels of protection. Neoprene – neoprene is a stable, flexible rubber-like material. It is not as resistant to damage as leather, but it has numerous other advantages, namely its top-end lightness, flexibility and waterproof nature.
Lycra – Lycra's main advantage over other materials used for wheelchair gloves is its elasticity. Whilst it may not be as strong, durable or waterproof as leather or neoprene, it is extremely flexible, allowing for a comfortable glove that fits naturally around the hand, providing a great range of movement, and is easy to put on and take off.
Suede – using suede for wheelchair gloves may not have the practical advantages of any of the other aforementioned materials. It does, however, have the advantage of looking more stylish than the others.
Full Length or Cut-off
Operating a wheelchair is an exercise that requires a high level of dexterity. Wheelchair users will also often be required to perform numerous other tasks with their hands in the course of their wheelchair usage. In cases like this, traditional gloves, which cover the entire hand, can often be more of a hindrance than an aid, making life even more difficult. This is, of course, the opposite of the intended effect. As such, some gloves will have cut-off fingers. This means that the upper portions of the fingers are free and exposed when wearing the glove, allowing much improved movement and dexterity.
There is a payoff for this increased freedom, however. The exposed fingers have no protection from coldness, wetness or damage. In most cases, the extra movement is worth the risk. However, some wheelchair gloves are designed for particularly harsh weather conditions, and these will normally be fully enclosed.
Often the thumb, which is the most vulnerable area to damage during the operation of a wheelchair, is entirely covered, whilst the fingers remain cut-off, striking a decent balance between protection and freedom.
Padding
The padding of a wheelchair glove is a thick, protective layer, covering the area of the hand that comes into active contact with the wheel. Good padding is essential in a wheelchair glove, as it prevents uncomfortable blistering and calluses. Padding can be made of rubber, for optimal grip, or gel, for superb protection and cushioning.
Fastenings/Cuffs
The fastenings and cuffs of a wheelchair glove are also important. Velcro fastenings are the most commonly found type. They are very simple to use, even for those with slightly less dexterity than the norm, and provide consistently solid and sturdy affixation of glove to hand. Some gloves have stretchy cuffs, made from elastic or some other highly flexible material. These allow for an extremely comfortable and firm attachment at the wrist. Wheelchair gloves can have either, both, or neither of these features.
How to Buy Gloves for Operating Your Wheelchair on eBay
The auctioning website eBay is the ideal place in which to shop for gloves for operating a wheelchair. It has a tremendous selection of products, allowing prospective buyers to choose the very best available, and its simple, user-friendly format makes the process as easy and painless as possible.
Finding wheelchair gloves on eBay is a straightforward matter. They do not have their own category, and so can be found in numerous categories. Begin from the eBay homepage. From here, choose any of the Sports & Leisure, Jewellery & Beauty, or Fashion categories from the menu located at the left of the screen.
If the user is in the Sports & Leisure category, they should select Sporting goods followed by either Exercise & Fitness or Cycling. From Fashion, choose Clothes, Shoes & Accessories, followed by either Men's Accessories or Women's Accessories. Under Jewellery & Beauty, select the Health & Beauty sub-heading, followed by the Mobility, Disability & Medical subheading.
Once one of the appropriate categories has been found by the user, you need to type 'wheelchair gloves' into the search bar. Alternatively, typing 'wheelchair gloves' into the search bar from the homepage should yield similar results.
Once the item listings are displaying wheelchair gloves, the search can be filtered by several attributes, including condition, price and seller's location. The user can also choose between the 'auction' and 'Buy It Now' options, which allow them to either bid on the product, or buy it on the spot.
Clicking on a listed item will take the user to that item's individual page. On this page, there is more detailed, specific information about the product, along with helpful information about the seller, including customer ratings and reviews. Further, the option to contact the seller directly with any pertinent queries is located near the bottom of this page, along with previously asked buyer questions, and the seller's answers to them.
This combination of huge selection and helpful shopper-oriented website design makes eBay the ideal online forum for buying wheelchair gloves.
Conclusion
The wheelchair is a device that has, in under a century, revolutionised the quality of living for many people who find themselves less mobile than others. However, further problems can arise. Due to the possibility of damage or wear to the hands that arises from the wheelchair's use, there is now a wide array of gloves specifically designed for wheelchair users.
It was the intention of this guide to examine wheelchair gloves, and indicate which of their features ought to be considered when buying them. The main considerations are:
Protection
Grip
Flexibility
Comfort
Support
Breathability
Further, this guide pointed out that eBay is the perfect place to shop for wheelchair gloves, owing to its massive selection and practically designed user interface.