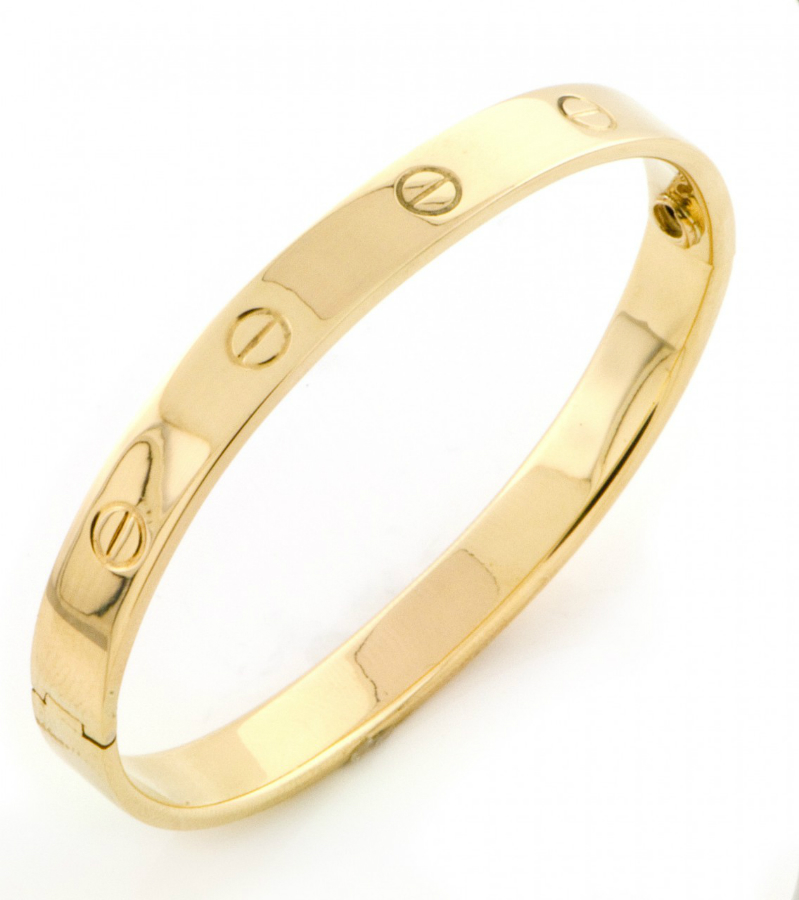 Owning a bulky bangle bracelet is a great way to show off your arms, wrists, and hands. Add in a touch of gold, and your favourite fashion accessory becomes a highly valuable piece of jewellery. Of course, gold is not exactly the easiest metal to shop for due to the numerous choices of its colour and purity. Combine this with trying to decide if you want a single gold bangle or a set of bangles, and a simple shopping trip then involves you making a number of purchasing decisions. The more you know about gold and bangle bracelets before you head to your local jewellery store or decide to start shopping on eBay, the easier the entire experience is. Choose a gold bangle based on the quality of the metal as well as whether you plan on wearing the bangle solo or as part of a set to make the best purchase.
Understanding Bangles
Bangles are a type of bracelet that are known for their inflexible shape. Unlike chain bracelets, which can be adjusted to different lengths, bangles cannot be shortened or elongated in any way. What you see is what you get, so it is best to ensure that the bangle fits your wrist before making a final purchase.
Measuring Bangles
The easiest way to make sure a bangle fits is to try it on the store, but this is not always possible when shopping online. Therefore, measure the diameter of your wrist and the upper part of your hand. A bangle should be slightly larger in diameter than your wrist, giving it the ability to move slightly up and down your arm. A clasp-less bangle should also be large enough that it can slide through your closed hand when you put it on. However, it should not be big enough that it slides easily off your wrist. If the bangle has a clasp, it can be tighter around the wrist since there is no need for it to slide over your hand. Most bangles made out of a precious metal like gold do use a clasp so that they have a secure fit.
Solo Bangles
When you set off to buy a bangle, ask yourself how you like to wear your bracelets. If you typically pile multiple bracelets on your arm, then you are better off buying a gold bangle that works as a set. If you rarely wear bracelets, or only prefer to use one at a time, then the solo bangle is a good choice for you. When purchasing a bracelet that is going to stand alone, you should buy one that has a powerful presence. In other words, select a bangle that is going to stand out and draw attention to your arm. Thick, chunky, gold bangles are great for a chic and casual style, perfect for a night out or a flirty date.
Gemstone Bangles
If you do not like wearing big bracelets but still want your bangle to stand out, then a gemstone bangle is likely your best bet. While some of these pieces can be quite large, you can always select a delicate one that feels light around your wrist. Even though its size is smaller than a thick bracelet, it is still going to attract attention due to the gemstones. Choose gems that reflect light, such as diamonds, or use bright colours, such as rubies or sapphires, to get the most attention. A tiny gemstone-lined bangle is an ideal accessory for a formal fashion event.
Multiple Bangles
If you enjoy wearing several different bracelets on your arm, then buying several bangles is the best way to go. Keep in mind that if you are buying bangles, you need to stick with one particular style. Chain bracelets and bangle bracelets often end up getting tangled together, and this can scratch their golden surface.
Furthermore, remember that while each bangle should be interesting, it should not clash with the other pieces. For example, if you have a gemstone bangle, then purchase another one without a gemstone whose focus is on its metallic design. Buying multiple gemstone bangles creates an effect that overwhelms each piece, taking away from their individual beauty. Likewise, you can also mix and match golden metals by pairing yellow gold bangle with white and rose gold.
Buying Gold
Buying gold is never an easy choice, especially when a customer is faced with different gold carats of varying value. The truth is, when it comes to gold, buying the most expensive option is not always the best decision. In some cases, choosing a low carat gold option is better than a high carat piece.
Gold Carat Weights
Gold is rarely sold in its pure form, which is measured at 24 ct. This is because pure gold, while extremely valuable, is also extremely soft. Most jewellery makers alloy gold with other metals to increase its strength and change its colour. Carats measure how much pure gold still remains in the metal, and international standards require that each piece be marked with its carat weight.
| Gold Carat | Percentage of Pure Gold | British Mark |
| --- | --- | --- |
| 22 | 91.67 | 916 |
| 18 | 75 | 750 |
| 14 | 58.33 | 585 |
| 9 | 37.5 | 375 |
Golden bracelets made out of 22 ct or 18 ct are very valuable, but they are also soft. They are best purchased to be worn on occasion, and even then should only be worn by themselves and not with a set of other bangles. Those made out of 14 ct or 9 ct are less valuable but more durable. They can be worn every day, even in combination with other bangles.
Gold Colours
Yellow gold is the natural colour of gold, but its shade is not always uniform. Gold bangles made from 22 ct or 20 ct usually have a deep, rich yellow colour that is the same across the different brands because they use an overwhelming amount of pure gold. As the carat weight decreases and the amount of added alloys increases, the yellow colour changes. Even competing brands of a 14 ct gold bangle look slightly different in colour because every manufacturer has their own gold alloy mixture that gives the metal is own peculiar shade.
White Gold
White gold comes from mixing gold with a white metal alloy, and therefore is never found in 24 ct. While white gold has been used for centuries, it truly became popular once designers starting adding a coat of rhodium plating to the metal. This makes the bracelet seem brighter than it truly is, putting it on the same level as platinum. However, buyers beware when choosing a bracelet with rhodium plating. If the metallic coat cracks it will start to peel away, creating an uneven look.
Rose Gold
Rose gold occurs when gold is mixed with copper, which is a naturally red metal. The result is a golden bangle with an orange tinge. The greater the amount of copper, the redder the metal becomes. In fact, red gold is nothing more than 50 per cent gold mixed with 50 per cent copper. The standard for rose gold is 75 per cent gold and 25 per cent copper, and is usually sold in 18 ct.
Buying Gold Bangles on eBay
Buying a gold bangle on eBay is a simple process that allows you to purchase items all from the comfort of your home. eBay has a large selection of exquisite gold bangles, including antique and vintage jewellery pieces that are entirely unique. With so many gold bangle options available on eBay, you can find several pieces that match exactly what you are looking for. This allows you to buy the one that offers the best deal for your pocketbook.
Finding Gold Bangles on eBay
The best way to find a gold bangle on eBay is to start out on the home page and perform a search for a 'gold bangle'. This produces results made up of bangles featuring different gold weights, colours, and gemstones. You can narrow the list down further once you start finding bangles you like. For example, if you prefer yellow gold, then search for 'yellow gold bangles'. If you want a bangle made from 14 ct gold, then search for '14 ct yellow gold bangle'. As you add more search terms, the results become specific to your needs, allowing you to quickly find an ideal match.
Conclusion
Hardened gold bangles look absolutely angelic against a person's skin. Bangles are a little larger than normal chain bracelets, and are designed to move slightly along your arm so that they can attract the most attention. When you set out to purchase a gold bangle, first decide what type you want based on how you plan to wear the bracelet.
A large, chunky bangle works well solo, while gemstone bangles prove that big things come in small packages. You can even purchase bangles to wear as a set. Finally, you also want to choose a bangle based on the quality of the gold. Gold comes in different carats and colours, and this affects the strength and value of the metal. Buyers can find all types of gold bangles for sale on eBay. By knowing the pros and cons of gold bangles, you can pick the best one for your budget.