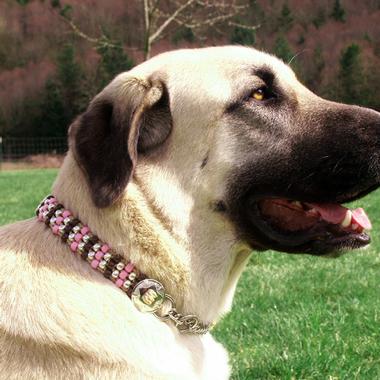 Animal lovers want the best for their dogs. But it can be difficult for dog owners to find correct and comfortable equipment for their pets. eBay is a great place to find a suitable half check collars to suit all types of dogs, no matter what breed or size. Whether training a dog or simply maintaining control when out for walks or runs, half check collars reinforce a more kind and gentle way to exert authority over the dog.
There are many different types to choose from, helping people to find the best and most affordable collar to suit the needs of both dog and owner. This guide will explain the best ways to seek out the right half check collar and how to safely and securely purchase it from eBay.
Features of Half Check Dog Collars
Half check dog collars are made up of four different components:
Collar (material)
Collar (chain)
Buckle
Slip-neck.
Before purchasing anything a person must consider why they are buying it. Half check collars, also known as martingale or combination/combi collars, are used in a similar way to a choke chain. The sound of the loose chain rings are designed to indicate to the dog that the owner is about to pull or jerk the lead as a means of taking control.
Because they can leave marks on shorthaired dogs, half check collars are usually bought for dogs with heavy coats. They are also sometimes preferred by the owners of narrow headed dogs, for safety purposes, and their slip on design make them practical for any dog and owner.
Half check collars come in different designs, and all components can be made from different materials. Some examples are as follows:
| Components | Description |
| --- | --- |
| | Nylon is great for dogs that like water and are prone to getting messy. Nylon is easily washed and kept. It fits best with those who find themselves pressed for time, or those who would simply prefer its convenience. However, it can sometimes be stiff, causing discomfort to a dog's neck. |
| | A luxurious and durable material that needs extra care. Leather collars need special conditioners to keep in tip-top shape. But with flat and rolled edges that can conform to the shape of dog's neck over time, it is more comfortable, specifically for longhaired dogs, as the rolled edges minimalize matting of the fur. |
| | As opposed to normal steel, stainless steel will not get rusty on the neck of a dog that loves to splash around in water. Also, stainless steel has a better break load, which results in higher security. |
| | A decorative and durable metal. The Aluminium in Brass makes it more resistant to corrosion, and its low friction is a bonus for dogs with long and or rough fur. |
| Metal buckles | Buckles are an important thing to consider. Any chain is only as strong as its weakest link. It makes sense to buy a collar with a metal buckle for maximum security. A large majority of half check collars are sold with metal buckles anyway. It is rare that any half check collar would be sold with a plastic buckle, but be sure to check beforehand just in case. |
Things to Consider When Buying Half Check Dog Collars
The main thing that owners want for their dogs is safety. When buying half check dog collars, the most important safety issue of safety, and also comfort, is size. If the collar is too small, a dog will be in discomfort and pain and receive markings around the neck. If the collar is too big, the dog will not be restrained and will be able to break free from its owner.
Half check collars generally come in the following sizes:
Extra Small (XS)
Small (S)
Medium (M)
Large (L)
Extra Large (XL)
Extra, Extra Large (XXL)
However, not all types are offered in some of the smaller (XS) and larger (XL and XXL) sizes, and collar width will vary. If purchasing online, the seller will state in their listing the size of the collar they are selling, and sometimes they might suggest the dog breeds that would suit it best too.
For instance:
| Size | Neck Size | Suitable breed Types |
| --- | --- | --- |
| XS | 20cm – 30cm | Chihuahua, Yorkshire Terrier, Small Puppies. |
| S | 28cm - 35cm | Yorkshire Terrier, Small Poodles, Pekingese. |
| M | 30cm - 42cm | Jack Russell, Miniature Poodle, Dachshund. |
| L | 40cm - 60cm | Doberman, Boxer, Labrador. |
| XL | 45cm - 70cm | Rottweiler, Bull Mastiff. |
| XXL | 75cm X 25mm | St Bernard, Mastiff. |
Other safety issues to consider are how to actually use a half check collar. There are various dos and don'ts that come with the use of half check collars.
Do fit the chain, so that when tightened the two rings meet the dog's neck.
Do ensure enough space for two fingers to be slipped in under the collar, against the neck.
Don't use the collar to jerk or choke the dog.
Don't fit the collars tight up behind the dog's ears.
Buying Half Check Collars Online
The Internet allows users to find a product with the desired features, at affordable prices, with a wide range available at arm's length. There is no pressure when considering whether or not to purchase a half check dog collar, as they can be evaluated and re-evaluated at a user's own leisure. eBay has plenty of half check collars available, exploring many different sizes, designs and even colours to fit people's needs and desires; they available to buy instantly with the 'Buy It Now' option, or it is also possible to bid on a collar in a auction against other eBay users.
eBay allows users to filter through the website's wide range of products and options. For example, if someone is looking for a half check collar and needs it as soon as possible, but doesn't want to wait for an item in an auction to find that they have been outbid, eBay has the option of specifically bringing up items available for instant purchase, with one simple click. A number of search results, and options to refine searched results will appear for a user's convenience. Options include:
- Condition of half choke collar.
- Price (including maximum price wished to pay).
- Item location (including options to search locally or worldwide).
- When items are scheduled to end.
Using eBay to Buy Half Check Collars
Half check dog collars can be found in the Pet Supplies section, opting of course for Dog Supplies, and Collars.
After taking into account the requirements of a dog and finding a suitable half check collar on eBay, ensure to read the item's descriptions carefully. It is easy to overlook key information. If a user has not searched specifically for new items then used items will also appear in the list. Maybe the collar has been tried out on the seller's dog once before. That is not to say, by any means, that the used and/or tested item won't be suitable for the dog it is being purchased for. Maybe the prices vary according to size and design. Be sure to check the delivery conditions for urgent purchases. There might, for instance, be an option for express delivery at a small extra cost.
If unsure about any details or you require additional information, it is possible to contact sellers personally. eBay will even give options of subjects to choose from regarding sellers and/or items and look for an answer of its own. There is an option for a copy of the contact message and for alerts about messages from sellers to be sent directly to the email address attached to a user's eBay account.
Buying Safety Considerations
Aside from the considerations of the actual half check collars, there are safety issues to consider when using eBay. Check out the users that are selling products of interest. Look at their transaction history and take into account their feedback status. Do they have a lot of negative feedback? If they do, it does not always mean that sellers will not be reliable enough to sell goods, but can often be a risk. Check out the actual feedback, and in some cases, the seller's response to that feedback. One could also check to see if anyone else has purchased a half check collar, or another type of collar. What did they think of it? Read the seller's terms and conditions before purchasing to avoid any confusion about the transaction being made.
Conclusion
Safety and comfort are the most important factors to consider when buying a half check dog collar. When purchasing, make sure the right size is known. Measure the dog's neck, or at the very least, consider their breed, size and build. Think about the dog, its behaviour, and consider the personal comfort that it requires. It is also important to consider the desired level of up-keep before deciding on a material, for example, leather strap or nylon strap.
Look at some online discussions between half check collar users. But once all the preferences and requirements are decided upon, eBay makes it easy to find the right item and best deal in the comfort of the home. If confident about a purchase, PayPal is a quick and safe way to secure the item with a simple, smooth transaction. Make sure to familiarise yourself with eBay's terms and conditions.