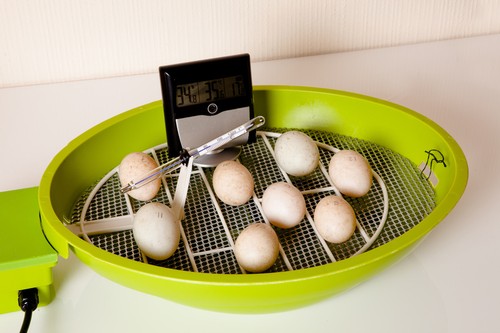 Getting Started
Assuming that you have made the decision to keep chickens and you will rear them yourself, the next step is to decide on the best way to proceed.
There are two ways of hatching eggs; the natural way with a broody hen or in an incubator.
First Things First
You need decide:
what sort of bird you are going to rear
the habitat they will need as they grow up
how you are going to look after them as they grow
The most common eggs used for hatching are of course chickens. However you might want to hatch eggs for ducks, geese or even turkeys. These birds need more space than chickens and the ducks and geese will be much happier if they have water, possibly in the shape of a pond.
Once your birds have hatched you need to maintain them in peak condition, providing an environment which stimulates their good health. This environment will depend on a number of factors including:
The location of your house and the ground area available
The number of birds you intend to keep
The amount of time you're able to dedicate
The amount of money you're prepared to spend
It is best to consider these things first before you buy your hatching eggs.
How Much Ground Area is Available?
If you live in an urban area you're likely to have less room to house your birds. With urban sites, protective fencing around your bird shed or coop is not such a priority. If you live out in the countryside and have access to more extensive grounds, there are a lot more choices. If you can devote a large outdoor area to your birds, you may decide to create a permanent run. You'll need to build an enclosure with sturdy posts and wire mesh fencing, dug-in to prevent burrowing by vermin. As an alternative you could have electric fencing which, although more expensive, is highly efficient and a lot easier to install. If you decide on a smaller area, you have the option of buying an integrated shed or coop which combines indoor and outdoor areas in the same structure.
The Number of Birds You Intend to Keep
The size of the shed or coop is determined by the number of birds you intend to keep and there is a formula for working this out.
For medium sized birds you need to allow a minimum floor area of one square foot per bird.
For larger breeds, allow 50% more space.
It's always advisable to buy a bigger unit than these calculations suggest. Your hens need enough space to avoid each other; this will help to minimise any potential fighting, which could result in painful pecking attacks.
Remember, you may want to acquire more birds in the future. As with family life it's important to avoid overcrowding.
The Amount of Time You're Able to Dedicate
You need to be realistic about how much time you can commit to looking after the birds once you've hatched the eggs. Some sheds or coops are more time-consuming to maintain than others. Those that need more upkeep tend to be better for the chickens. For example, sheds or coops made of wood take longer to clean and keep free from infestation, but most poultry keepers will agree that they provide a better environment.
The Amount of Money You're Prepared to Spend
If you're prepared to do the work yourself, the cost of building a basic shelter and wire mesh enclosure will not be high. As soon as you go for a higher level of specification – thicker wood, sturdier plastic, electric mesh fences etc – the costs begin to increase.
Buying Hatching Eggs - Getting Started
There are a number of tried and tested ways of buying hatching eggs:-
Hatcheries and their agents
Specialist farms
Poultry markets
Any of these will be able to provide you with fertile eggs and you will find a good number of such expert suppliers offering their hatching eggs for sale on eBay.
Here are some easy steps you can take to make sure you get the most suitable eggs.
1. Research the breed you want.
There are many different types of breed available so you need to do your research into the type you want. You then need to make sure that the eggs you buy grow into the right breed. Always make sure that the seller shows an image of the breed type and make sure that the eggs on offer are actually from that breed.
2. Ask lots of questions
Look at the item description carefully. If something is not clear ask the seller to clarify. Ask if they are a member of a breed club as it is likely that the club will have rules about selling inferior stock. Look at the seller's eBay rating.
3. What do you want your stock for?
There is a great difference in wanting eggs for showing or breeding purposes and getting eggs for ordinary laying birds. If you want a rare breed you need to be very sure that you buy into a good line which will give you strong healthy birds. Don't be persuaded into buying eggs of a breed that, due to its genetics, will probably die before or just after hatching. If you want to be able to show your breed at exhibitions, check that the breed you are planning to buy is listed as such in British Poultry Standards.
4. Healthy Birds and surroundings.
If pictures are available or if you visit the supplier make sure that the birds look healthy and cared for and that the surrounding area, rearing fields or sheds are clean.
5. Posting.
If your eggs are going to be sent to you make sure that you get a next day service and by Special Delivery.
It is not sensible to accept First Class post as the eggs are likely to go through the sorting machines and are very likely to suffer embryo or air sac damage.
Eggs packed in polystyrene boxes offer good protection
Normal egg boxes should be secured within an outer box.
Polystyrene has an advantage in that it protects the eggs from major temperature changes.
6. Check Quality on Arrival.
Check that there is no damage to your eggs as soon as they arrive and if you are unhappy get in touch with the seller at once. It is a good idea to candle your eggs when you get them to check for partial incubation or hairline cracks.
7. Settle your eggs.
Let your eggs settle for 12 -24 hours before setting them in the incubator. They do not need to be kept in a warm place as development will cease if the temperature is below 20C (68F). If the eggs are brought back to a suitable temperature within a short time period, either in an incubator or under a broody hen, the arrested development will resume and incubation will proceed as normal.
How to Buy Hatching Eggs on eBay
Now that you know which hatching eggs you want you can find them quickly and easily on eBay. To start shopping, go to the Pet Supplies category then the Poultry/ Hatching/ Incubation portal. Click on the hatching eggs sub-category portal.
While you shop, don't forget Chicken Houses, Dishes & Feeders, Grooming & Healthcare and Food .
Categories
The Categories list on the left side of each page will help you narrow down your listings by item type.
Product Finder
Use the Hatching Eggs Finder to quickly narrow down item listings by brand, model and condition (new or used).
Keyword Search
Search eBay listing titles for specific words. For example, if you want to find New Hatching Eggs, type the keywords "hatching eggs New" (without quotation marks) into the Search box. Click, "Search title and description" to expand your results. Visit eBay's Search Tips page for more tips on searching with keywords.
If you can't find exactly what you want, try browsing eBay Stores or tell the eBay Community what you're looking for by creating a post on Want It Now, or save a search on My eBay and eBay will email you when a matching item becomes available.
Buy Hatching Eggs with Confidence
Make sure that you know exactly what you're buying and understand how eBay and PayPal protect you.
Know Your Item
Read the details in the item listing carefully.
Remember to add delivery costs to your final price. If you're buying a high value item, check that the seller will insure it until it is delivered to you.
If you want more information, click the "Ask seller a question" button on the seller's profile or the "Ask a question" link at the bottom of the item listing page.
Always complete your transaction on eBay (with a bid, Buy it Now or Best Offer) otherwise you will not be covered by eBay Buyer Protection.
Never pay for your eBay item using an instant cash wire transfer service like Western Union or MoneyGram. These are not safe ways of paying someone you do not know.
Know Your Seller
Research your seller so that you feel safe and positive about every transaction.
What is the seller's Feedback rating?
How many transactions have they completed?
How many positive responses do they have?
What do buyers say in their Feedback?
Are they positive about the seller?

Most top eBay sellers operate like retail shops and have a returns policy.

Do they offer a money-back guarantee?
What are their terms and conditions?
Buyer Protection
In the very unlikely event that you do not receive your item or it is not as described, eBay Buyer Protection covers your purchase price plus original delivery cost.