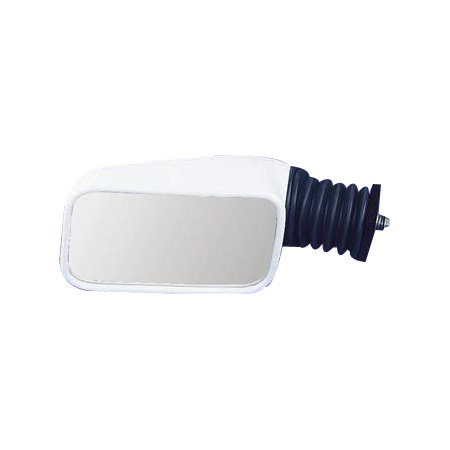 Wing mirrors help drivers see cars and other objects along the sides of vehicles and in blind spots. In cold and icy weather, it is not uncommon for these mirrors to become covered in ice or condensation. To save the driver the chore of having to scrape the mirrors or wipe them off, several car manufacturers now include heating coils behind the mirrors to automatically defrost or defog car mirrors, if needed. Because of the extra parts needed to make these mirrors work, the heated mirrors are often more expensive than standard wing mirrors. Finding replacement heated wing mirrors can be a challenge, especially for those who are shopping on a budget.
eBay simplifies the process of finding heated wing mirrors by helping you narrow down the listings based on the type of heated wing mirror you need as well as those that fit within your budget. Whether you are looking for a new piece of mirror glass or replacing the entire housing on your heated wing mirror, eBay has it all.
What Are Wing Mirrors?
A wing mirror is a type of mirror that is found on the side of a vehicle. These small, round mirrors protrude from the side of the car so that the driver is able to see cars beside and behind him. The goal of a wing mirror is to allow the driver to see any other vehicles in his blind spots and so avoid accidents. Wing mirrors can be adjusted to match the driver's line of vision, and this is done either manually or mechanically. Most vehicles have wing mirrors on both sides of the vehicle, but some older cars only have a wing mirror on the driver's side.
Benefits of Heated Wing Mirrors
Basic wing mirrors contain a single mirror in a protective housing that can be adjusted by the driver. Some automobile manufacturers provide additional features to make them easier to use. One such feature is adding a heat source to the wing mirror. This is ideal for those drivers who live in cold and icy regions or those who do not have a garage to house their cars during snowy weather. The heated mirror increases the temperature of the mirror to clear away any ice, frost, or moisture. This means that the driver does not need to spend time chipping away at the ice or adjusting the mirrors.
Searching for Heated Wing Mirrors on eBay
If you have damaged a heated wing mirror on your vehicle or need a replacement for another reason, then eBay is a good place to search for heated wing mirrors. eBay has a huge selection of heated wing mirrors for all types of cars, listed by sellers from all across the UK. Perform a basic keyword search to find the heated wing mirror that fits your car. Enter 'ford heated wing mirror&' into the search bar to find all listings that match those keywords.
Avoid being too specific or you may end up missing out on several deals that match what you are looking for. For example, if you include the model of car in your initial search, then you could seriously limit the number of results the local search engine returns. The reason for this is that auto manufacturers use the same mirrors for several years on the same make or model of a vehicle. This means that your exact year may not be listed in the title of the eBay listings, but a mirror that fits your vehicle from another year is available. Entering the exact year limits the results that are returned. Instead, be sure to read each item description to find the mirror that best suits your needs.
Choosing Heated Wing Mirrors for Your Car
eBay makes it easy to find and choose the wing mirror that works best on your vehicle. Even if you are not entirely sure of the part that you need for your vehicle, you can begin searching eBay for the mirror that fits. You have the ability to narrow down the options based on the make and model of your vehicle, the manufacturer of the mirror, or where the mirror is to be placed on the car.
Make and Model
You can select the make, model, or both for your vehicle. From there, you can begin searching each listing to match the year or subtype of your vehicle. Some manufacturers use the same type of heated wing mirror on several models of their vehicles. Find out if your model of car uses the same mirrors as another model, and then be sure to include those in your search. Choosing heated wing mirrors based on the make and model ensures that the heated wing mirror fits properly once it is time to install it.
Manufacturer
You can purchase heated wing mirrors that were made by the manufacturer of your vehicle, or you can purchase heated wing mirrors that were made by a third party. These aftermarket parts are often lower in price than parts from the car's manufacturer, but the quality can vary considerably. Top brands like ALKAR and TEX are readily available on eBay. If you do not know much about the different aftermarket manufacturers, then be sure to read reviews so that you can choose a brand that has a good reputation.
Placement on Car
'Placement on the car' refers to where the mirror is attached. If you are only replacing one heated wing mirror, then be sure to choose the mirror that mounts to the proper side of the car. If you are replacing both heated wing mirrors, then be sure to choose a set or separate right and left wing mirrors. Depending on the type of car that you have, the wing mirror might also mount to the front or back of the vehicle, but this is rare.
Heated Wing Mirror Glass vs. Entire Housing
Another aspect to consider when shopping for heated wing mirrors is whether or not you need to replace just the glass or replace the entire housing. You can save yourself a considerable amount of money if only the glass part of the mirror is damaged. This can easily be removed and the new one installed in its place. Be sure that the type of glass you choose matches the type of glass that needs to be replaced. The three main types of glass seen in wing mirrors are listed in the table below.
| Type of Glass | Description |
| --- | --- |
| Plain Glass | Also known as flat glass; a flat piece of glass with rounded edges |
| Convex Glass | Glass has a slight curvature; widens the driver's field of vision |
| Tinted Glass | Can be plain or convex; glass has a slight permanent colour tint |
The shape of the glass determines if the mirror can fit into the housing or not. Tinted glass can often be used in place of the standard wing mirror glass. Convex glass is typically more expensive than the other types of glass, but is still considerably cheaper than replacing the entire housing. Assess the damage to your heated wing mirror to see if it is possible for you to replace just the mirror rather than the entire housing.
If the entire housing is damaged and needs to be replaced, then be sure that all of the wires and connections are present in the replacement. Additionally, make sure that all of the mounting bolts and screws are included. Depending on the make and model of your car, you may need to search for a mirror housing that matches the colour of your car or have it painted to match your car.
Other Considerations When Shopping on eBay
eBay provides you with several options to consider in your search for heated wing mirrors. In addition to selecting the mirrors that fit on your vehicle, you can also sort listings based on the price and the condition of the heated mirrors. Likewise, you are able to choose who you do business with. Once you have narrowed down your results based on the mirrors that fit and match your car, begin narrowing down the remaining selections based on the price, condition, and seller feedback score.
Price
On eBay, you have the ability to limit your search results to just those that fit within a certain price range. This allows you to only look at the listings that fit your budget. Select a minimum and maximum amount that you wish to spend for a focused set of listings that meet your needs. Additionally, you can sort the listings so that they show the lowest prices first. Because there are several small parts associated with heated wing mirrors, you may see several listings for bolts, screws, or wires rather than the actual mirrors. Setting a minimum price helps to weed these listings out of the results.
Condition
Be sure that the heated wing mirrors match the condition you are looking for. Many of the listings for heated wing mirrors are for new parts, but some are used. Because a wing mirror is used does not mean that it is nonfunctional or in poor condition. Be sure to look for used heated wing mirrors that match the make and model of your car to see if you can find a better deal.
Seller
You have complete control over who you choose to conduct business with on eBay. There may be several identical items for sale. You can choose from the seller you feel is most reliable. This is done by checking the feedback score. Within each listing, look for the seller's name, feedback rating, and total number of completed transactions to gauge how long he has been selling on eBay and how well previous buyers have rated him. Compare sellers to determine which seller you want to order from.
Postage and Packaging
When it comes to parts for a vehicle, postage and packaging can often be expensive. Look for sellers who offer free postage and packaging to help lower the overall cost of the product. Because heated wing mirrors are fragile and can break while in transit, ask the seller if he can insure the item when it ships. If you find a seller who is located close to you, ask if you can pick up the heated wing mirrors in person. This saves the seller the time of packaging the item and saves you the cost of delivery and the time it takes to travel by post.
Conclusion
Heated wing mirrors are ideal for people who live in cold climates and frequently have to spend time scraping ice or clearing moisture from the mirror. The heating coils behind the glass in the mirror automatically clear the mirror so that drivers can see clearly while on the road. Heated wing mirrors tend to be more expensive than standard wing mirrors due to the electrical parts involved. For this reason, many people look for other ways to replace the mirror rather than just ordering a new part from the auto manufacturer. eBay is a large online marketplace that makes it easy for shoppers to find the mirrors they need at prices they can afford. Shoppers have the ability to search for and compare various heated wing mirrors to find the parts that fit both their cars and their budgets. New and used heated wing mirrors for all makes and models are available on eBay..