High waisted skirts are popular with women of all shapes and sizes because they flatter the waist and accent the hips. High waisted skirts vary from slim fit and pencil skirts to vintage style circle skirts. Choosing one to buy depends on your fashion taste, the occasion, and preferences.
Different Types of High Waisted Skirts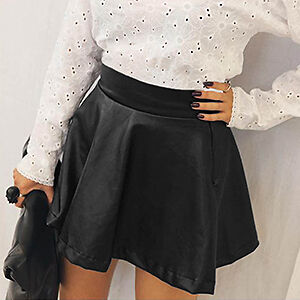 High waists are available in nearly every type of skirt. You can choose between fitted and flared styles. Fitted high waisted skirts include pencil skirts, tulip skirts, fitted miniskirts, bandage skirts, bodycon skirts, and tube skirts. Flared skirts include A-line skirts, circle skirts, pleated skirts, bell skirts, and full skirts. These each vary in style depending on the manufacturer.
Length of High Waisted Skirts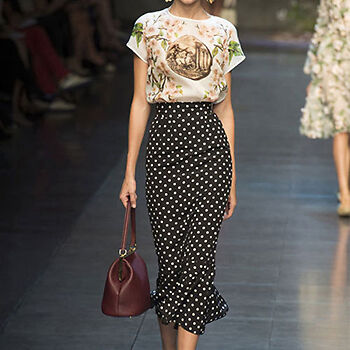 Short skirts show off more leg, while long skirts are more modest, and usually more practical for everyday wear. Long skirts such as high waisted maxi-skirts are generally casual. For a standard business length skirt, you need knee length, or just above the knee. Many women find that high waisted skirts look shorter than they actually are and so prefer to choose mid-thigh to knee length options rather than mini. However, high-waisted miniskirts are great options, especially for club wear.
Features of High Waisted Skirts
Features are important because they determine the versatility of the skirt. A solid-colour high waisted skirt can pair with almost anything and works to create several different looks. Skirts featuring embellishments such as flowers, embroidery, large prints, pockets, and buttons all require a plain top. In addition, features determine the style of a skirt. For example, a high-waist A-line skirt with pockets is very casual, while a high-waist pencil skirt with military buttons is usually semi-formal.
Fit of High Waisted Skirts
High waisted skirts flatter any body type but it is important to choose a skirt that fits correctly. Choose a skirt that is tailored but not too tight, especially if you intend to wear it with a crop top. Depending on the style, the skirt will either flare out or hug the hips, but in either case, the skirt should fit properly at the waist. High waisted pencil skirts and fitted miniskirts require a little bit more care, because they also have to fit over your hips. The fit over the hips is a personal choice, but for professional wear, a skirt that is a few inches bigger than your measurements helps to create a professional look.