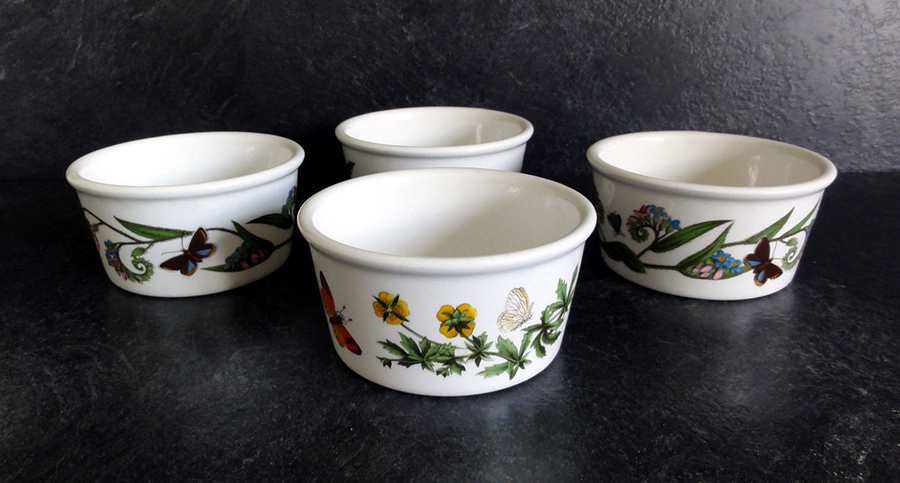 The Portmeirion Pottery Company has designed and sold beautiful hand-painted pottery since 1960, and it continues to be one of the most widely recognised manufacturers in the UK. The company makes dinnerware to satisfy even the pickiest of shoppers, and the holiday collections give fans something to get excited about each year. Every few years, the brand designs a new set of Christmas plates, cups, bowls, and other wares to make the holiday special.
Portmeirion Holly and Ivy Set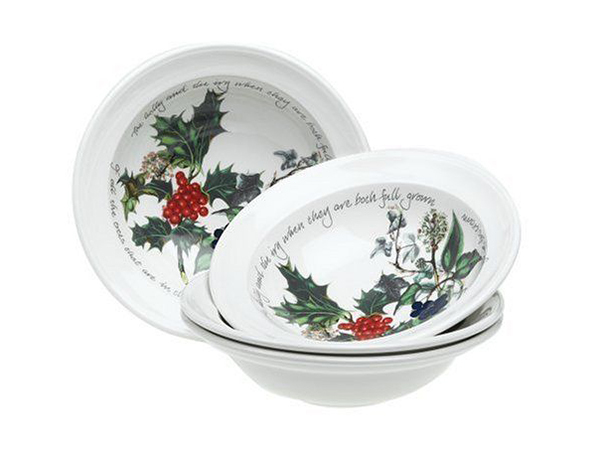 It is hard to ignore the traditional holiday spirit that comes with the Portmeirion Holly and Ivy dinner set. Red holly berries framed by deep, green leaves decorate the centre of each plate. To make the design even more interesting, two phrases line the rims of the plates. The bottom of the plate says, 'Of all the trees that are in the wood the holly bears the crown'. The phrase at the top references the images of the plants in the centre of the plates and says, 'The holly and the ivy when they are both full grown'. This Christmas Portmeirion set comes with six dishwasher and microwave safe plates that are also safe up to 340 degrees in the oven. Each plate is 10.5 inches in diameter. The design first appeared in 1995 and includes serving dishes, Portmeirion mugs, a coffee pot, and a teapot.
Portmeirion Peppermint Set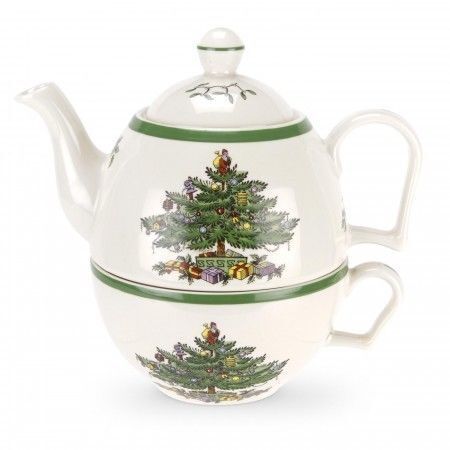 The Portmeirion Peppermint set appeals to both adults and children because the design captures the excitement of Christmas morning. A creatively decorated Christmas tree graces the centre of each plate, and a pile of colourful gifts rests under the tree. The tree features traditional ornaments as well as candy, lights, and Santa on top. Around the rim of each plate is a festive white and red ribbon pattern. Four plates come in the set, and other pieces are available separately. Each earthenware plate is 6.5 inches in diameter.
Portmeirion Sophie Conran Christmas Rimmed Dinnerware
For a more refined and sophisticated holiday-inspired look, buyers often consider the Sophie Conran collection. The plates come in sets of four, and each item features a different pattern that complements the designs on the other pieces. For example, each Portmeirion plate in the set of four has a red and green border but in different patterns. In the centre, the plates all have different holly patterns. The soup plates and mugs, on the other hand, have the same four patterns around the rims and nothing in the centre.