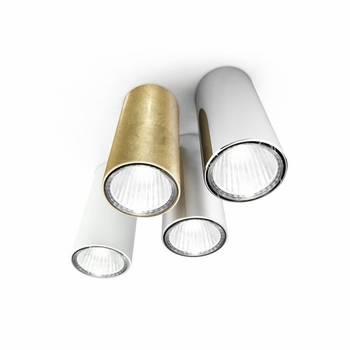 Kitchen ceiling lights give more than just light to a room. They are integral features of the space, and, as such, are bought with aesthetics in mind as well as functional considerations. Contemporary kitchens may call for minimalist spotlights or down lights, while vintage kitchens may incorporate more traditional designs. There is a wide range of styles to choose from. Search different brands and items to find the perfect kitchen ceiling light.
About Kitchen Ceiling Lights
Ceiling lights come in various styles, from retro pendants to fluorescent strip lighting, and from magnificent chandeliers to contemporary down lights. They are often used as the main sources of light for a room, and, as such, are generally required to be powerful enough to light the room adequately by themselves. The earliest ceiling lights, dating from around the 14th century, were simply a collection of candles held high in the room and reminiscent of a basic chandelier. Candles, often enclosed in lamps, were the main source of indoor lighting for centuries. Oil lamps have also been used for thousands of years. Ceiling lights became more popular in the 19th century. Following earlier designs of gas light, gasoliers were developed in the late 19th century to be suspended from the ceiling. Gasoliers were gas powered lights that looked like chandeliers. These, however, were generally used in reception rooms where well to do occupiers received guests.
Kitchen Ceiling Lights
Artificial lighting was not seen as important for kitchens until relatively recently. Kitchens were designed to make the most of natural light and, being used by servants, were not seen as natural areas for fancy lamps. If required, oil lamps could be moved from another place or stood up on tables. In the 1880s, gas lighting systems became more common, but kitchens were generally the last places to receive installed lighting. Where ceiling lights were installed, they were basic pendant designs. The development of the incandescent electric lamp (light bulb) by Edison in 1879 ushered in a new age of lighting. One of the main advantages of electric lights over gas lights was that they could be easily placed where required, including from the ceilings. Basic pendant designs of the early 20th century gradually gave way to more advanced designs. This was aided by the development of the tungsten filament lamp in 1909 that, with its characteristic white light, was capable of doubling the level of brightness. This was utilised in different ways, for directed lighting as well as indirect lighting. However, most kitchens continued to have a central ceiling suspended light source. Fluorescent lamps began to be popular in the 1940s, though pendant and globe lamps continued to be characteristic of 1950s kitchens. The earliest downlights were pioneered in the 1930s, but it is not until recent years that they have received vast popularity. Earlier designs have used compact fluorescent or incandescent lamps, but with the development of LED lights in recent decades, downlights have become more minimalist and stylish from a contemporary viewpoint.
Choosing Kitchen Ceiling Lights
When choosing a ceiling light for a kitchen, it is important to keep functional considerations in mind as well as decorative principles. An ornate chandelier, though beautiful, may not be as practical as simple spotlights. Lights in the kitchen are likely to become dirtier than lights in other rooms, so a light that is non-fussy and simple to clean is often preferable. Kitchen lights also need to be powerful enough to light the kitchen safely and clearly to work in. Kitchen lighting can be categorised by ambient, accent and task lighting, with kitchen ceiling lights used for both ambient and accent lighting. Ambient lighting is indirect for day to day tasks. Accent lighting is directed lighting for specific tasks or interest.
Types of Kitchen Ceiling Light
Knowing the different types of lighting available ensures that finding the correct model is easy.
Flush and Semi-flush Kitchen Ceiling Lights
Flush and semi-flush kitchen lights are an ideal choice for ambient lighting in properties with lower ceilings. These kitchens may not have the space for a pendant lamp to hang comfortably, unless it is over a breakfast bar or table. Flush lights are attached flush to the ceiling while semi-flush lights are slightly suspended beneath. These types of kitchen light are generally fluorescent. They are available in a range of styles including classic and contemporary, and are the ideal choice of light for kitchen in many ways due to their effortless simplicity and style. Finishes include clear, frosted and etched glass, polished and brushed chrome and steel, and more traditional finishes such as brass and copper.
Pendant Kitchen Ceiling Lights
Pendant kitchen lights can provide either ambient or accent lighting by hanging them either closer to the ceiling or low over work or eating surfaces. They are ideal for ambient light in high ceilinged properties as they bring the light source closer, but in low ceilinged properties are only really suitable for hanging over breakfast bars or tables. They can be used to good effect to draw attention to different areas, such as kitchen islands or dining areas. Pendant kitchen lights are available in many styles, including traditional, vintage and contemporary, and a range of finishes, including clear and frosted glass, chrome, steel, painted metal and antique nickel or brass.
Kitchen Ceiling Downlights
Recessed downlights are arguably the best option to create a contemporary, minimalist effect. However due to their discreet and unobtrusive nature, they can fit into any decor. They offer high levels of brightness when it is required, but part of the appeal of downlights is their versatility, as they are dimmable and can also generate diffuse light for a more relaxed ambience. As few or as many downlights as required can be installed, they are ideal for low ceilinged properties or kitchens with a false ceiling. Downlights are available in a range of styles, colours and finishes. Fixed downlights are not adjustable but adjustable gimball or eyeball downlights can be rotated to direct light, with eyeball downlights the more adjustable. Downlights are simple to install and when using LED or fluorescent light bulbs are also economical. Building regulations may apply when downlights are fitted in new builds or extensions beneath load bearing floors.
Kitchen Ceiling Track Lighting (Spot Lights)
Track lighting or spot lights can be used for accent lighting and can be angled to wherever the light is needed. They are popularly used in kitchens, where flexible bar designs means that light can be easily focused onto worktops or other areas. The design means that several lights can be run off just one light fitting. Track lighting can be used to spectacular effect and create warm and intimate atmospheres. However, to create bright ambient light the bulb wattage may need to be increased or the track lighting may need to be used in combination with other light sources. Track lighting is a good option for modern and contemporary styled kitchens.
Conclusion
Kitchen ceiling lights are available in a large variety of styles. The basic types of kitchen ceiling light include flush and semi-flush, pendant, downlights, and track lighting (spot lights). Which kitchen ceiling light is selected depends upon a number of factors, including the size, space, and layout of the kitchen, ceiling height, whether ambient, accent lighting or both is required, and existing (or planned) kitchen decor. Research items by following the guidelines above and shop around to find items at the best value. The perfect ceiling light will bring light, warmth, and comfort to the kitchen, creating the ideal environment to work, eat, and entertain in.