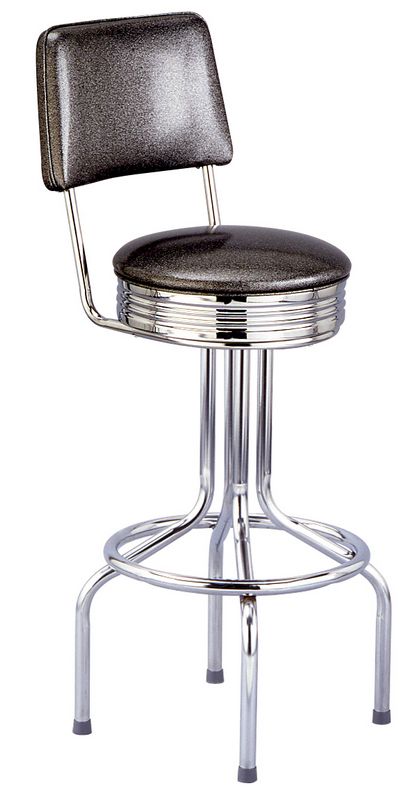 When it comes to kitchen stools, the vast range of options can make finding the right stools seem a little daunting. However, with a little bit of knowledge about the product category, one is sure to find the right stools that accommodate the needs. Kitchen stools come is a wide selection of heights, sizes, colours, materials, fabrics, and designs. Buyers can choose from height adjustable stools, swivel stools, stationary stools, heavy stools, or lightweight stools. Kitchen stools are even available in one, three, or four leg options. When buying kitchen stools, it pays to have a set budget in mind, as they can vary significantly in price and quality. Prospective buyers are advised to consider the number of stools they require when setting their budget and purchase stools accordingly.
The good news is that one is able to purchase new or used kitchen stools on eBay. Searching for any type, size, or style of kitchen stool is easy with eBay's simple search methods, secure payment options, and reputable sellers.
What to Look for When Buying Kitchen Stools on eBay
It pays to know what to look for when searching for kitchen stools on eBay. The main requirements of a kitchen stool are that it is comfortable to sit on, it is safe and sturdy, and it is the correct size and height for those who sit on it.
Comfort of Kitchen Stools
Some kitchen stools look wonderfully elegant, stylish, expensive, or fashionable, but they are not always comfortable to sit on. If an individual wants to buy some kitchen stools more for look than for practicality, comfort may not be such an issue. However, consumers typically plan on getting a lot of use out of their new kitchen stools. A stool needs to be comfortable to sit on for users of all ages, shapes, and sizes. Padded kitchen stools tend to provide more comfort, especially stools with padded backrests. If one is interested in buying hard stools made from wood, metal, or plastic, a stool with a contoured seat and backrest is recommended. Backless kitchen stools save on space as they can slip under the bench for easy storage, but they may not be comfortable to sit on for long periods of time.
When it comes to comfort, buyers should consider how the stools are going to be used. If they plan to use them for family dinners, then comfort should be a paramount priority. If the stools are only going to be used occasionally and for short periods of time, then buyers may choose style or budget over comfort level.
Safety of Kitchen Stools
Kitchen stools sit a person higher above the ground than a regular dining chair does. The stool's safety and stability should be of utmost importance, especially for those with younger children. Four-legged kitchen stools tend to offer the most stability and balance, especially when the user is mounting and dismounting the stool. However, they tend to take up more floor space as they have a wide leg base. Three-legged kitchen stools require a wide leg base to make them stable and are not the most ideal choice for families with young children. Single-leg kitchen stools take up the least amount of space and, if they have a wide base plate, offer good stability.
Size and Height of Kitchen Stools
To ensure comfort for the whole family, a kitchen stool with a wide seat and wide backrest is ideal. The only downside to these larger sized kitchen stools is that they take up more space than the small backless versions. One has to decide whether they would prefer a lesser number of larger sized stools or more stools of smaller size.
When it comes to buying kitchen stools, one also must consider the stool's required height. Ideally, a person should be sitting approximately 30 cm below the bottom of the bench top. Stools are made in four different heights. Stools tend to be referred to as table stools, bench top or counter stools, bar stools, and spectator stools. The following table provides a list of these different stools and their corresponding heights as well as the appropriate tabletop height.
| Kitchen Stool Type | Stool Height in Centimetres | Tabletop Height in Centimetres |
| --- | --- | --- |
| | 43-46 cm | 71-76 cm |
| | 60-66 cm | 88-92 cm |
| | 71-76 cm | 101-107 cm |
| Spectator Stool | 83-86 cm | 114-122 cm |
One may use this chart to settle on a desired stool height. Alternatively, a buyer can measure the height of the table and subtract 30 centimetres. This should then provide an idea of what stool height to consider.
Kitchen Stool Options
The array of kitchen stool options is quite significant. If one searches on eBay, he or she is likely to find a stool of any style, type, colour, or size imaginable. The common kitchen stool options are based on making the stool as comfortable and practical as possible.
Height Adjustable Kitchen Stools
Height-adjustable kitchen stools are an ideal choice for buyers who want the flexibility to use their stools around the home. A height adjustable stool means it can go from being used at the kitchen bench top to the games room bar or the dining room table. It also enables users of different ages and heights to adjust the stool for their comfort. On average, a height adjustable stool offers a range of between 63 cm to 76 cm.
Swivel Kitchen Stools
Swivel kitchen stools are popular for their ease of use, especially when space is an issue. Swivel stools are convenient, practical, and are great for eating and socialising. Users simply swivel around to speak with the person behind or to the side of them, and then swivel back to the kitchen bench top.
Kitchen Stool Fabrics and Materials
eBay offers a wide selection of different kitchen stools. The website's search categories make it even easier for buyers to quickly and easily find the stools they are looking for. Stool fabrics and materials are generally based on price. Metal framed kitchen stools are sturdy, durable, and easy to clean, and they range significantly in price. Wooden kitchen stools are another popular choice as they are durable and easy to clean. Wooden stools can be quite expensive, depending on the quality of the wood used. Plastic kitchen stools tend to be less expensive. When buying plastic stools, one is well advised to check out their strength, quality, and stability.
For added comfort, many buyers like to buy padded stools. Fabric stools can look very pretty and complement a home's decor, but they can be difficult to keep clean, so keep in mind colours and patterns when buying fabric stools. Leather kitchen stools tend to be expensive, but they do offer comfort, durability, and easy maintenance. When purchasing leather kitchen stools on eBay, buyers should be aware that there is a significant difference between genuine leather stools and faux leather kitchen stools.
Set a Budget for Kitchen Stools
Once a prospective buyer has identified how much he or she wants to spend on kitchen stools, the options and styles that fit within the budget must then be considered. Remember that eBay makes this easier by enabling buyers to search by price range and list the items for sale by lowest price first or highest price first. eBay also enables buyers to list items by price plus costs for postage and packaging.
Shopping for Kitchen Stools on eBay
In order to buy kitchen stools on eBay, you may head to eBay's homepage and type "kitchen stools" into the search bar. A long list of thousands of items available for sale on the website is listed. To further refine this search, you may use the search category options. These categories enable buyers to search by kitchen stool height, colour, condition, price range, material, style, brand, or type. To search for a specific type of stool, such as a black leather kitchen stool or a high back kitchen stool, you simply type this into the search bar.
Understanding Kitchen Stool Delivery Costs
Some sellers offer different delivery options for their items. If you have found kitchen stools on eBay from a local seller, you may be able to collect them in person, saving on delivery costs. On the other hand, purchasing kitchen stools from other parts of the country incurs delivery costs. It is important to understand clearly how much it costs to have the stools delivered, how they are being delivered, and the estimated delivery time. Be sure to look into the information provided by eBay on item postage and packaging.
Conclusion
Kitchen stools offer many benefits. An ideal space-saving technique, kitchen stools offer elegance and style to a kitchen, allowing family and guests to congregate and socialise in the heart of a home. In order to make buying kitchen stools on eBay simple and straightforward, individuals should consider a stool's, comfort, safety, height, and size before making a final purchase decision. The range of kitchen stool options is vast, with buyers able to choose from height adjustable stools, swivel or stationary stools, metal or plastic stools, fabric or wooden stools, as well as backless or high backed stools. Kitchen stools range from the inexpensive, ideal for those on a tight budget, to the very expensive, depending on the style. The price paid for a kitchen stool is based predominantly on a buyer's personal preference.
Buying kitchen stools on eBay enables one to search for any type of stool from the comfort of the home or office. There are numerous benefits to buying on eBay, including the wide selection available and the ability to purchase new or used kitchen stools at competitive prices.