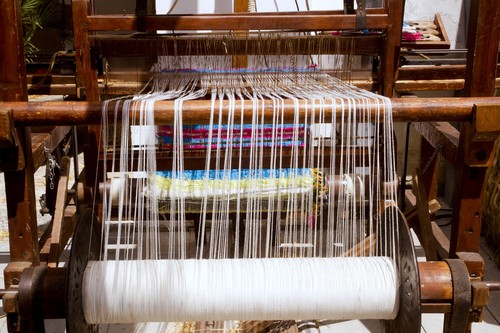 Knitting has been a method used to create fabric and articles of clothing since before the time of the early Egyptians. Knitting is a way to join yarns together in rows and loops in order to produce a knitted fabric. The fabric, in turn, can be used to create articles such as clothing. While knitting originated as a process that was completed by hand, over the years, machinery was developed that allowed knitting to be accomplished automatically and with little to no supervision. The advantage of knitting machines is that they make it easier and more efficient to create larger and more complex items that might normally take a great deal more time if done by hand.
Knitting machines can be simple devices, with few moving parts, or they can be complex electronic units that are controlled by computers. In order to get the most out of their knitting machines, consumers should be aware of the various types of accessories available in the market that can make the machines more flexible. It is also helpful for consumers to know how to go about finding and purchasing these accessories by using the shopping tools available on a website such as eBay..
Types of Knitting Machine Accessories
The various accessories available for knitting machines have taken a relatively simple machine designed for the creation of fabric and turned it into a highly versatile tool that is easily capable of crafting many designs. Regardless of the challenge a knitter might face in completing a fabric, chances are there is an accessory available that can help make that task easier and quicker.
Tensioning Gauge
Knitting machine tensioning gauges allow the user to properly set the tension on the top threads of the machine. The gauge is hooked onto the top thread from the presser foot and, when the thread is pulled, the gauge determines the amount of force used. This tells the user how much force the machine is exerting on the thread. The user can then set the machine's tension precisely to match the requirements of the item being knitted.
Stands for Knitting Machines
Many types of stands are available, depending on the type of knitting machine being used. Stands give the knitting machine a stable platform on which to sit, and certain units feature knobs that allow the stand to be tilted in order to accommodate ribber combinations or flatbed knitting.
Row Counters
Row counters are simple items that can be added to a machine to keep track of the number of rows that have been knitted. Row counters attach to the back of the machine and can usually count up to 999 rows before they reset. The devices assist knitters in determining the length of the item being knitted.
Intarsia Carriage
An intarsia carriage placed on the knitting machine enables the knitter to knit pictures into a garment or afghan by using multiple coloured yarn. Intarsia carriages allow different designs to be floated onto other designs and colours below, giving a nearly endless capability of patterns and colours. Intarsia stitches are highly labour-intensive and difficult to make, so the use of an intarsia carriage is vital to the process.
Anti-Static Spray
Yarn is a material that is conducive to static electricity. Static build-up in yarn creates an effect where yarns stick together and make it difficult to sort and manipulate. The motion of knitting machines where the carriage runs along the various rows of yarn eventually create a static charge that builds up and can cause issues. Anti-static sprays that are applied to yarn prior to use can diminish static buildup and make the process easier.
Needle Extensions
When knitters wish to create larger garments, such as big sweaters or larger afghans, the addition of a needle extension allows them to make a machine larger. Needle extensions are also used as replacement sections if part of the knitting machine becomes damaged. Many knitting machines are made up of various sections that are all tied together, so the extension can be placed anywhere in the machine where it is needed. Theoretically, with some knitting machines, needle extensions can be added to create unlimited extensions to the original knitting machine, enabling the knitter to create any size of fabric.
Thread Scissors
Thread scissors are specialised scissors that have sharp, knife-like edges. A pair of thread scissors has a distinct shape that allows the user to run the scissors across multiple rows of knitted fabric and easily cut through them. The scissors' cutting sections sit between the thumb and the index finger so the knitter can maintain complete control over the scissors when cutting yarns or fabric. The middle finger rests underneath the scissors through the only hole on the unit. These scissors allow for detailed and circular cuts as well as the ability to cut through heavy yarns.
Magnifying Lamp
A magnifying lamp can be an excellent addition to a knitting machine. Magnifying lamps not only produce light to dim areas of a knitting machine, their magnifying capabilities make it much easier to see details. Magnifying lamps usually feature circular fluorescent lighting that creates shadow-free illumination. These lamps are ideal for reading fine print and studying patterns, and when detail work is required, it is much easier under good lighting and magnification. The lenses on the magnifying lamps are designed for optimum clarity, and the hinged arms allow the knitter to position the lamp into exact position with one hand.
Patterns
The key to knitting either by hand or with a machine is coming up with the various patterns needed to create new and exciting designs with fabrics. There are literally tens of thousands of different knitting patterns available either in single pieces or in a collection of various designs. Some people who knit enjoy making their own designs for their products as part of the creative process. Others find that having dedicated patterns to follow allows them to focus on the enjoyment of knitting without having to struggle over designing a pattern. Knitting enthusiasts in the Internet age have the ability to find nearly any type of pattern to meet any type of design requirement they may have, and the patterns are made easily available with simple online shopping tools.
Colour Changer
One may choose from two types of colour changers as an accessory to the knitting machine. The single bed colour changer allows the user to thread up to four different coloured yarns into the machine and easily change between them without having to stop and rethread the machine. Double bed colour changers are similar to the single bed units, but they are fitted onto double bed knitting machines and can accommodate up to six different yarn colours at one time. Many knitting machines can only be threaded with one or two yarn colours at the most, so if multiple colours are required for the pattern being knitted, a colour changer is a vital addition to the machine. Colour changers are available to fit on manual knitting machines as well as electronic units.
Buying Knitting Machine Accessories on eBay
Whether you knit by hand and want to upgrade, or you already own a knitting machine, accessories are available that can help you produce a higher quality of fabrics in a quicker and easier manner. You can find a wide range of knitting machine accessories by utilising the powerful search tools available on eBay. Begin your search by going to the eBay home page and entering a relevant search term, such as "knitting machine accessories", into the search box. A list of available products is then displayed according to the information you entered. You can browse through each listing until you find an accessory that suits your needs, or you can select from the various subcategories on the website to refine the search parameters and narrow the results.
Once you find the product you want, be sure to take a moment to review the seller's feedback rating prior to committing to the purchase. Feedback is generated by buyers who purchase items from sellers and then rate the sellers on their transactions. Sellers who maintain positive feedback from customers have demonstrated a commitment to delivery quality products on time.
Conclusion
Knitting has become not only a method of creating articles such as clothing and blankets, but it is also an interesting and productive hobby for many people. While some individuals prefer to craft their items by hand using nothing more than knitting needles, there is a growing number of people who find just as much enjoyment in completing the process with a knitting machine. These machines give individuals the opportunity to create items that look like they were created by a professional. Consumers can also create items in a shorter amount of time while enjoying the feeling of working with yarn and producing something with it.
The number of knitting machine accessories available to people via online sites such as eBay has dramatically increased their ability to find the accessories they want in a quicker and easier manner than searching through fabric shops. Purchasing products online through eBay is both safe and easy, and the many great deals available make it a smart place for buyers to conduct their shopping.