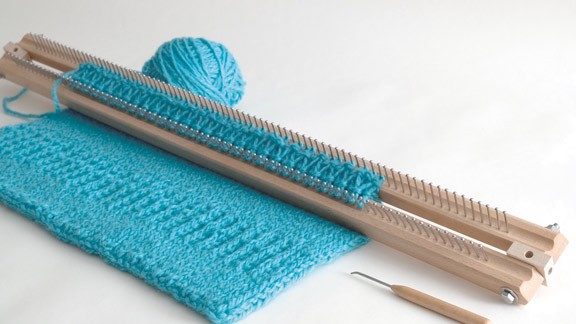 A knitting machine allows the user to complete knitting projects in a fraction of the time it would take if the project was to be finished by hand. These machines are able to perform a wide range of stitch techniques and functions. Functions differ from machine to machine, with more basic models being capable of fewer techniques. Knitting with a machine is not as simple as loading a pattern and yarn and letting the machine get on with it. Human input is still required to shape the item being knitted and to perform special functions. Assembly and finishing is also done by hand.
Before shopping for knitting machine patterns,, learn how a knitting machine works. There are three ways in which machines read patterns and the pattern type chosen should match the machine's system. In addition, machine gauge affects the pattern type required, so understanding the basics of machine gauge types makes it easier to find the right pattern for every machine. Knitting machine patterns are available from craft and sewing shops and online, from sites like eBay..
How Does a Knitting Machine Work?
A knitting machine is made up of two key components: the needle bed and the knit carriage. The needle bed can contain up to 200 needles that look like small hooks. Needles can be placed in four different positions: working, nonworking, upper working, and hold. The knit carriage is a flat piece of metal and plastic with a number of switches. Casting on places a stitch on each working needle and when the knit carriage is run across the needles each one knits a stitch. When the end of a row is reached, the knit carriage is simply run back.
Most knitting machines are used for making flat pieces using patterns that are assembled as in hand knitting. While the knitting machine can create a range of stitches, the operator must increase or decrease the number of needles in use in order to shape the piece. Once the piece is complete it is cast off.
Choosing the Right Knitting Machine Patterns
When choosing knitting machine patterns, three things must be taken into account: how the machine reads the pattern, the machine's gauge, and whether the machine supports the stitching techniques used in the pattern. Most patterns indicate which gauge machines they were written for, making it easy to find the ideal pattern. Check the machine's user manual for a list of supported stitches and knitting techniques to ensure that the machine is able to produce the desired results. If in doubt, search for patterns according to the machine's manufacturer and model number.
Knitting Machine Pattern Systems
Knitting machines read knitting patterns in three different ways: electronic, punch card, or Mylar. The knitting machine reads every line of the design graph, setting the needles required in the correct working position to create the pattern. The machine repeats the design unless programmed by the user to stop or change. Once the design is complete the machine restarts the pattern unless the user casts off or changes it.
Electronic Knitting Patterns
Electronic machines feature onboard or detachable computers that are programmed with a graph that depicts the pattern. Electronic machines are the easiest to use and tend to be the most versatile. Modern electronic machines can read designs that use the full needle bed, which consists of 200 stitches on the standard gauge and up to 999 rows. They are capable of alerting the knitter when it is necessary to increase or decrease for shaping the knitted piece.
Punch Card Knitting Patterns
Punch card patterns are read from special paper that looks like graph paper, which depicts the design through holes punched in the paper. Punch card machines can only read graphs of between 12 to 24 stitches per row. In comparison with electronic machines, horizontal design choices are fairly limited.
Mylar Knitting Patterns
Mylar is a form of polyester resin that is used to make heat-resistant plastic films and sheets. Mylar machines are fitted with computers that read a graph that is drawn on a piece of clear Mylar.
Knitting Machine Gauges
In addition to the knitting machine's pattern system, the pattern type required is affected by the machine's gauge. The knitting machine's gauge refers to the size and spacing of the needles and corresponds to the type of yarn that can be used on the knitting machine. Gauge is measured in millimetres. Knitting machines generally use a range of yarns within their gauges, but not all yarn can be used on every machine: there is a difference between gauges for hand knitting yarn and machine yarn. There are four common knitting machine gauges: fine, standard, mid, and bulky.
Fine Gauge Knitting Machine
Fine gauge knitting machines have 3.6 millimetre gauges and use very fine yarn. They are used primarily for lace work and to create very fine knit clothing. They tend to have beds of 250 needles.
Standard Gauge Knitting Machine
A standard gauge knitting machine has a 4.5 millimetre gauge with a bed of 200 needles. These machines knit a wide variety of yarns ranging from lace to sports weight. Standard is a popular gauge that is often used to produce jacquard or multicoloured work, skirts, trousers, and tops.
Mid Gauge Knitting Machine
Mid gauge knitting machines are available in 6.5 and 7 millimetre gauges. They have beds of 150 needles and produce garments that look somewhat like hand knitted items. They can be used with regular or thicker yarns and are also a popular choice for machine knitters. They are also used to create heavier items. Mid gauge knitting machines can be seen as hybrids of standard and bulky gauge models.
Bulky Gauge Knitting Machine
Bulky gauge knitting machines are available in 8, 9, and 11 millimetre gauges, with beds of 110 needles. They produce items that look hand knitted, and are capable of using thick yarns. Bulky gauge knitting machines are used to make heavier items, such as jumpers, but can be used with sports weight yarns.
How To Buy Knitting Machine Patterns on eBay
To find knitting machine patterns on eBay, simply type a phrase, such as "Knitmaster knitting machine patterns", into the search field, which can be found on every page, to see the listings available from eBay sellers. This search displays all of the items tagged with the chosen keywords. Refine your search by including more detailed keywords, such as a garment, or by choosing the most appropriate item features. If you would like to narrow or expand your search, then use the advanced search feature..
Before You Buy on eBay
Before buying knitting machine patterns on eBay, learn about the item. You can find all of the information that you need to do this by clicking on an individual knitting pattern and viewing the item listing page.. Included here are details such as the full item description, images, the seller's accepted payment methods, buying options, and postage and packaging costs. Remember to include the postage and packaging costs when calculating the total item cost. If you have any questions about a listing, contact the seller directly by clicking the "Ask a question" link.
Seller Feedback Information
Get to know the seller by checking his or her feedback information. Click on the number next to the seller's username to see what other buyers think of his or her products and customer service. This way you can make up your own mind about the seller before committing to a purchase and you can shop with confidence. A high amount of positive feedback is a good sign that the seller is reliable.
Conclusion
Knitting machines can produce a wide variety of stitching techniques, allowing the knitter to complete a project quickly and easily. Although user input is required for shaping and special techniques, knitting machines make producing high quality knitted items simple. Understanding how a knitting machine works makes it easier to find the right patterns. The number of needles in the needle bed varies from machine to machine. The gauge determines how many needles are featured, how closely they are set together, and which thicknesses of yarn can be used with the machine.
Knitting machines read patterns in three different ways: electronically using computer programmed graphs, using punch cards, or Mylar sheets. Electronic or computer driven knitting machines are versatile and the easiest to use. They can also create the most intricate horizontal patterns and can be programmed to use all of the needles in the needle bed.
When buying knitting machine patterns, take the machine input type, the gauge, and the available stitching techniques into account. Most patterns indicate which gauge they are designed for and the pattern input method should be marked clearly. For stitching information, refer to the knitting machine's user manual. If uncertain, search for patterns according to the machine's make and model. eBay sellers offer a wide selection of knitting machine patterns, to create anything from baby clothes to handbags.