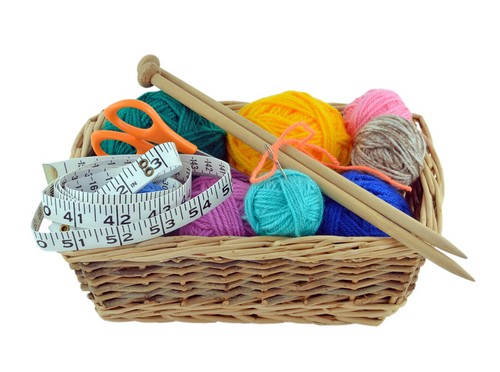 Knitting is back, and in a big way. Countless blogs and social networking sites dedicated to knitting have sprung up at the turn of the 21st century. Groups of people have gathered in homes and public spaces to learn the fine art of knitting and enjoy community and kinship while they share tips, tricks, and yarn--swaddled trends. Every day, someone new takes up the craft, reading how-to articles, making shopping lists, and buying knitting tools and supplies.
While there are only two basic necessities to knitting, including yarn and needles, a host of other tools greatly facilitates the process and enhances the experience. After talking to friends and learning a bit about the various tools and their uses, an individual looking to either pick up the hobby or expand the repertoire can begin by making a list. Then, on eBay, one can conveniently search for these items to find the knitting tools needed to pursue this hobby.
Assembling a Knitting Tool Kit
Outside of buying starter kits, many would-be knitters select and amass the tools they need, one at a time. Knowing what to put in knitting tool kits is essential towards building a repertoire.
Crochet Hooks
Not only can knitters use crochet hooks to fix the occasional dropped stitch, but the implements are ideal for weaving the ends of yarn into the knitting. As an added benefit, the new knitter can ger one step closer to another hobby should one choose to learn to crochet.
Note that, for larger weaves, a yarn needle works just fine here.
Point Protectors
Although not necessary for at-home knitting, point protectors are recommended for use when travelling. In addition to shielding the needle's point from scuffs or scratches, these rubber caps help keep the stitches on the needle when not in use.
Scissors
At some point, the yarn needs to be cut upon completion of a knitting project. While sewing or craft scissors are available, a simple pair of school scissors may also be sufficient for this.
Measuring Tape
People knit items to be a specific size; therefore, it is important to know that the project is on target in this area. By using a measuring tape, one can be assured of the proper size and proportion of finished, or ongoing, work.
Knitting Bag
Although a knitting-specific bag is not required, having one place to keep all the knitting materials and tools together simplifies things when it is time to work. Not only will the yarn,, needles, and accessories be neat and nearby, but they can be easily transported when heading out to knit in a public place or with friends.
Additional Items
Although not part of a traditional tool kit, some additional items are worthwhile to have nearby. Items include a calculator with which to compute size; an emery board, to keep fingernails from snagging the yarn; and a skein of worsted-weight white cotton yarn for spot marking.
A notepad is a good addition to the knitting bag, too. Not only is it handy for jotting down measurements, stitches, or rows, but a journal of projects is a good idea for a knitter. One can use the journal to note down specific yarns, needles, and patterns used, and this information can aid in remembering what worked in projects.
Shaped like safety pins, stitch markers allow knitters to put live stitches on hold in the midst of a project. They lock and unlock easily and are also easy to remove when the marking is no longer needed. Similarly, any finishing performed outside of the home can benefit from knitting clips that hold the pieces together.
Knitting Needles
Without a doubt, the knitting needle, besides the yarn, is the crucial tool needed for knitting projects. The size and construction of a knitting needle have direct correlation with both the thickness of the knitted product as well as the enjoyment of the knitter. Whereas some knitters may prefer one type of needle to another, others like to use what has been recommended for a given project.
Types of Knitting Needles
A knitting needle is a cylindrical shaft with at least one tapered end. Knitting needles that have a taper at one end and a knob at the other are known as single-pointed, while those with two tapers are deemed to be double-pointed. Knitting needles come in various lengths, most commonly ranging between 25 and 40 cm. In terms of circumference, the tools span from 2 to 25 mm. In the United Kingdom, needles are numbered in opposition to their size, according to their gauge: 000 (10 mm) to 14 (2 mm).
While the majority of knitting needles is straight, circular needles are available as well. These are often chosen for the more even distribution of weight they provide. A knitter can also fit more stitches onto a circular needle than one could with a straight one.
Materials for Knitting Needles
Knitting needle composition varies as well, and this includes metal, wood, plastic, and bamboo. The more widely available needles are constructed of metal, with aluminium being among the more popular; other metals used for the tools may include nickel, chrome, and brass. Metal knitting needles can be somewhat slippery; as such, stitches may occasionally slip off. Plastic needles are also on the low end, price-wise, and they tend to last longer.
Wooden knitting needles are both comfortable and satisfying to use. They are a bit more costly than their metal counterparts. This, coupled with the fact that their brittleness sometimes leads to breakage, might dissuade some knitters. Bamboo knitting needles, however, are strong and smooth; although they cost a bit more than plastic and metal, they are warm and soft to the touch, making using them a more enjoyable experience.
Until prospective knitters know which needles they prefer, it is generally recommended that one start with the less expensive aluminium or plastic models.
The Knitting Bag
A knitting bag is a recommended accessory for a serious knitter. At home, the bag collects all of the knitter's materials in one place, making them easy to find. And when people take their knitting out of the house with them, to local shops or coffee klatches, the bag moves from suggested to essential.
The right knitting bag can vary from person to person. Some knitters swear by a nappy bag or pocketed tote; others prefer bags made specifically for a knitter's needs. Smaller knitting projects, by extension, call for a smaller bag, but larger endeavours need additional carrying capacity. At minimum, the travelling knitting bag should have room for the following: the current project, including needles; the yarn currently in use, along with an extra ball of yarn, in case it is needed away from home; extra needles, if necessary; current patterns; and other miscellaneous supplies such as scissors, stitch holders, crochet or yarn needle, and point protectors. A larger, or secondary, knitting bag may be more appropriate at home, where it can gather many tools that do not necessarily have to be toted around.
In terms of a knitting bag's features, knitters typically look for the following: hard sides for durability and ease in packing; a couple of pockets for accessories; snap closures instead of zippers; and handles or shoulder straps to facilitate transportation.
Buying Knitting Tools on eBay
eBay has long been a destination for individuals wishing to supplement their craft tables and knitting repertoires. The site has a well-stocked crafts store, where you can easily find knitting supplies from yarn to needles, bags to crochet hooks, and measuring tapes to scissors. Whether you are new to the age-old hobby of knitting or have been clicking needles together for years, you have reached the place where your shopping wish lists are fulfilled. Within the category of knitting, you can easily narrow your search by yarn, needles, patterns, and a multitude of other accessories.
eBay has built a long-standing reputation based on buyer satisfaction and quality sellers. Listings include at least one photograph, as well as a headline and detailed product description. Prices are clearly listed, as are shipping costs, times, and terms. While eBay displays each seller's buyer satisfaction rating, the site has also designated Top-rated sellers. You have a choice to view only Top-rated sellers or to shop a specific seller's store. Making purchases on eBay is safe, secure, and satisfying, thanks to the website's many useful functionalities.
Conclusion
The market today is full of knitting products, from the old standbys of yarn and knitting needles, to near-necessary and highly recommended tools and accessories.. The profile of knitting as a hobby has risen greatly, and it has become a favourite pastime for housewives and hipsters alike. Individuals and groups can now be seen knitting on park benches and at café tables.
New knitters should consult a trusted source, whether a friend, how-to book, or informative buying guide, before embarking on shopping sprees related to this hobby. A review of knitting tools, both suggested and optional, can give them an overview of what accessories are available in the market. Beyond the ever-important knitting needles, other recommended tools include crochet hooks, point protectors, measuring tapes, and scissors. A designated knitting bag is another good idea when taking one's knitting on the road. With its wide selection of knitting products, eBay is an ideal place where one can find all the necessities to indulge this hobby.