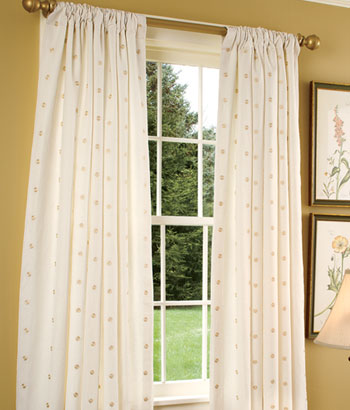 Curtains (or drapes) are pieces of cloth that are used to block or reduce the sunlight entering a room, particularly at night or sleeping time. They are usually hung over a doorway or window frame. They are a key fixture in homes around the world and come in a variety of different forms. When entering the marketplace expect to find a wide variety of materials, shapes, patterns and colours. Some high street stores are even known for dealing exclusively with curtains.
The selling points of a particular set of curtains are its cleanliness, dust retention and how well it can block light. These are all factors to consider when deciding to purchase linen in order to create your own curtains from scratch. When looking for textile materials the online world has just one leading retailer; eBay has all anyone requires in order to make the perfect set of linen curtains.
Curtain Uses
A set of curtains is made up of two single pieces of material that are identical in both size and design. They hang opposite one another whilst affixed to a pole or track that is built into the wall. When pulled together they cover a window or a doorframe and block light.
They are important in all rooms of the house and are absolutely essential in areas where people sleep. The right curtains can make the difference between a restless or relaxing night's sleep. Curtains also provide rooms with tranquility, warmth and a natural design.
Curtain Fabric Appearance
The curtain fabric designs available provide shoppers with plenty of options. However the curtain fabric design chosen will evidently come down to the qualities it possesses.
If vibrancy and style are considered the most important aspects to shoppers, they should look at fabrics that place focus on patterns.
If the curtain is destined for a children's room, fabric quality should take preference and a strong lining is something to consider.
Those that are for use in the bedroom may require 'blackout' material. It will keep out sunlight even on the brightest day and help maintain a tranquil atmosphere.
The thickness and weight of a fabric are considered the most important elements to most shoppers. Heavier curtains have the ability to keep out draughts and maintain the warmth of a room.
Types of Linen Curtain Fabric:
Unlined
The oldest and most traditional form of curtain material is unlined fabric.
Usually a thin fabric.
Doesn't offer much protection against draughts or sunlight.
Cost efficient and the most affordable form of linen curtain fabric.
The perfect compliment to a set of blinds.
Can add a touch of colour to the home without breaking the bank.
Lined
Lined curtains are much thicker than their unlined counterpart; even though it is a more expensive fabric it does provide a luxurious look.
They appear thicker due to having additional layers, which helps reduce draughts.
It will hang better on windows due to the additional weight.
Being thick, lined curtains.
Lined material is versatile in terms of style.
Blackout
There is no higher quality of curtain than a blackout curtain. It's luxurious to the touch, weighted enough that it hangs firm and isn't moved by draughts.
A popular choice for the bedroom as it allows light to flow during the day whilst blocking it out at night.
It can be used in children's rooms, as it can help make a room dark during daylight hours.
It is the most expensive form of fabric and shoppers should expect to pay more for it.
Amount of Material Required
Linen is the number one choice when it comes to curtain material and it is sold by the metre. This allows shoppers to fully customise curtains to the size they have in mind. Whether you require curtains for a large living room, or only one square meter for a small bedroom window, each seller should be able to provide the necessary measurements.
An advantage of purchasing from eBay is that not only are there a variety of designs to choose from, measuring and tailoring services are available from some sellers too. This means that they (for a fee) will create a pair of curtains for you to your exact specifications. It's a great way to save time spent in front of a sewing machine.
Buying Used Material
eBay has become a trusted resource in the textiles trade, so it is possible to buy good quality used curtain fabric. Because it is possible to find a good price it will appeal to most potential buyers. However, it isn't without risk. Buyers should cast a cautious eye over every used item and be sure you get what the seller has advertised. One way to do this is to speak to the seller and ask them the following questions about the material:
How much material is for sale?
How has the material been stored?
Are the edges of the material frayed?
Was the material originally purchased used or new?
Linen Curtain Care
Once you've made a set of linen curtains you won't want to see them become frayed. Curtains are just like any other material that gets daily use; it requires care and attention to remain clean. The following items are important in the curtain cleaning process:
Soap
Detergent
Ironing board and iron
After purchasing the above items take the following steps in order to restore a pair of linen curtains to their best.
Remove the curtains from the window and treat any stains with a bar of neutral soap. This works as a pre-treatment and should help tackle tough stains.
Place the curtains in the washing machine and put them on a cold wash with detergent.
Hang dry the curtains in order to avoid any shrinking of the material. The drying process can be lengthy, so be patient.
Iron the curtains to remove any creases.
How to Purchase a Linen Curtain Fabric on eBay
The small and quaint high street fabric store is many people's first thought when they look to buy fabric. However the advent of online shopping has changed such outlook. Even though brick and mortar stores still have their uses, smart shoppers know that it isn't the place to get the best deal. eBay has taken its place as the world's leading online marketplace and the textiles industry has been quick to embrace it. Expect to find used and new offerings that are tailored to your curtain constructing needs.
To start browsing what linen curtain fabrics are available go to eBay's homepage and select the home and garden option.
From there click on crafts, fabric and then curtain. This will display all live auctions and allow shoppers to browse freely.
If shoppers have a specific brand or variation in mind they can use the keyword search tool found at the top of the page.
eBay Shops
Textiles and sewing is an engrossing hobby, so it's no surprise to see the industry well represented on eBay. Textile shops and retailers have taken to the eBay shops format in order to sell their stock. This means shoppers will be able to find special offers and unique bargains regularly. To find what eBay stores are open for business, select the eBay shops link at the bottom of the homepage.
Delivery
When ordering fabric to create a set of curtains, delivery should be a factor in the final price, as it may be more than some buyers realise. Ordering small amounts of fabric may not be an issue, but to construct a set of curtains a moderate amount is required. For instance, in most instances approximately half a standard roll is needed. This means that delivery charges can be expensive, as the fabric will be sent via a courier.
Completing a Transaction
When a shopper has found the linen curtain fabric they're after they will need to do one of the following:
Place a Bid
Make a Best Offer
Buy it Now
Once an auction has concluded the winning bidder will need to complete the checkout process.
Buying an item via PayPal will mean the purchase is secure, as eBay's buyer protection program covers the transaction.
Conclusion
There is nothing more satisfying than creating an item for the home with your own hands. This means that making a set of curtains can be an enthralling and captivating process. Deciding on a curtain fabric is the first thing that needs to be done; in the world of linen fabric there is no shortage of variations to choose from. Explore the marketplace, as they'll definitely be something that will suit your room requirements.
Curtains are key fixtures in every home, so it's time for homeowners to get creative and start making their own - it isn't as difficult as it seems.
eBay has become a valued resource in the world of sewing and fabrics, with its wide range of fabrics. Therefore, shoppers can be sure to find the style of curtain they are after on the world's leading auction site.