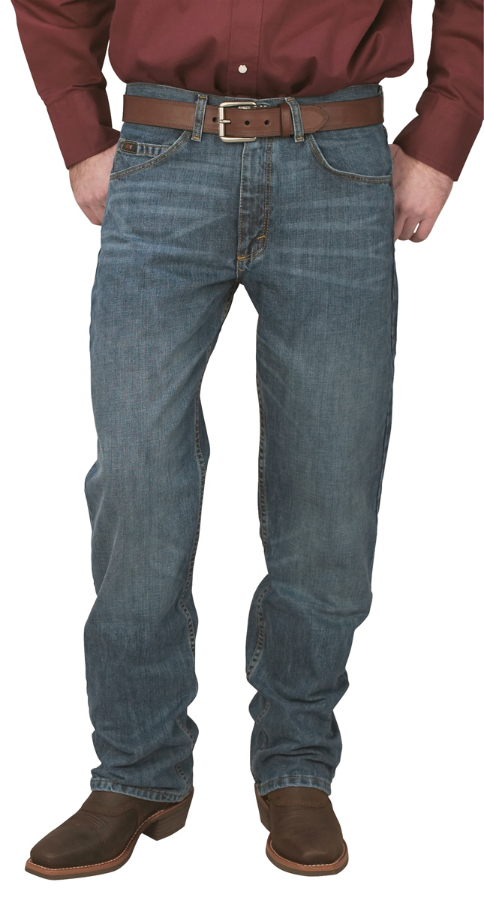 For those men who prefer a little more room in the leg than afforded by popular skinny jean styles, there are several styles of loose and comfortable jeans available on the market. Some of the basic types of jeans with looser legs include straight, boot-cut, and flare jeans. Each of these cuts come in a wide arrangement of styles and washes, which should be carefully considered by potential buyers. On top of that, the intended use for the jeans and personal style should both come into play when making a buying decision.
When shoppers identify the cut and style of a loose pair of jeans which they want to purchase, they may want to consider the merits of buying the perfect pair online, rather than through traditional retail outlet near their hometown. Buying jeans online via websites such as eBay helps shoppers save valuable time and money compared to brick and mortar retail shopping.
Selecting the Perfect Loose Cut of Jeans
The three standard loose cuts of men's jeans are straight-leg, boot-cut, and flare jeans. Users' personal style, as well as the ultimate purpose of the jeans should be taken into account before purchasing a pair.
Straight-Leg Jeans
Straight-leg jeans, as the name implies, feature a straight leg which neither tapers (like skinny jeans) nor flares. Straight-leg jeans are an ideal cut which complements fit or lean figures, creating an even line from shoulder to ankle. Straight-leg jeans are a solid choice for both casual wear and slightly more formal occasions.
Boot-Cut Jeans
Boot-cut jeans feature a slight flaring of the hem which begins just above the ankle, making them slightly wider and looser at the hem than straight-leg jeans. These jeans are a good option for men wanting to minimize the appearance of large feet, or who are somewhat top heavy in the stomach or shoulders. As the name implies, they are also the ideal selection to be worn over a pair of boots. Boot-cut jeans are generally not recommended for more formal social situations in favour of more fitted jeans or trousers.
Flare-Leg Jeans
In flare jeans, the flare begins higher than in boot-cut jeans; just below the knee, in fact. By the time the flare is at its widest point, the ankle and the bottoms of the jeans are generally wider than the waist. Flare jeans, like boot-cut jeans, are an ideal cut to wear when men are tucking boots beneath the hem of the jeans. They are also an ideal option for larger individuals, as the extra fabric on the bottom creates a slimming effect. Flare legs are also ideal for those with very long legs.
Selecting the Perfect Loose Jean Wash
Jeans come in a variety of washes or different intensities of dye saturation, which greatly impacts the appearance of the jeans. The most common washes include acid, light, dark, as well as tinted varieties. Some manufacturers rough up their jeans during production, giving the jeans artistic holes, rips, and a comfortable, loose fit so that a pair of jeans feels immediately comfortable and pre-worn. While sometimes called a "vintage" wash, this treatment is actually found in any wash style of jeans.
Pale Washes
Pale washes in jeans are more common in spring and summer fashions, as they pair nicely with the brighter colours often favoured in those seasons. Pale washes are generally very easily found with a "vintage" or worn look, meaning that they are carefully deconstructed to look pre-worn. Pale washes include acid wash jeans, which are super pale and nearly white. Light wash jeans are also included in this category, as these jeans are usually a fairly pale, almost cornflower blue. Jeans tinted in pale shades, such as orange, yellow, and light greys are also included here.
Dark Washes
Jeans in dark washes generally include only dark washes (hence their name), and some dark-hued tinted varieties. Blacks, dark purples, and dark reds are common types of darkly tinted jeans. Darkly tinted jeans are generally less often found in a "vintage" wash, but sometimes come with "whisker" patterns. These whisker patterns are gently bleached areas where the jeans crease naturally, such as around the zipper and along the knees. Dark wash jeans often tend to bleed a bit of dye during their first laundering, and so should preferably be laundered either alone or with similar colours.
Dark wash jeans are generally best worn in fall and winter, but are also used in some slightly more formal social situations in lieu of slacks, such as to a casual workday or casual work encounter. However, this should only be attempted when wearers are absolutely certain of the situation's perceived formality. There is nothing worse than showing up to a suit-and-tie meeting in jeans.
Sizing Loose and Comfortable Jeans
To make sure that jeans are optimally comfortable and loose in all the right places on men, those hunting for the perfect jeans should consider sizing themselves. There are typically two areas which require measuring: the waist and the inseam. Before taking these measurements, ensure that a tape measure is nearby.
Measuring the Waist
Place the end of the measuring tape at the front of the widest part of the waist, and hold it in place. This is generally just beneath the belly button. Then loop the measuring tape around the waist until it overlaps the end. Ensure that the measuring tape is flat against the back, snug, but not too tight. The number of centimetres which the measuring tape takes to reach the end held in place corresponds to the correct jean waist size.
Measuring the Inseam
To measure the inseam, remove any pants or leggings and stand in a pair of everyday shoes, or the shoes which you intend to wear with a specific pair of jeans. Hold the beginning end of the tape measure against the inside of the thigh where it meets the crotch. The number of centimetres it takes for the measuring tape to reach just above the floor is the ideal inseam length.
Converting Measurements to Sizes
Relatively few manufacturers actually list jean sizes in centimetres. Instead, it is industry standard in most areas for sizes to follow a rather different numeric system. Refer to the chart below to find how centimetre size correlates to the number size.
| | | | | | | | | |
| --- | --- | --- | --- | --- | --- | --- | --- | --- |
| Size | 28 | 29 | 30 | 31 | 32 | 33 | 34 | 35 |
| Waist | 72 | 74 | 77 | 79 | 82 | 84 | 87 | 92 |
| Inseam | 82 | 82 | 82 | 82 | 85 | 88 | 90 | 93 |
Some manufacturers offer selections of jeans in options greater or smaller than the standard length for that size. Some also offer half sizes, which feature waists sized in between the circumference size. If individuals exceed the centimetre size for either the waist or inseam in a certain size bracket, they should strongly consider purchasing a size larger. Purchasing a pair of jeans a size larger is also a good idea when considering purchasing all-cotton jeans, which may shrink after laundering.
Buying Loose and Comfortable Men's Jeans on eBay
Buying jeans on eBay is quick and easy, thanks to eBay's user-friendly software. First, head to eBay's homepage and find the search bar located there. After clicking it, type in those words which describe your ideal pair of loose and comfortable jeans. This might be something like "light wash boot-cut jeans", "black straight-leg jeans", or even "size 34 flare-leg jeans". Being more specific in your search ensures getting the best results. After typing, press enter. A list of those items which match your search should immediately appear. The search bar is also located on each of eBay's internal pages, making the process to initiate new searches a snap.
In some cases, you may need to communicate directly with an eBay item seller to ask questions about an item. To do so, browse the item's listing page for the 'Ask a question' link. This page guides you through the process of communicating with the seller.
Conclusion
Unlike tight, close-fitting jeans, loose jeans generally allow a greater freedom of movement in the leg and knee, and are less likely to chafe and be uncomfortable. There are several standard loose-fitting cuts in jeans, such as boot-leg, flare-leg, and straight-leg. These options come in different styles and washes, which make finding the perfect pair a chore. For men to determine the perfect wash and cut, they should consider their personal style, as well as the potential formality of situations where the jeans may be worn. As a general guideline, a pair of jeans worn to work should be slimmer, to mimic the fit of more traditional trousers, and be of darker washes.
After determining the best cut and style of a pair of jeans, shoppers should consider heading to online retailers rather than more traditional brick and mortar retail stores. Shopping online at websites such as eBay yield a far greater selection than most retail stores, while also affording shoppers the opportunity to find their perfect pair of jeans at a bargain price.