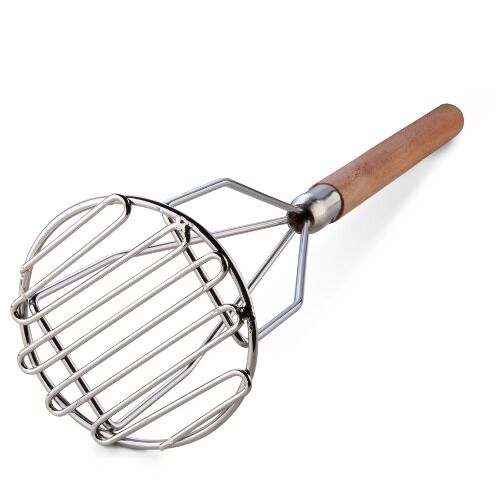 The nostalgic taste and texture of mashed potato can easily be recreated by using a masher or potato ricer; each designed to result in smooth, lump-free mash – a real comfort food. The masher has existed since the 1840s, when it was a simple utensil made from a single piece of wood. Today's modern variants are more sophisticated and complex and are constructed from metal, plastic or silicone, but they do the same job of creating a pan of creamy-smooth mashed potato.The potato ricer has been around almost as long, dating from the late nineteenth or early twentieth century; its earliest origins are not precisely known, but it has certainly been around since before the First World War. Made of plastic or metal, this more mechanical gadget produces an even smoother, creamier consistency of finished product than the masher.
Types of Masher and Potato Ricer
A number of different types of masher are available, each with particular characteristics that will meet any individual's specific requirements. Researching the different types will allow the identification of the style that most suits the needs and budgets.
Traditional Hand-Held Masher
The most common type of masher is the traditional hand-held variety; originally constructed in wood, today's products are made from a range of materials including metal, plastic and silicone. A simple design, the masher consists of a handle attached to the mashing plate. This plate, or head, is cut or drilled into strips or holes through which the cooked potatoes are forced when a downward pressure is exerted on the masher. Some mashers are constructed of heavy-gauge wire shaped into zigzags or curves, which will have the same effect on the cooked potatoes when pressed downwards onto the vegetables in a pan or bowl. The finished potatoes can be made even creamier by the addition of a little butter and milk, both of which can be incorporated into the potato using the masher Although commonly known as the potato masher, this tool is not limited to use with just one vegetable; mashers can be used for preparing other vegetables, such as swede or carrot, either for compotes or simply as a side dish. A masher is also useful for breaking down vegetables in hearty, thick soups, without the need for pureeing them completely.
Potato Ricers
There are two basic types of potato ricer; both types, though, work in the same way – they both use force to press the cooked potato through a mesh of holes that are very small; the holes are normally no bigger than a grain of rice, hence the slightly curious name for the utensil.
Pressure Ricers
The simplest type of ricer can be little more than a plate of metal or plastic, drilled or punched all over with tiny holes; the potato is placed on this plate and another plate, with no holes, is pressed down onto the vegetables forcing them through the holes into a receptacle placed below. The potatoes can then be stirred or beaten by hand to ensure a smooth and even consistency, preferably with a little butter or milk added for extra creaminess. A slightly more sophisticated version of this type of masher resembles a large garlic crusher, having a hopper into which cooked potatoes are placed, the hinged mechanism containing the pressing plate is then flipped over into the hopper and pressure is exerted to extrude the potato into a waiting bowl or dish. These more modern variants often come with interchangeable discs with differing sizes of hole, giving cooks the facility to choose the overall consistency of the finished product.
Food Mills
The other type of ricer is a food mill, which works in a similar way to simple ricers. Instead of downwards pressure pushing the potato through the holes, however, a mill has a drum with holes in the base into which the cooked potato is placed and the extrusion happens when a handle is turned causing a rotating plate to push the potato down through the holes. Like the traditional mashers, ricers and food mills can be used for other ingredients than potato, making them more versatile than their name would imply; some versions can be used to juice fruits, too. Removable meshes or plates make them easy to clean, and the robust construction materials – usually metal or plastic – ensure they are sturdy utensils that would be of benefit to any cook.
Confidence when Buying a Masher or Potato Ricer on eBay
Register as a buyer on eBay and feel confident about purchasing a masher or potato ricer through one of the online auctions. Registration takes very little time and is an easy process – access the registration page through eBay's homepage.
Carry out Research
Once registration is taken care of, searching for and potentially buying a masher or potato ricer on eBay can begin; first, however, it is wise to do some preliminary research. Compare the prices of similar items on other online sites or in shops to gauge the current market value; this will ensure any items purchased are not overly expensive. It is also a good idea to decide on the eventual purpose of the item; a masher or ricer that is used infrequently need not be professional quality, whereas a cook who uses one of these items daily should consider a higher-grade material or more robust design.
Queries or Concerns
When an item has been identified through the search process, clicking on the link to the listing page will offer the opportunity to learn more about the product and the seller. A number of links on this page will lead to different sections of the site; these contain more detailed information about the product, information about the seller, a breakdown or explanation of delivery charges and times, and also a Q&A section. This last section may contain previously asked questions that may immediately address any concerns or queries that might be had. If this section does not contain the answers being sought, there is a link that enables contacting the seller directly.
Feedback Advice
Look at the feedback ratings for sellers who are offering suitable items; this feedback rating is determined by the comments of previous buyers who have dealt with that seller. Their comments will usually relate to the reliability of the seller and may cover a number of specific topics: whether or not the goods were as described, the speed of delivery and condition of packaging materials, and how quickly and in what manner disputes or complaints were dealt with and resolved.
Choose Reputable Sellers
Only sellers who have consistently proven themselves by offering high quality goods and services will have top rated feedback; these sellers are the ones to look out for as buying from a reputable seller can make the process of bidding and buying on eBay a safe and satisfactory one for all parties.
Advice about Bidding
Before placing a bid on an eBay auction, it is essential to consider a number of things. First, set a budget – a little research into the value of the items on offer help bidders decide their limits. Check to see if the seller has set a reserve and assess whether the item is value for money by comparing it to the current market value. Once the limit for the price of the goods has been established, factor in the delivery charges, if applicable. High or unreasonable delivery charges can make a seemingly bargain price much less of a bargain in the long run. Setting an automatic highest bid can take the strain out of bidding, as there is no need to constantly watch the auction progress – any outbidding will be countered automatically until the bidder's limit is reached. This is another way of staying within budget when taking part in an online auction. Bidding is not the only way of purchasing goods on eBay, however. Many sellers will offer the opportunity to Buy It Now which can speed up the process if the goods are required quickly; just make sure the price is competitive before committing to this type of transaction.
Find Mashers or Potato Ricers on eBay
There are two ways of finding items on eBay – by navigating through the dynamic menus on the homepage or by typing the search criteria into the search box. From the menu options, clicking on Home & Garden will open a page that includes a number of links. Select the Kitchen image and then Food Preparation & Tools, which is where mashers and potato ricers are located. The other method – using the search box on the homepage - involves using the category panel at the left side of the screen to narrow down the original search results and to refine the search to locate only those items that are of interest.
Conclusion
Mashers and potato ricers, be they traditional in style or more modern variants, are in plentiful supply on eBay, and it is almost certain that anyone in the market for one of these gadgets will find just what they are looking for with little difficulty.