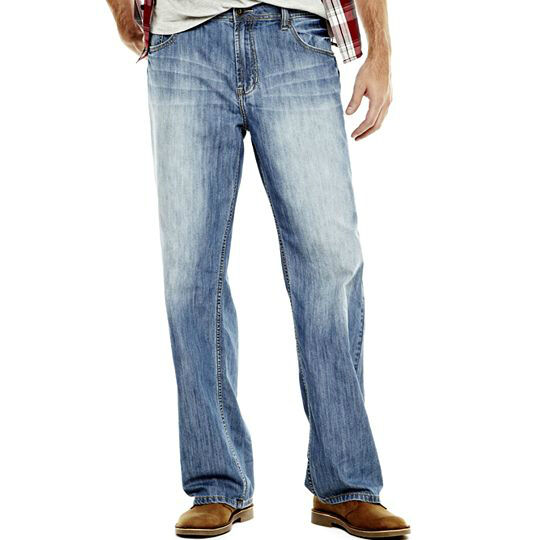 The right pair of jeans can make all the difference in one's overall mood throughout the day. Waking up on a brisk morning and slipping on a pair of jeans that fit perfectly is always a nice way to start off the day. Struggling to put that very pair of jeans on, wishing there were other choices, and being dissatisfied, on the other hand, can sour a day entirely. Searching for the perfect relaxed-fit pair of jeans can be difficult to say the least, but in this case the extra effort will most certainly pay dividends.
Although shopping through traditional outlet stores does tend to be a fairly popular jean shopping method, the selection available through online marketplaces such as eBay is difficult to top. Once the consumer identifies the need for a particular pair of jeans, all that is left is finding the right seller and brand. With relaxed fit jeans, men can rest assured knowing that this pair of pants is designed to fit their every need. This guide explains the benefits of relaxed fit jeans by comparing relaxed fit jeans against other styles. Jean care, shopping strategies, and even finding the "perfect" pair of jeans are all topics covered throughout this guide.
Loose Fitting vs. Relaxed Jeans
Shopping for a pair of men's jeans can be confusing without a reasonable understanding of the different types of jeans available on the market. Those that are searching for a pair of jeans that are not only comfortable to wear but that put up very little resistance, should consider purchasing either loose fitting jeans or relaxed jeans. Consumers should also understand, however, that these are not the same jean type at all.
Loose Fitting Jeans
For men that are larger in size, loose fitting jeans are most likely the jean choice that will maximize comfort. Although not designed for formal or semi-formal wear, loose fitting jeans are designed for more casual, everyday events. Loose fit jeans tend to eliminate the fabric clinging or hugging an area that may cause discomfort. The one possible drawback to purchasing a loose fitting pair of jeans is the possibility that a pair may be too big and thus leave the wearer swimming in their pants.
Relaxed Fit Jeans
Anyone who is searching for jeans that offer not only the comfort of loose jeans but the loose form as well should consider relaxed fit jeans as a fashion solution. Men who tend to have an average build rather than a larger build, will find relaxed jeans to be a nice form-fitting option. Although not loose everywhere, relaxed fit jeans provide an ample amount of room in the thigh area. Relaxed fit jeans are designed to provide a middle ground between comfort and aesthetically pleasing design.
Relaxed Fit and Leg Type
Most types of relaxed fit jeans are designed with straight leg cuts that make the pair of jeans somewhat form-fitting. Individuals who want a pair of jeans that is more attractive than loose fitting jeans will find a straight leg cut to be more to their liking. Finding relaxed fit jeans that are designed with leg cuts other than straight can be challenging. Utilizing sources such as online marketplaces, however, give consumers choices other than straight leg cut to choose from.
Some pairs of jeans that are designed with a relaxed fit in mind, come with a bootcut leg, and tend to be somewhat more loose fitting. Consumers can also find tapered and flared leg cuts to go along with relaxed fit jeans. Determining what is best for the individual is usually discovered through several fitting room visits. Before shopping online, be sure to try on pants of several different manufacturers as well as several different cuts before making a decision.
Choosing a Brand
There is something to be said for brand loyalty. Unfortunately, what is found to be true with most brand loyalties is that a person may pay a higher price for basically the very same fabric. Those who are devoted to a buying a certain brand name pair of jeans don't have to change brands for the sake of changing. Finding a brand that fits best and lasts longest is important, so be sure to find something that won't make its way to the back of one's closet before too long. In order to save money on that brand name pair, consider shopping through online venues such as eBay that has robust selections and considerably lower prices than other online merchants. Staying loyal to a brand name of jeans doesn't necessitate staying loyal to higher prices at traditional, brick and mortar stores.
Consider Used Jeans
Those who want a pair of jeans that will not only fit well but that are kinder to one's wallet should look into the option of purchasing a used pair of jeans. Used jeans can be a hit or miss occasion, but many great deals can be found online at sites like eBay. Any rips or holes in the fabric are likely to signal heavy use, so steer clear of those "red flags". Jeans that are well-faded lend themselves to a more customized fit, and used jeans tend to be quite a bit more faded than brand new merchandise. Potential buyers should aim to find a cut and size that matches their needs and eventually narrow down the search by contacting sellers about their item posted.
Buy More than One Relaxed Jean
Once a dependable, well fitting jean is found, consumers should consider buying more than one pair of jeans. Jean designs and cuts are continually changed from one fashion season to another, so stocking up on a particular design is an advantageous strategy. Once a quality relaxed fit jean is discovered, consider buying more than one pair. The same pair of jeans is likely to be unavailable the very next year due to style changes.
Searching for Daily Use Jeans
Relaxed fit jeans are designed to be worn for everyday use. Due to their design, many men choose to select a relaxed fit jean as their primary pair of pants. Doing quite a bit of shopping is a fairly common strategy for individuals searching for a quality relaxed jean. Avoiding a purchase simply due to price might not be a good idea when it comes to an everyday pair of jeans. Spending more money on clothing that is never worn often adds up to more than a high quality pair of jeans. Most consumers will find that considering the economy of quality is vital in order to purchase something that will actually be worn.
Jean Maintenance
Perhaps one of the most important elements in buying a quality pair of relaxed fit jeans is the caretaking of the pair once it has been purchased. Taking the right precautions before the first detergent wash is likely to expand the life of any type of denim for a long period of time. Making sure to take careful steps regarding the long term care of jeans is a quality choice as well. Be sure to follow the steps listed below to keep your favorite pair of jeans looking their very best.
The First Wash
Most people are surprised to learn that the steps taken prior to washing jeans for the first time, can actually preserve the very quality of fabric of the pair of jeans for years to come. Conventional wisdom states that owners should wait between 4 to 7 months before ever introducing jeans to detergent. In order to avoid losing colour and strength, avoid hang-washing jeans after each wear or wash. If the pair of jeans start to smell, consider taking the jeans to a dry cleaning shop.
Continual Care
Once the first wash has been completed, it is still important to avoid over washing jeans. In fact, once every five wearings is a common rule of thumb for those who try to stretch out the lifespan of a pair of jeans. If at all possible, avoid machine washing your relaxed fit pair of jeans. Instead, turn your jeans inside out and proceed to wash them in the sink using a colour safe detergent or a vinegar solution. Never, under any circumstance, should a person put their favorite pair of jeans in the dryer. Dryers will often damage the overall shape of the jeans thus ruining the comfortable feel of the pair.
Keep Colours Looking Vibrant
In order to avoid losing the original jean colour, first try soaking the pair of jeans in cold salt water in order to create a sort of a seal around the colour. Every time the pair of jeans is washed, use cold water instead of warm or hot water to prevent the colour from fading. Also, wear jeans with caution after washing them in order to avoid rips and tears. Another option may be to purchase jeans that have a slight bit of plasticity in them to surely avoid rips.
Using eBay to Purchase Men's Relaxed Jeans
Searching for certain styles of jeans such as a relaxed fit pair can prove to be quite time consuming, but with the selection offered through online marketplaces such as eBay, it is a much more manageable ordeal. To find an exceptional pair of men's jeans on eBay, simply type "Men's jeans" into the search bar. Although shoppers are able to narrow their choices by adding search criteria, utilizing the advanced search function can help to narrow down the field of choices quite rapidly. Make sure to read descriptions and look through photos to get a good idea of the jeans that are up for sale. Anyone interested in buying a used pair of relaxed fit jeans is likely to see eBay as a trusted option. Local sellers tend to have not only a large used jean selection, but can also offer cheaper and faster shipping options to nearby locations. If used jeans are not for you, authorised sellers on eBay offer brand new, just off the shelf jean options for users to peruse.
Conclusion
Finding that favorite pair of jeans can prove to be a daunting task, but with the right skills this process can be easily accomplished. Relaxed fit jeans tend to be a fairly aesthetically pleasing option for those searching for an everyday pair of jeans. Shopping for relaxed fit jeans can sometimes take days, even weeks to accomplish. Utilizing sites such as eBay to find the right pair of jeans from a dependable, trusted seller can seriously shorten the task list involved. Not only that, but used jeans that are already broken in are quite easy to find through online marketplaces like eBay. Once the highest quality pair of relaxed fit jeans is purchased, taking care of the pants is vitally important. Making sure to avoid the first wash for quite some time will create an attractive fade and comfortable fit. After the first wash, avoiding machines and automated drying will increase the lifespan even further. Taking care of a pair of relaxed fit jeans gives individuals the chance to wake up to a pair of pants that they don't have to wear, but rather that they love to wear.