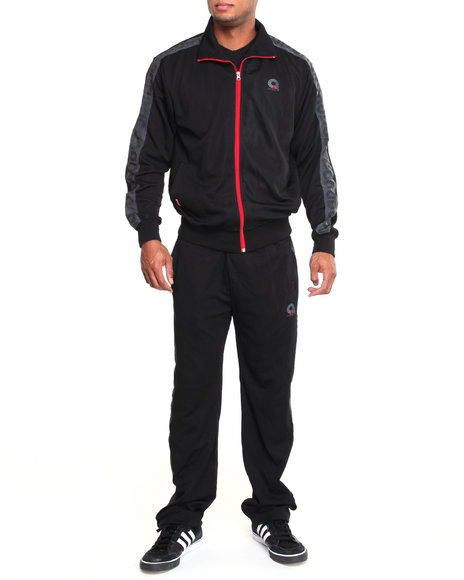 Tracksuits have long been a popular sportswear for men as the two-piece outfit is often associated with athletes and an active lifestyle. Many people wear tracksuits to keep the body warm before doing physical exercise in order to prevent muscles from cramping, but they also wear them as protection from the elements when exercising outdoors. Tracksuits also promote sweating which enables men to lose more water weight during their workouts.
When searching for tracksuits on eBay, it is important to know how to use the interface to make the search process easier. To make an informed decision when purchasing a tracksuit, it's always good to know the details of the product you would like to buy. Before purchasing a men's tracksuit, one should consider the components and materials of a tracksuit as well as how to choose the right one from eBay.
Getting to Know Men's Tracksuits
Tracksuits come in two pieces, the jacket and trousers, and they are available in various styles. In the 1960s, athletes started wearing matching tops and bottoms on the track and thus the tracksuit was born. In the 1970s, tracksuits became popular not only as sportswear, but also as casual outfits. They were worn during numerous sports activities from running to tennis, and are still popular today. Before buying a tracksuit, it is good to know something about its components, including the materials they are made of, as different materials have different properties.
The Components
Tracksuit jackets come in many colours and designs. They are almost always long sleeved and have a zipper on the front, which makes them easier to put on and take off. Initially, tracksuit jackets did not have any hood, but in time some styles have evolved and nowadays some tracksuits include hoodies, which can come in handy when exercising in rainy weather. A tracksuit always includes a matching jacket and trousers. The trousers are usually made of the same material as the jacket and may or may not have pockets. They also have elastic bands to make them easily to adjust to one's waistline but in the same time comfortable to wear. Improvements in tracksuit manufacturing have also made tracksuits more aerodynamic especially for runners and joggers.
Men's tracksuits come in many styles such as the regular crew-neck, hooded, rain, and windbreaker tracksuits. Crew-neck and hooded tracksuits can be worn anytime and can be made of any material. Rain tracksuits are generally made of waterproof synthetic materials and are suited for anyone who exercises in the rain. Windbreaker tracksuits are often made of synthetic materials to make them water resistant; however, there are also many varieties of cotton windbreaker tracksuits.
Materials Used for Men's Tracksuits
Tracksuits were traditionally made of thick cotton but are now made of many materials including cotton, fleece, polyester, and cotton-polyester blends. To help the buyer make an informed decision when selecting a tracksuit, the main features of the most common fabrics used are presented next.
Cotton
Pure cotton tracksuits are not uncommon although most tracksuits nowadays are made of fabric blends. Cotton has been a common material for tracksuits because it is comfortable, absorbent, and light. Pure cotton tracksuits are popular with many active men as these garments are comfortable and absorb sweat well; however, they are better suited for dry weather.
Fleece
Fleece is a popular material for tracksuits because it is comfortable and can efficiently wick away moisture from the body to keep the wearer dry. Fleece can be made of synthetic or blended materials, and tracksuits made of it are exceptionally good at keeping the body warm as they insulate the body heat very well. Fleece tracksuits often have a smooth texture on the outside and a woolly texture on the inside of the garment. Like cotton, fleece tracksuits are suitable for dry weather, as they are not water resistant.
Synthetic Fibres
The most common synthetic fibres used for tracksuits are polyester and nylon. Both have good strength and durability, are lightweight, and are easy to maintain. They are also waterproof and are used to make windbreaker and waterproof rain tracksuits. Polyester dries faster, is less flexible, and is more resistant to abrasion, while nylon is softer, as well as more stretchable and durable. These two fabrics are common materials for tracksuits and are often used in blends with cotton or fleece.
How to Choose Men's Tracksuits
First, you should decide what do want to wear the tracksuit for. If you are only planning to exercise in your tracksuit or use it as leisurewear at home, then you don't need a bulky or very fashionable tracksuit, unless you are very concerned about fashion. You might also want to get thicker tracksuits if you plan to exercise during the colder months. If, however, you want to go the gym and then stop at the shops to pick up groceries, you might want a more stylish tracksuit. Nevertheless, it is advisable to avoid wearing tracksuits in public when you are not exercising; a jeans and hoodie combination is a better outfit.
Second, you may also consider the colour, the style, and the brand of the tracksuit. For example, you can choose a hooded or a crew-neck tracksuit or a tracksuit which has many pockets. Men's tracksuits come in various brands, and some are specifically produced for sports while others are more versatile and can also be worn as casual clothes. If you want a good sports tracksuit, it may be a good idea to get one from a top sporting goods brand.
Last, you should try on the tracksuit, if possible. Although tracksuit trousers have elastic bands and the jackets are supposed to be loose, you do not want to buy tracksuits that are too tight or loose, as this can prevent you from exercising comfortably.
Buying Men's Tracksuits on eBay
To buy anything on eBay, you would first need to register and create an eBay account. But you can browse pages even without registering first. Start on eBay's home page and search for 'men's clothing'. You will get thousands of pages of results. To search for a tracksuit, you can just type what you want into the search bar. Both ways can allow you to look at tracksuits but it's faster to search by typing the keyword. To increase your chance of finding the perfect tracksuit, use more keywords and check the different product categories that are listed on eBay. The more you use different keywords when searching, the more varieties of tracksuits that you can look at.
Product Details
Before buying a tracksuit on eBay, there are many details that you should check, such as the size of the item, the price, the shipping fee, and the seller's return policy. The return policy is important as it allows you to return the tracksuit or any item that you buy in case it doesn't fit or isn't in good condition when it arrives. You should also note the item's condition. The condition of the item is always stated on its page and it can be 'new with tags' or 'used'.
eBay Shops
Some sellers on eBay have their own shops which sell a certain kind of products. So if you find a tracksuit that you like you can check the seller's profile to see if they have a shop so you can visit it the next time you are looking for something on eBay. You can also browse the various eBay shops according to their category such as men's clothing, when looking for a tracksuit.
Nectar Points
A good thing to know about buying on eBay is that every time you buy something, you earn Nectar points which can be accumulated. These points can then be spent on various kinds of items and services. If you plan to keep buying things on eBay, it's a good idea to link your eBay and Nectar accounts so you can collect points when making a purchase on eBay.
How to Buy a Tracksuit on eBay
eBay is an excellent place to look for the perfect tracksuit, whether you intend to wear it for sports or leisurewear because it has a wide selection of tracksuits, so you can pick your favourite style, colours, size, and materials. If you do not know what you want, you can type 'men's tracksuits' into the search bar on eBay's home page and browse hundreds of products until you find a tracksuit that you like. If you already have a product in mind, such as fleece tracksuits, you can search for relevant keywords, in this case 'men's fleece tracksuit,' and browse the refined results.
After you select a tracksuit, you should check its size, colour, and other details. If there is no return policy mentioned on the product page, you can ask the seller about it by contacting them directly on their profile. Besides the product details, you can view some information on the seller including their feedback score. A higher score means that more of the seller's past customers are satisfied with the seller's products and services. After you buy from a seller, you can also give them feedback and leave comments on their profile to help future buyers.
Conclusion
Tracksuits are a must have for any man who practices sports or just enjoys wearing comfortable clothes while at home. Tracksuits are not only comfortable, but they also provide warmth and protection during any exercise, or even on casual outings. Since tracksuits come in various brands, styles, and materials, you must always choose a tracksuit which is suitable for you. If you prefer your tracksuit to have good sweat absorbance, you should choose those made of cotton or cotton blends. If you want a water-resistant tracksuit which enables you to exercise or go out in rainy weather, tracksuits made of polyester or nylon are the best.
Whenever possible, you should also try on the tracksuit before buying as it should be comfortable to wear and allow you to move freely. eBay is a great place to buy a tracksuit as it has a large selection of tracksuits to choose from. To get the perfect one, you only need to know how to search for it by using appropriate keywords and refining your searches to match your preferences.