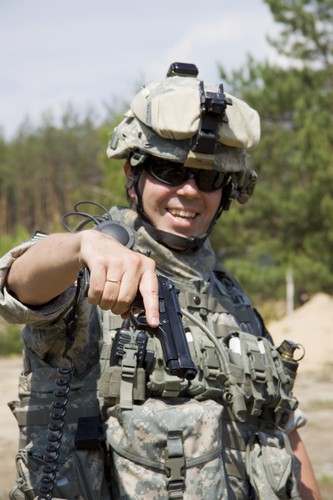 eBay is a fantastic place to buy military surplus gear. Whether the buyer is looking to purchase military clothing, uniforms, equipment, footwear, tools or equipment, eBay is the right place to buy military surplus gear for any and everyone regardless of their age.
Wars have been fought for thousands of years and people like to collect memorabilia such as military surplus gear like a token of history. Military surplus gear also has many other uses besides being collected as a hobby or pastime. The tough versatile and multi-functional gear can be used for many activities from fishing and camping to paintballing and air soft.
The purpose of this guide is to inform the reader and potential buyer all about military surplus gear and how to go about purchasing it from eBay from start to finish.
Military Surplus Gear
"Military surplus" are goods that have been discarded of by the military or military personnel. These goods are usually sold or discarded when they are no longer needed by the military. Military surplus gear describes all clothes, footwear, equipment and tools but the term rarely ever includes munitions or weapons.
Decorative military items such as embroidered patches, name tags and medals are also considered as military surplus gear.
As military surplus gear was designed for and used by the military, these items are durable and versatile. For military surplus clothing the materials used and the stitching is of the highest quality. The pockets in military surplus clothing are often large to fit military issue equipment and are specifically designed for hard use. The practicality and functionality of military surplus products is part of the appeal to many civilians buying the products.
Why Buy Military Surplus Gear?
Due to the harsh nature of being a soldier, military surplus gear is specifically designed to be tough, sturdy and long-lasting. This is part of the attraction of buying military surplus gear as the clothing and equipment is often more than suitable for any civilian activity.
Military surplus gear can be bought and worn for a wide range of uses including:
Paintball
Air soft
Fishing
Camping
Hiking
Orienteering
War re-enactments
Real life role-playing games
People often buy military surplus gear especially clothing because it is usually a better option than the current high street equivalent. A military surplus Goretex jacket for example, is often much better value for money than a similar new Goretex jacket.
One of the main reasons for this is that military surplus clothing has a proven long-lasting history as it has already been used in the military and is still suitable to sell on for someone else to wear. Also nearly all military surplus gear (except limited or special edition pieces or collectibles) can be purchased at a fraction of the cost of its brand new counterpart.
People who buy military surplus gear are often attracted to it because most items are still in such good condition (with only slight evidence of wear) when they are on general sale, they know that they are getting a high-quality product that will last for many years to come.
If a civilian were to buy a thick canvas military surplus kitbag or holdall for example, they know that they can use it for any purpose or in any condition no matter how extreme and it will survive- as after all it will have no doubt survived a lot worse in the army, navy or air force.
Military surplus gear has also enjoyed popularity in the world of fashion. Many high street and online clothing retailers have released military style lines to be sold to the public. Parker coats from World War II Germany are one of the most fashionable military surplus clothing items thanks to their thickness, durability and militant appearance.
Advice for Buying Military Surplus Gear
Purchasing military surplus gear is of course not the same as going out shopping for civilian clothes. There is some important information and general advice to share before purchasing any military surplus gear:
Labels - Many civilians are put off buying military surplus gear because many items do not possess labels nor have their brand names embossed on the items like traditional civilian clothes. The combination of the low price and lack of labels in some military surplus clothing gives some people the idea that it is fake or not authentic -this is simply not true. Most British military surplus gear does not possess labels or brand names appearing on it anywhere. In European military surplus however products most will have labels, brand names or clues of its identity.
Appearance – Another reason why people are put off purchasing some military surplus gear is because of its rustic or dirty-looking appearance. Most military surplus products are not thoroughly cleaned or polished before they are put on sale which can put some civilians off.

The reality is with military surplus gear is that the people that who sell it try to keep the products as authentically accurate as possible. Sometimes this means leaving the mud or dirt from the beaches of Normandy on the soles of military surplus shoes, for example, as this element of raw history can be a deciding factor for some military surplus gear fans.
How to Buy Military Surplus Gear on eBay
eBay is a truly great resource for buying military surplus gear. From SAS issue desert scarves and British army issue trousers to Irish Guard issue tunics and German soldier uniforms, eBay stocks an abundance of military surplus gear to suit everyone's needs and desires.
eBay is the most authoritative name in the world of internet shopping and as such it provides a comprehensive shopping experience for all of its customers. From detailed product listings and excellent customer service to the most competitive pricing on the internet and an overall great user experience, eBay is the number one choice for anyone looking to buy military surplus gear.
As part of their great user experience, eBay offers all of its customers a choice over paying for items. Shoppers can either purchase their desired item immediately (click 'Buy Now') or they can bid for the item in an auction format (click 'Bid Now').
Besides the extensive range of military surplus gear for sale on the website, eBay is renowned for its flexible payment options, its excellent customer service and the most competitive pricing on the internet.
Finding military surplus gear on eBay is easy. Shoppers can either search by category or using the search toolbar. To find the desired item using eBay's categories; simply click on 'All Categories', then click 'Collectables' and then click onto 'Militaria'.
To find the sought-after product using eBay's search toolbar; simply enter the name, military sector (Army, Navy, Air Force, SAS, Marines etc) or the country of issue and press enter.
Then the buyer is presented with pages of search results to browse through. Once they have found the right search result: click onto it to be taken to that products individual listings page. This page contains all the necessary information surrounding that product including: a detailed specification, product analysis, comments about the items condition as well as photographs of the item.
eBay also provides information about the items seller on the products listings page. This information includes but is not restricted to the seller's: eBay rating, selling history and their location. By including the seller's location on the listings page, buyers can decide whether to pick up the item themselves or to pay the shipping fee and have it delivered.
Although each listing page on eBay gives the shopper a comprehensive overview of the product, they may still find that they require more information about it or they wish to ask the seller a question regarding the product. This can all be done very quickly and easily with eBay's contact the seller function.
Once the shopper has found their desired military surplus product, they can begin purchasing. On eBay this can be done in several ways: buyers can purchase the item immediately by simply clicking 'Buy Now' on the listings page or they can bid for the item in an auction format by simply clicking 'Bid Now'.
All transactions made on eBay are safe and secure thanks to third party payment authority PayPal. Using PayPal means that buyers can pay sellers without ever sharing any important personal or banking information or details which provides great peace of mind for all eBay customers.
Conclusion
There are many factors to consider when purchasing military surplus gear. However with the important information and considerations regarding purchasing outline within this guide, buying military surplus gear from eBay is easy. The right military surplus product will not only provide you a durable and multi-functional piece of kit that will last for many years to come: it can provide you with a piece of important history.
This guide has provided some invaluable hints, tips, information and advice on how to purchase military surplus gear on eBay and what to look for when buying these products.