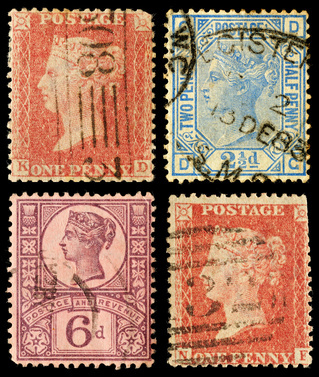 Stamp collecting is an age old hobby in which many people engage. Many times, the love for stamp collecting begins in childhood and continues through the adult years. Some of the favourites of British stamps are the Queen Victoria stamps.. Due to their age, the Queen Victoria stamps are difficult to find in mint condition. They are these mint condition stamps that are the hardest to locate and worth the most money. A mint stamp is one that is in perfect condition and does not contain a postmark or a postmaster's stamp on it. A postmaster's stamp means that the stamp has been used. Mint condition Queen Victoria stamps may be purchased from shops that specialise in philately, and on the online auction site, eBay.
The first thing that you need to know is what a mint condition stamp entails. Identifying those in mint condition, as opposed to those in fair or poor condition, is essential for identifying stamps of value. In order to collect mint Queen Victoria stamps, you need to know how a mint stamp is judged, which stamps are most valuable, which stamps are truly Queen Victoria stamps, and which stamps have a flawed or imperfect production run. Those that were produced flawed are often more valuable than those that were printed perfectly.
How to Judge a Mint Condition Stamp
There are a variety of ways to judge a stamp's conditions. A Queen Victoria stamp in mint condition is worth more than one in poor condition. Stamp experts judge stamps in several different ways, and each of these ways either adds to, or subtracts from, their value.
First Condition
The first condition of a mint stamp is includes its grading and centring. If the stamp is centred and in excellent condition, it is usually the most valuable. The size and variety of the margins also affect its value. Regular margins and even spacing add value to stamps. A stamp that has perfect margins and has not been cut from a strip is considered one of the most valuable.
Second Condition
The second condition that a stamp is judged upon are the plates on which the stamp was printed. The earlier the plate, the more valuable the stamp. Early plates can help judge the age of a stamp and the type of ink and printing method used.
Third Condition
The third condition that affects the value of a stamp is the overall condition of the stamp. The overall condition of a stamp means no folds, no creases, no water damage, no use, and no wear to the stamp. If a stamp has been used, its value is decreased.
These conditions go for all stamps, and are particularly looked at when grading older stamps, such as the Queen Victoria stamps. Although not easy to do, there are excellent reproductions of these stamps available. A reproduction is worth considerably less than a stamp that is printed as postage.
Types of Queen Victoria Stamps
There are quite a few different types of Queen Victoria stamps that ran from the beginning of Queen Victoria's reign until recently. These types include a wide array of both embossed and flat stamps.
Black One Penny Queen Victoria Stamp
The One Penny Black Queen Victoria stamp is the most sought after stamp. It is the world's first adhesive postage stamp and only ran for a few days. It was much debated over, and finally produced in May of 1840. It is often considered to be the world's most precious stamp. If found in mint condition, it has been described as priceless. This is the most valuable of the mint Queen Victoria stamps.
A Listing of Recognised Queen Victoria Stamps
There are many types of Queen Victoria stamps. Even though the One Penny Black stamp is the most valuable, the others also have a high market value and are great for collecting. The ultimate collections of mint Queen Victoria stamps contain at least one mint example of each of the different sets of stamps.
Type of Stamp

Appearance of Stamp

Year Issued

Line-engraved One Penny Black stamp

Resembles one penny placed on a stamp

May 1, 1840

Line-engraved Two Penny Blue contemporary stamp

Resembles the black one penny stamp but is contemporary and blue

Contemporary stamp with no issue or stop date

Line-engraved One Penny Red stamp

Resembles the black one penny stamp but is the discontinuation stamp for this series

Began in 1841

Perforated in 1848

Line-engraved Two Penny Blue stamp new ink

Printed in blue ink but with white lines above and below the inscriptions

Not available

Line-engraved Half Penny Rose Red stamp

Lower stamp value for lighter mailings

Issued in 1870 for postcards and newspapers

Line-engraved Three Half Pence Red stamp

Issued for printed mailings

Issued in 1870

Embossed Six Pence stamp

First of the embossed issued

Issued in 1847 on Dickson silk threaded paper

Embossed Ten Pence stamp

Second of the embossed stamps issued

Issued in 1848 on Dickson silk threaded Paper

Embossed One Shilling stamp

Third of the embossed stamps issued

Watermarked with VR and imperforated

Issued in 1854

Surface printed 4d, 6d, and 1s

No corner letters

1855 to 1857

Surface printed 3d to 1s

Small white corner letters

1862 to 1864

Surface printed 2d to 10s

Large white corner letters

1865 to 1867

Surface printed 3d to 2s

Large white corner letters with new watermark

1867 to 1880

Surface printed definitive stamps 5s to 5 pounds

Considered high value collectors stamps as well as regular issue

1867 to 1883

Surface printed definitive

Considered low value collector stamps as well as regular issues with coloured corner letters

1873 to 1880

Surface printed definitive half penny to 5d

Considered low value collector stamps as well as regular issues

1880 to 1881

Surface printed penny lilac stamps

Most issued lowest collector value stamp

1881

Surface printed high value definitive 2/6 to 1 pound stamps

Considered high value collectors stamps as well as regular issue

1883 to 1884

Surface printed green or lilac low value definitive

Collector's stamp as well as regular issue

1883

Surface printed Jubilee Issue stamps

Standard issue stamps for public

1887 to 1892
The above chart lists the majority of the Queen Victoria stamps that have been issued. They range in value depending on the valuation criteria for collectors. In these stamps, there are a variety of different values and conditions. Many of these stamps are extremely difficult to find and can only be purchased used or as part of a collection.
Flaws in Queen Victoria Stamps
Any flawed run with stamps or coins can make them more valuable. Since flaws in production are often caught quickly, these flawed runs can hold considerable value. Several of the stamp runs can still be found, and some of the flawed Queen Victoria stamps are simple misprints.
The most common flawed stamp found is a stamp that is not centred properly. It is one of the green stamp runs and only ran for a short period of time. Another stamp run that contains a flaw is the broken plate flaw of the Black Penny stamps. Since these stamps are rare to begin with, a flawed stamp in this run is extremely sought after.
Buying Mint Condition Queen Victoria Stamps on eBay
Purchasing mint Queen Victoria stamps on eBay is an easy process. You can do this by first typing in the search terms for the Queen Victoria stamps, and clicking on the search button. A list of results for your keywords are displayed. Then, simply scroll through the list to find a result in which you are interested. If the results seem too wide, then you can narrow the keyword search down by adding more search terms, and then try the search again.
Once you have found a listing that looks interesting, you can click on it, and a more detailed description is displayed. Read the description carefully, and if you have any questions that are not answered by the description, then there is a link available to ask the seller a question. Most sellers are happy to answer questions about their products.
A few other aspects of the detailed listing are the seller's shipping and return policies, as well as the seller's feedback and feedback rating. Reading these helps you to decide whether or not you wish to make a purchase from this particular seller or not.
Conclusion
Stamp collecting is a fun and often rewarding hobby. Mint Queen Victoria stamps are a wonderful addition to any collection. An excellent place to find the different Queen Victoria stamps is at stamp shops and online retailers, such as eBay. There are many different types of Queen Victoria stamps and many of them can still be found in mint condition. It is important to know what to look for and how to identify the different periods of these stamps. Flawed stamps and original production stamps are generally worth quite a bit more than those that are replicas or are not from the original run. There are many still in circulation and still unused. Even if these stamps have a postmark, they can still be considered valuable.
Like any collectible, there are many reproductions that are significantly reduced in value to the traditional stamp. Once you learn to identify the true mint Queen Victoria stamp, it is not difficult to purchase them and add them to your collection. Stamp collecting has been a hobby of many people throughout the years and can be a rewarding hobby for years to come.