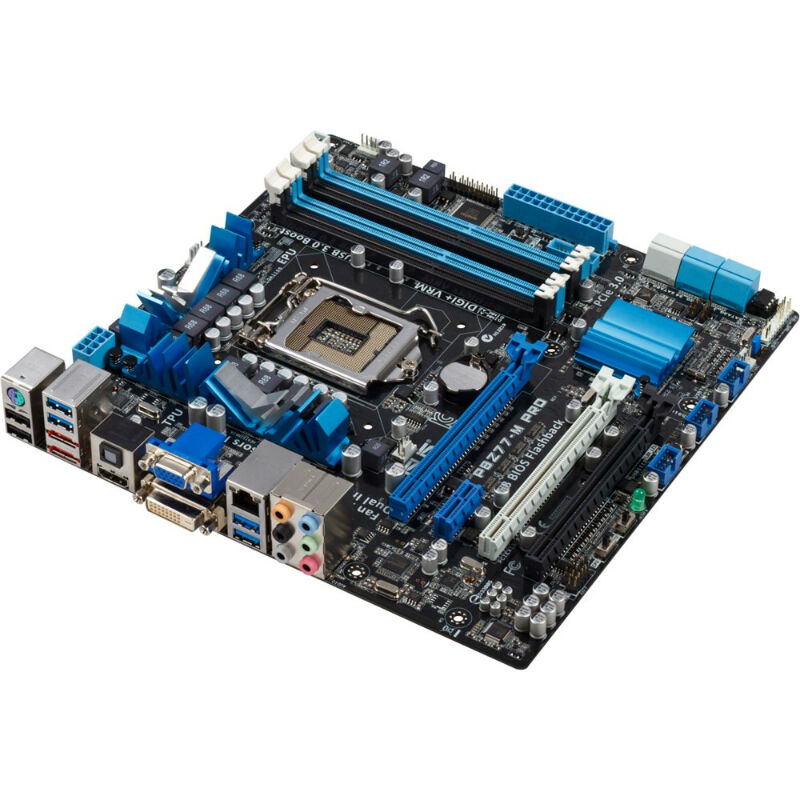 A motherboard represents the heart of any computer. It connects processors, monitors, hard drives, and other components together. It could even be compared to the body's central nervous system. A computer cannot operate properly without a motherboard and the critical electronic components it houses, including the computer memory and central processing unit (CPU). It also connects other computer system peripherals together.
When searching for a new motherboard, shoppers can visit the eBay marketplace for a wide variety of options. Before making a purchase, however, computer owners should make sure they know what types of motherboards are compatible with their computers, the different brands that are available, and the desired price range. Otherwise, time and money could be wasted, and system performance could be diminished. Motherboard brands include Acer, Intel, Dell, MSI, and Sapphire, among many others. When assessing brands, make sure to take into account specifications, quality, cost, and features.
Motherboard Brands Available on eBay
To begin shopping for a new motherboard, find out what your current system uses. Then consider compatible product options and know which brands provide the best fit. The list below includes some top-of-the-line brands that are available on eBay. Remember that when selecting a motherboard, you have to check the socket number or letter or a combination of both.
Acer
ASRock
ASUS
Dell
IBM
Intel
MSI
Sapphire
Other leading brands include Cisco, Epson, Ericsson, Foxconn, Gateway, Ingram, Lenovo, Motorola, and NEC, among others. When searching the eBay marketplace for brands, just go to any page and enter the brand name and the word 'motherboard' into the search box.
Features to Look for in Motherboards on eBay
When selecting a motherboard for your next computer, consider several components and features before making a final purchase decision. The following table documents some key areas that need assessment, including form factor, integrated graphics, and storage.
Motherboard Component/Consideration

Description

CPU Socket

Provides mechanical and electrical connections between the microprocessor and printed circuit board (PCB)

Allows the CPU to be replaced without the need for soldering

Form Factor

Industry standard for the dimensions of the computer's major components

RAM Bays

RAM is installed in special bays on the motherboard

Computer processes data through the RAM

Integrated Graphics

Built-in capabilities to handle video and media processing needs may be limited

A more powerful video card may be necessary

Expansion Slots

These facilitate the addition of component cards, such as video or sound cards
Other considerations include any other ports, storage, power connectors, USB 3.0, and Thunderbolt. The bottom line is to make sure the motherboard type matches the computer's requirements.
Form Factors
One important consideration has to do with which form factor a shopper needs. Form factor determines such things as overall motherboard size and the way that the board fits into the computer case. The list below notes some of the common form factors that are available.
ATX
microATX
Mini-ATX
BTX
microBTX
DTX
mini-DTX
Mini-ITX
iMac
Motherboard Socket Types
When searching for motherboards on eBay, make sure to keep in mind the socket type, which provides the proper connections between the microprocessor and PCB. The following table details some of the more common motherboard types as identified by a socket number, letter, or combination of both.
Motherboard Types

Description

A Socket 464 motherboard for AMD and Duron processors

Features 462 pins

Bus speed of 100-200 MHz

Features 370 pins and PGA package

Bus speed of 66-133 MHz

For Intel P-III, Celeron, VIA Cyrix III, and VIA C3 processors

Features 478 pins and PGA package

Bus speed of 100-200 MHz

For the Intel Pentium 4, 4EE, and M processors

Socket T Motherboard

For the Intel Core 2 Duo Quad and Xeon processors

Called the LGA 775

Features 775 pins

Bus speed of 1600 MHz

For the AMD family of processors

Features 939 pins

Bus speed of 200-1000 MHz

Features 941 pins and PGA package

Bus speed of 200-3200 MHz

For the AMD Phenom II and Athlon II processors

Known as the LGA 1156

For the Intel Core i3, i5, and i7 processors

Features 1156 pins and Large Grid Array packaging

For Intel Core i3, i5, and i7 processors

Features 988 pins

Bus speed of 2.5 GT/s and 4.8 GT/s
Product Criteria to Consider When Buying Used MotherboardsBefore buying a new motherboard, check out the specs of the current one. Then, be sure to buy a new one that operates with the given requirements.
When buying a used motherboard on eBay, be sure to assess its condition, whether it has been tested, and whether it is a working pull. This information should be listed in the seller's product description. If not, be sure to find out the motherboard's condition before buying.
Untested Motherboards
If the product is an untested motherboard, that means the board has not undergone any kind of testing to see if it works. Buying this type of product presents some risk for the buyer. Make sure the seller allows returns with this type of transaction.
Tested Motherboards
A tested motherboard, on the other hand, means the product passed the testing phase and runs properly. Before buying a tested motherboard, determine what types of tests were done. The table below describes two types of motherboard testing techniques.
Test Types

Description

Post Testing

Tests the motherboard until the point before booting to the operating system

Does not catch all issues

Built-Out Testing

Most thorough testing method

Tests the motherboard using a working computer

Can test onboard audio and ports
No matter how many tests a seller says they have done, problems with the product could still exist. Be sure to read through the seller's feedback rating on eBay to get a better idea about the seller's quality and customer service.
Working Pulls
Working pull is a term for a motherboard that was taken out of a computer that worked when the motherboard was pulled. This does not mean the seller tested the part again after it was pulled out of the working system.
Refurbished Motherboards
One final option for shoppers involves buying refurbished motherboards. While purchasing a refurbished motherboard involves a certain degree of risk, including the possibility that the motherboard does not work, refurbished motherboards often perform as well as new ones. When manufacturers and sellers refurbish an older motherboard, they replace any worn or damaged components with new ones. This type of motherboard can save shoppers money due to the fact that they cost much less. These boards also tend to last longer than used ones. Essentially, refurbished motherboards fall in between new and used boards, costing less than new but being of a higher quality than used.
Purchasing Motherboards on eBay
Top sellers on eBay provide individuals and businesses with product options for almost any need. These sellers offer high-quality, new, used, and refurbished items. To search eBay, enter keywords into the search box on any eBay page, using terms like 'ASRock motherboard' or '780i SLI socket 775 motherboard', for example. Use any words that adequately describe what you want to buy. To shorten the list of results, click on the filters and categories to display more specific items. eBay also provides shoppers with detailed support instructions. The site features a Search Tips page, which explains how shoppers can quickly and easily find products on the site, including computer parts and accessories.
When making a purchase on eBay, remember to read through each product listing and look for the features you need, such as size, cost, and other pertinent qualifications. You can even ask the seller questions. Just click the Ask a Question link on the seller's listing page, and they should respond quickly. Finally, read over the seller's feedback rating to make sure the score is high. This score gives shoppers a great way to assess whether the seller offers high-quality products, reasonable prices, and excellent customer service.
Conclusion
By following some simple advice when buying motherboards online, shoppers can avoid the pitfalls of buying a bad board. This does not mean it can never happen, only that it is less likely when shoppers properly educate themselves. Shoppers should know the capabilities that they require in their motherboards, including graphics, memory capabilities, processor types, and a multitude of other considerations. They should also take into consideration the different brands that are available when shopping on eBay and compare reviews of the different brands and types of motherboards.
Buyers should also acquaint themselves with the terminology used by sellers on eBay. This includes references to whether the motherboard has been tested, if sellers pulled used motherboards from working computers, or if sellers did not test them at all. These are all important considerations when buying a motherboard because even if the seller has a return policy, the shopper usually must pay to ship the item back. Keeping this in mind helps shoppers buy the right product the first time when shopping on eBay.