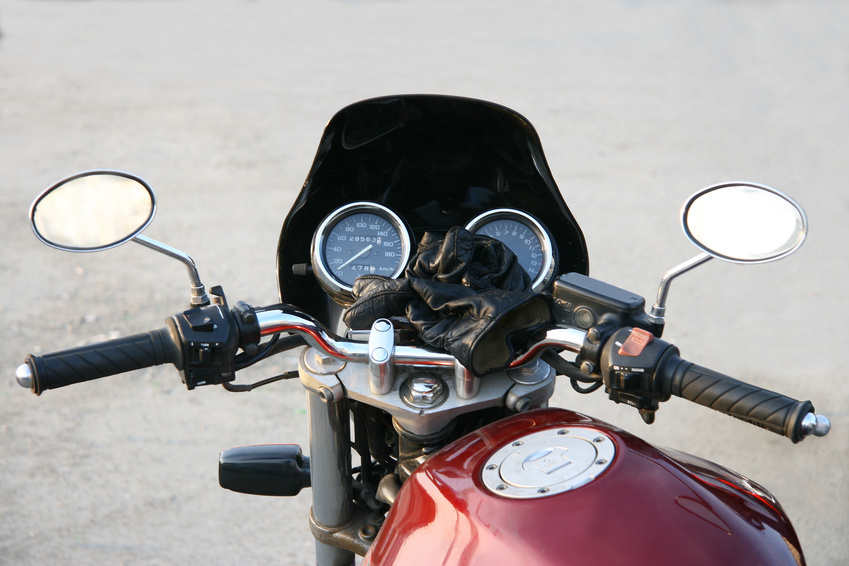 One of the best things about owning a motorcycle is the feeling of freedom that is experienced when riding it. Sure, it gets you from one point to another like any other mode of transportation does, but if you are a motorcycle rider you know from experience that a trip to a nearby town operating a car is just not as much fun as if it was taken on a motorcycle. There is just something about the way the sun on your back and the wind at your face feels that cannot be replicated by other transportation means. But, just like most other forms of personal transportation, something is bound to happen to a motorcycle that requires a part to be replaced.
Some features on a motorcycle are designed for comfort, while others are designed as safety features. If something were to happen to a safety feature, it is extremely important that the problem is corrected before venturing out with it again. Motorcycle mirrors are just one safety feature that often need to be replaced for one reason or another. Knowing what types of mirrors are available and buying them on eBay might even make the shopping experience more enjoyable.
Overview of Motorcycle Mirrors
Motorcycle mirrors help to keep you safe while you are on the road by allowing you to see what is at your back and still maintain focus on what is in front of you. Some people buy mirrors as replacement parts identical to the ones they currently have. Other people like to replace the stock mirrors on their motorcycles with newer ones in order to show off their personality and sense of style. Of course, the main purpose of mirrors being included on a motorcycle is for safety.
So, keeping safety in mind, there are some things that need to be considered when upgrading mirrors. It is important to make sure that the mirrors replaced fit the motorcycle correctly and are able to be positioned in a way that does not affect the safety feature intended. The main thing that differs between various types of motorcycle mirrors is the shape. Choosing the shape of the mirrors that offer the best rear view is the most important part of selecting mirrors. After that is accomplished, the next step is finding ones that suit your personality. Knowing more about the various types of mirrors available on eBay can help you make the right choice when replacing or upgrading this feature.
Types of Motorcycle Mirrors
When it comes to choosing motorcycle mirrors, some designs are better for a bike than others. The primary goal is to choose a mirror that offers you the greatest range of rear visibility while keeping you safe by doing things like helping to remove blind spots. There is more than one location where mirrors can be mounted as well, along with mirrors that offer upgraded features such as LED lights. The most common shapes of mirrors include, round, square, and oval designs. Once you choose the design that best fits the bike and offers the best visibility, it is easy to find ones that are stylish as well.
Mirrors with Mounts
There are a few different styles of mirrors with mounts available which allow you to customise where you would like the mirror to be placed. Some of these styles allow you to remove the mirrors from the handlebars and then place the mirrors on the windshield.
Many motorcycle riders prefer to have the mirrors on the windshield so that they do not interfere with their movements. Some motorcycle riders choose to change the mirrors from the handlebars to the windshield just as an additional customisation option. Either way, there are plenty of mirrors with mounts on eBay to choose from.
Mirrors That Reduce Blind Spots
Mirrors that reduce blind spots are one of the safest types of mirrors that you can buy for your motorcycle. Even though stock motorcycle mirrors work well in most cases, it is always important to be as safe as you can be whilst on the open road. These blind spot mirrors can be distinguished from other types of mirrors by their appearance. They can either have a convex or a concave shape and usually are wider than most stock mirrors.
Mirrors with LED Light Turn Signals
Motorcycle mirrors that feature LED turn signals are a great choice for any motorcycle rider. Depending on what brand of LED turn signal mirrors you choose on eBay, these mirrors have LED turn signals either on their faces or the turn signal lights may be located on the side of the mirrors. This style of mirror adds extra protection while riding and still gives the rider a great viewing angle.
Sometimes it is necessary for a motorcycle owner to buy other items such as load resistors in order to ensure that turn signal lights are operating correctly. Depending what manufacturer the mirrors are purchased from, the way these are connected may vary. Take the time to find out more about how new features added to a motorcycle affect the overall performance, and always try to ensure that you study the items you are considering fully. This can save a lot of time and hassle when it comes to installing new features such as mirrors.
Mirrors for Vintage Motorcycles
There are many motorcycle enthusiasts who have older models of motorcycles. These vintage bike owners are people who thoroughly enjoy motorcycles and all that they have to offer. For these bikers it can often be hard to find replacement parts such as mirrors. That is where eBay comes in. There are a variety of vintage motorcycle mirrors available that are easy to find. Not only are there a lot of vintage mirrors available for motorcycle owners on this site, but there are also many other motorcycle accessories to help secure the mirrors safely to their bikes.
Mirrors for Enhancement
It is important that mirrors for a motorcycle are able to do their primary job, which is to keep you and those around you safe. After choosing mirrors that accomplish this, then it is time to let the fun begin. There are so many motorcycle mirrors that are purchased on eBay which can help let others know more about you. Be prepared that when purchasing motorcycle mirrors for enhancement purposes you have all the necessary equipment in order to complete the job. Some common accessories are listed in the table below along with the notable characteristics of each accessory.
| Accessory | Common Uses |
| --- | --- |
| | Used to attach mirrors to handlebars or other surface |
| Bar End Covers | Eliminate vibration so hands are not fatigued; often available with mirrors |
| Mirror Bulbs | Replaces or enhances mirror light features such as LED bulbs |
| | Used to upgrade or replace lens coverings for mirror lights; available in various colours |
Sometimes when replacing mirrors, it is necessary to buy adaptors or flashing relays in order to complete the job. It is always a good idea to be familiar with what additional accessories are needed to finish the job properly, so you can get back on the road.
How to Buy Motorcycle Mirrors on eBay
If you have never shopped for motorcycle accessories or other items on eBay, you do not know what you are missing. One of the best things about this online marketplace is that there is almost always a tremendous variety of items available, due to the large number of people and individuals who place their items for sale here. Also because of this reason, it is easy to find a price that meets your budget as well.
To begin your shopping adventure, all you need to do is to type keywords that are relevant for what you are searching for into the search query box located at the top of the eBay home page. If you are looking for a wide selection of items, then simply type keywords such as "motorcycle mirrors" and almost immediately you have a multitude of motorcycle mirrors to select from. You can refine your search by adding more descriptive keywords that include the year, make, and model so that less search results are produced. You may also take advantage of the advanced search feature option as well.
Conclusion
Motorcycle mirrors often need to be replaced for a variety of reasons. Something could happen to them to cause a crack on the surface, or one may even break off entirely. Many people seek to buy mirrors for their motorcycles in order to enhance the overall look of their bikes. But, regardless of why mirrors need to be replaced, there are many styles to choose from.
Mirrors are an important safety feature for any riding enthusiast and it is important that both the rider and others on the road stay safe. That is why there are mirrors that are specially designed to help eliminate blind spots or help motorists know a biker is turning. Motorcycle mirrors can be mounted on the handlebars or they can be placed on the windshield by buying accessories such as mirror clamps. No matter what type of mirrors you may need, even if they are mirrors for a vintage bike, chances are exceedingly high that you can find many suitable options on eBay.