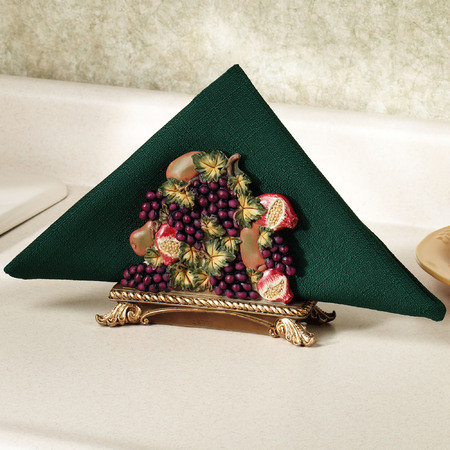 On eBay, there is a wide selection of napking holders to be found and purchased. First, however, it is important to know the differences in the types available.
About Napkin Holders
Napkin holders are intended, as their name suggests, for holding napkins securely to be dispensed as needed. The type of napkin holder that holds numerous napkins only became popular with the advent of the paper napkin in the 1930s, while the napkin ring, for individual napkins, has been around since the early 19th century. Both types are frequently used in homes and restaurants today and are available in a multitude of materials, designs, colours, and styles. Napkin holders to suit any occasion or to personalise any event are abundantly available whether for indoor or outdoor use.
Outdoor Use
Summertime invites outdoor functions whether it is a garden wedding, a child's birthday party or a picnic. Napkin holders in durable plastic suit these occasions well. The array of colours and range of styles will accommodate the most informal of occasions, yet look good on the most elegant tables. Napkin holders that also have a compartment for straws are useful for the more informal outdoor dining. For children's birthday parties, there are ample napkin holders to choose from; some in the form of animals or birds and others painted with fun motifs. For the more elegant outdoor table setting there are hummingbirds, windmills or really beautiful leafy, wreath designs in easy-to-match colours. Metal napkin holders are just as readily available and come in some stunning designs that would grace any table, and are particularly suited to the indoor formal occasion.
Indoor Use
Metal napkin holders can be obtained in styles and designs that will flatter any table setting. The Shabby Chic designs are ideal for wedding tables or for the tables of the more upscale restaurants. Colours and designs like the silver or grey leaf Shabby Chic are distinctive for their elegance and olde world beauty and charm. Whether in wrought iron, tin, or other metal, these napkin holders will assist the discerning hostess in rising to any special occasion with confidence. For a truly special effect there are the vintage napkin holders to choose from.
Vintage Napkin Holders
Vintage napkin holders can turn a special table setting into something extraordinary. Chrome metal vintage swans lend their graceful necks to the cause, while sterling silver, ornate napkin holders offer to lend their considerable beauty to adorning a table. Hand-made porcelain from Italy or a Murano Art Glass blue, ruffled clamshell make choosing memorable tableware a real dilemma. If individual napkin holders are preferred, then the choices of truly beautiful and extremely versatile items are seemingly endless. Creating a themed dining table has never been easier and there is sure to be something for everyone. Many of these exquisite designs make the napkin holder an ideal keepsake to remind guests of a wonderfully memorable event. The only problem would seem to be a dilemma in choosing. The table below details a few napkin holders and the tables they would best serve.
| | |
| --- | --- |
| Vintage Silver Plate Angel with Candle holder; Vintage Gold and Silver Tone; Pearly Silver with Silver Snowflake; Gold Snowflake on Red Wood. | Ideal for the Christmas dinner table; these napkins rings all lend a distinct festive air. The vintage gold and silver tone and the pearly silver with snowflake would also make a wonderful accessory to the formal dining setting. |
| White Gem Diamond Napkin Ring / Serviette Holder; Vintage Cream Rose Napkin Holder; Diamond Gem Napkin Holder; Vintage Silver Swirl Heart Diamantes Napkin Rings | These are all perfect for the wedding table setting and also for guests to take home as a keepsake. The Swirl Heart Diamantes Napkin Rings would add a nice touch to the bridal table. |
| New Gold Rose Classy Christmas Table Serviette Napkin Ribbon Rings | These ribbon napkin rings add a classy touch to a Christmas dinner table or any celebratory dinner setting. |
| Pearly Purple with Butterfly Napkin Rings; Black with Black and White Butterfly Napkin Rings; (quite a few variations on the butterfly theme are available). | Suitable for a birthday party for any age. The butterflies add an elegant touch to a formal or informal dinner table setting. This should be especially popular with teenagers. |
| Diamante Gem Silver Napkin Ring | This gem makes give a really beautiful and very elegant touch at weddings, anniversaries or that special birthday table setting. |
| Silver Plated Napkin Rings | This is really for that extra-special occasion. They are both exquisitely beautiful and very elegant, and could be gifted to a newly married couple to become heirlooms. |
| Silver LOVE Heart Theme Wedding Paper Napkin Rings; Snowflake Winter Theme Wedding Paper Napkin Rings | The designs are ideal for wedding table settings and also for the romantic Valentine Day dinner. |
| Shabby Chic Vintage Rose Gold; Large Rustic Decorative Metal Napkin Holder with Flowers; Leaf Shape Napkin Holder | All three of these napkin holders would beautify any table setting from the Christmas to the wedding table. They are stylish and elegant and will be appreciated by all guests at a dinner table. |
The table above details only a very small section of napkin holders that are available for purchase. Whether the material used in their manufacture is plastic, paper, wood, or a variety of metals, there will be a style and design which is perfect for any occasion. Restaurateurs will find an ample selection of napkin holders to compliment the decor of the establishment, whether it be a fun 60s themed diner or a more elegant, upper-end restaurant. There are many vintage napkin holders that hark back to the swinging 60s such as those that depict popular soft-drinks or fast-foods of that era. Napkin holders with matching wine glass decorations are becoming increasingly popular as is confirmed by the variety of these that are available for purchase. These usually consist of single or multicoloured beads with small charms attached; they can also be personalised by incorporating the names or initials of dinner guests. A lot of fun can be had in this way and there is really no limit to the variations on a theme that can be applied. This type of napkin holder could also be used for children's birthday parties if the beads are threaded onto an elastic and given to the children afterwards to be worn as a bracelet. Napkin holders which are intended for industrial use to dispense napkins in toilets or bathrooms are also readily available.
How to find Napkin Holders on eBay
To find napkin holders on eBay, simply access their home page and open the All Categories tab. Select Home & Garden. Options will appear that allow Browsing by Room. Select Dining Room and a pop-up box will include a selection for Tableware, Serving & Linen. Select Napkin Rings & Holders. The search can then be further refined by typing into the search tab whichever style of napkin is desired. The search can be narrowed down ever further by ticking one or more of the options on the left side of the page. These options include material out of which the napkin holders are made or the condition of the napkin holders. In addition, the price range can be given in so as to narrow down the search to the given budget, thus avoiding seeing some items that might seem wonderful but are above the affordable price.
Conclusion
The selection of napkin holders is vast and comprehensive enough to allow every need for napkin holders to be conveniently and easily met. The only dilemma, really, would be which napkin holders to choose, as each category from children's parties to those very special occasions that mark memories for life are abundantly catered for. The elegance of most of these creations makes napkin holders' items that can be cherished for life and perhaps be passed on to delight many future generations.