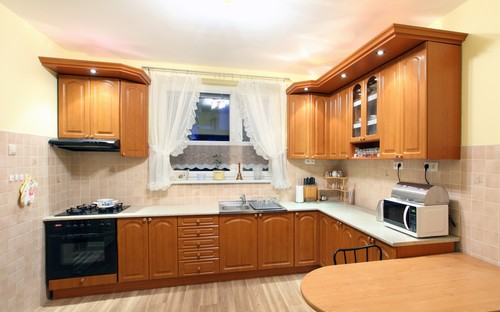 Pine is known for its distinct fragrance and soft wood, making it ideal for kitchen furniture. There are various types of pine kitchen furniture, each type being treated and crafted in a special way. Most items are untreated and so can be found in their natural, rustic state. When untreated, pine is lightly coloured and can suit both traditional and contemporary decorating styles. The pine's knots and markings give the wood character and add a unique quality to the kitchen. The markings are generally much darker than the rest of the wood. Pine kitchen furniture without these markings is more expensive.
Pine kitchen furniture can be bought from DIY shops, furniture shops, and department stores, as well as online. When purchasing pine kitchen furniture at retailers such as eBay, buyers should consider the various types of pine used in the construction process and the advantages and disadvantages of the wood. Buyers should also learn how to properly check the pine's quality and familiarise themselves with the proper way to care for pine kitchen furniture.
Types of Pine for Kitchen Furniture
There are several types of pine used in the construction of kitchen furniture. Each type has unique characteristics and gives the wood a different hue. Choosing the type that best fits a buyer's requirements is often a matter of budget and personal taste.
Scots Pine for Kitchen Furniture
Scots pine is an evergreen tree which can grow over 30 metres in height. It has a warm, reddish-brown or orange upper bark and a deeply fissured dark brown lower bark. Scots pine can be found in a wide range of environments. However, the tree has roots in the Scottish Highlands. Scots pine wood is durable yet soft, making it easy to work with. So, it is popularly used for kitchen furniture.
White Pine for Kitchen Furniture
White pine is characterised by its pale colour. This wood contains few markings within the grain. It has a fine texture and a smooth appearance, making it a popular choice for kitchen furniture. White pine is durable, holds its shape well, and is resistant to warping, swelling, shrinking, and splitting. For buyers looking for untreated kitchen furniture to paint or enamel, white pine is a great choice to use as a foundation.
Southern Yellow Pine for Kitchen Furniture
Southern yellow pine wood is ideal for surface areas that receive heavy use, such as dining room tables and chairs. This wood can be found in great abundance, so it is the least expensive and the most versatile pine. It is available in different varieties. Sapwood tends to be white to yellow, while the heartwood produces more brown and red tones. Heartwood can also be found in orange and yellow varieties. Southern yellow pine is treated with preservatives to protect the wood from the elements. This wood is highly susceptible to shrinkage and decay.
Advantages of Pine Kitchen Furniture
Pine is readily available, making it relatively inexpensive to buy in comparison to more exotic woods. The wood is recognised for its durability. It is resistant to shrinking and swelling. Although the wood's susceptibility to denting and scratching may be viewed as a disadvantage, some people find that this trait adds to the wood's character and rustic appeal. The knots and lines found in the pine can give the piece a unique look. Pine kitchen furniture is commonly sold unfinished, allowing buyers to customise the wood themselves. Some buyers may decide to stain the wood, while others paint it to match their kitchen colour scheme. A clear coat of varnish or wax gives the pine a natural-looking finish, which works with many decorating styles. Many manufacturers favour pine because it is easy to work with.
Disadvantages of Pine Kitchen Furniture
Pine kitchen furniture is not recommended for use in homes that have small children. When handled roughly, the wood may crack or dent due to its softness. The surface may become easily scratched. For buyers who have small children and are looking to purchase pine kitchen furniture, they should look for pine that has been treated. Pine kitchen furniture is also susceptible to damage in areas of high humidity. The humidity can cause the pine to shrink when wet. Only heavily treated pine kitchen furniture should be used in these locations.
Checking the Pine Kitchen Furniture
The quality of pine kitchen furniture can vary widely, so buyers should check the craftsmanship of the piece. Well crafted pine will have a smooth appearance. While it is natural for pine to have a few knots and markings, excessive rough spots may indicate that the furniture is not of high quality as knots can create a hole in the furniture. An excessive number of knots can weaken the piece. Also check for uneven surface areas if the piece has been finished or varnished. Buyers should avoid furniture where the finish is noticeably thicker in some areas than others.
Caring for Pine Kitchen Furniture
When caring for pine kitchen furniture, buyers should use a cleaner that removes dirt and residue without causing damage to the pine or leaving behind a film. Pine kitchen furniture should be cared for with cleaning products specially composed for use on real wood. Buyers should never clean the pine kitchen furniture with soap, water, or any detergents. Pine furniture has a natural stain that tends to react with almost all man-made products. In order to maintain the pine furniture's distinct character, buyers should retreat the surface periodically with blocked wax.
Buyers should also strive to maintain an even room temperature and take special care to avoid spills. Coasters should be placed under glasses to avoid the formation of water rings and stains, as moist items can damage pine furniture. This also helps to prevent any warping of the wood. Never place a chilled or hot item directly on the pine's surface. Instead, buyers should use a placemat to act as a barrier between the two.
Buying Pine Kitchen Furniture on eBay
Pine kitchen furniture can be found by searching the eBay website. From the eBay home page, buyers can use the search bar, and enter the phrase, "pine kitchen furniture". This method is likely to render a large number of listings. If buyers have a more specific idea about the type of furniture that they would like to purchase, they should use eBay's advanced search feature. This feature allows buyers to include additional search terms which help to narrow down their results. Once on the search results page, buyers can further filter their listings by subcategory. These subcategories give buyers the option to choose between new and used pine kitchen furniture or to search within a limited price range.
Searching by Condition
Many buyers may want pine kitchen furniture that is in a particular condition. While new furniture is widely available, buyers may opt for used pine kitchen furniture as a more affordable alternative. Pine kitchen furniture lasts well over time, so buying pre-owned pieces represents a wise choice.
Buyers should always ask sellers about the condition of the pine kitchen furniture before placing a bid. If the furniture has been painted, stained, or otherwise altered from its original state, buyers should make sure it that it still meets their expectations. The item listing should include details of the components and size of the pine kitchen furniture as well as its features. If there are any questions for the seller then contact them directly using the "Ask a question" feature.
It is tempting to just look at the pictures of the listed item, but always read the item information in detail before making a purchase. Sellers must use standard terminology to describe the condition of their items and each listing should include a brief definition of the pine kitchen furniture's condition in the item specifics section. The seller should also provide information about delivery costs and payment methods.
Conclusion
Pine furniture is popular in kitchen settings. It is relatively inexpensive and can give the room a rustic or more modern look. Pine is a soft wood and can be purchased in an unfinished state and stained at home. There are several types of pine used in the making of kitchen furniture, each type has different characteristics which can give the room a unique appearance. White pine is ideal for those who do not wish to have pine's knots and markings. However, this type of wood tends to be more expensive. The softness of Scots pine makes it easy to sculpt, while southern yellow pine is perfect for areas that receive high volumes of use. Those on a tight budget should consider southern yellow pine as this wood is the least expensive.
Although pine kitchen furniture is susceptible to cracks and dents, the benefits and the affordability of the wood far exceed the drawbacks. Buyers should always check the craftsmanship of the piece and examine the pine furniture for any uneven surfaces. Properly caring for the wood ensures long lasting use. eBay sellers stock various styles of pine kitchen furniture.