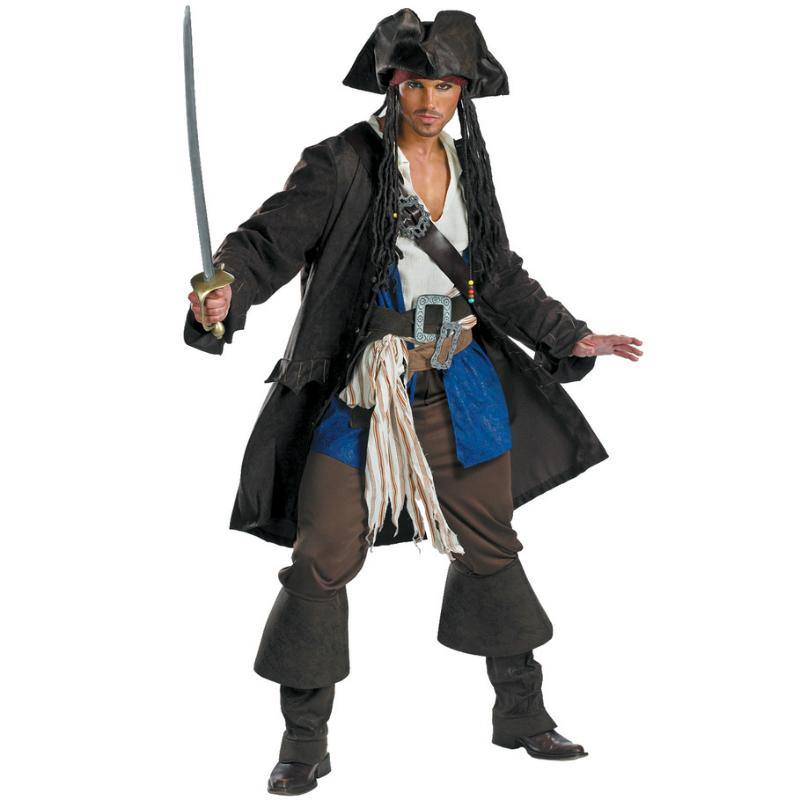 Whether preparing for a masquerade ball, themed birthday party, or simple shenanigans, several costumes come to mind whilst preparing. Common outfits and costumes include hobos, celebrities, characters from a major film, or general characters. Pirates are a particularly popular costume because it is timeless and relevant for all ages and genders. Specifically considering pirate costumes for men, the shopper might feel overwhelmed at the options available for either simple or ornate outfits. Beyond the actual clothing, the potential buyer must also consider the accessories from top to bottom. Every detail helps bring a costume alive for the individual and his fellow partygoers.
Rather than going out to several retail outlets to purchase the pirate costume, online retailers like eBay offer a one-stop solution from the comfort of the buyer's home or flat. With shipping right to the front door, the shopper can order from several sellers without visiting numerous towns, as he would if shopping on a high street.
Simple Pirate Costume
If the buyer is preparing for a simple costume party he does not need to go overboard with accessories and elaborate embroidery in the costume. The most simple pirate look is dishevelled and uncoordinated, which is a loot fairly easy to pull off. Purchasing a pair of torn slacks and a ballooning shirt help give the look of being at sea pillaging islands and stealing loot. However, to complete the look one should also remember the small accessories. Some pirates have hooked hands while others have a peg leg. Further, most true pirates have a hat of some kind that looks as tattered as their pants. The look the buyer goes for should be coordinated without appearing too complicated. Unless one is Captain Hook himself, most pirates are simple in what they wear and how they act.
What to Search for on eBay
Searching for a "simple pirate costume" on eBay results in a medley of pages that provide ideas of where to start. Sometimes one seller will offer a complete outfit if the individual does not wish to buy piecemeal. If the shopper does not wish to own all parts of a pre-assembled costume, he can then buy each piece from other sellers, but should be prepared to compromise for a similar match rather than exact match.
Ornate Pirate Costume
Costumes with the bells and whistles and multiple embellishments can turn the wearer into a first mate from a common seafarer. Pirates that are particularly good at stealing loot and managing the ship tend to also look more prominent than the rest of the pirating folks. A simple gold thread in the stitching of a shirt or brass buckle in the shoe can mean the difference between a typical costume and a regal costume. Brass and gold were typical commodities in pirating folklore, and thus adding these details to the costume further exemplifies the character. Hats worn by top pirates might have brass embellishments or even a rare birds feather. Knowing that several birds are endangered, or not having access to exotic feathers, the individual should be prepared to settle for a common feather in the hat. A jacket with metallic buttons that fits below the waist as well as slacks that are tailored rather than tattered also complete the look while letting everyone know that the wearer is a prominent pirate.
What to Search for on eBay
Typing in "ornate pirate costume" on eBay may render several results. However, if the shopper wishes to assemble the costume himself, he will want to search for each individual item. Searching for one solid costume that is both ornate and suitable to desired needs might also lack the accessories or the sizing preferred. Similar to searching for a simple pirate costume, the search for an ornate pirate costume will yield options for the shopper to consider when coordinating the costume.
Modern Day Pirate Costume
Unlike pirates of childrens' stories and popular movies, there are modern day pirates that look like everyday men. Whether looking to the Mediterranean or the Baltic, pirates are still around the world causing trouble. To achieve a modern day pirate look one will have to study the clothing of each ship or tribe that casts out to shore. Sometimes shorts, a shirt, and a concealing cap are all they wear. Their outfits are much less regal than that of The Adventures of Peter Pan, but they are still true pirates. Even the most simple of traditional costumes yields a striped top and shorts, which is not a far cry from what these modern day pirates might wear.
Sizing
Men traditionally come in all shapes and sizes and more often than not, one size does not fit all. Simple costumes might offer stretch and movement in the top, and the pants might look more like capris. However, when purchasing a more expensive or ornate costume, it is important to remember to search for sizing. Most sellers will advertise the length or width of the costume. Should the buyer have any questions in terms of size, he can always ask a seller directly. Below is a rudimentary chart to display what width and length is suitable for the size of a man.
| Size | Waist | Hip | Thigh Width | Leg Opening | Inseam | Pants Length |
| --- | --- | --- | --- | --- | --- | --- |
| 71 | 39.5 | 49.5 | 28 | 23 | 84 | 114 |
| 76 | 42 | 52 | 29 | 23 | 84 | 114 |
| 81 | 44.5 | 53.5 | 30.5 | 24 | 84 | 114 |
| 86 | 47 | 54.5 | 32 | 24 | 84 | 114 |
| 91 | 49.5 | 56 | 33 | 25 | 84 | 114 |
Although there is some overlap with weights, heights, and sizes in general, any questions that might still remain about items from individual sellers are best left for the seller directly. The above measurements are in centimetres.
Pirate Costume Accessories
Some accessory options are alluded to above. However, the options are endless when it comes to pirate costume accessories since so much depends on the individual personality. From top to bottom, there is an accessory to consider and potentially purchase on eBay.
Head
Beyond typical pirate hats and eye patches, the shopper can buy pirate wigs. In traditional folklore it was not uncommon for the more prestigious pirate to wear powdered wigs. Since the captain held the leadership position, he did not always need to go ashore with the rest of the crew. Because he stayed behind, he wore nicer accessories, inclusive of a wig or hairpiece.
Looking at more simple pirate attire, the individual can purchase an eye patch or wired spectacles indicative of that time. Rather than a hat, he can wear a bandana and gold or brass earrings to complete the look of a tough pirate.
Torso
Beyond a shirt or jacket, the buyer can also consider a vest. The vest can be leather or faux leather, and it may have buttons or a thin piece of leather to keep it shut. Considering that pirates are out at sea more often than on land, they did not often have elaborate items because of the upkeep. A piece of string holding something together is more common than not.
Mid-section
The belt is always an important part of a man's outfit because it keeps the trousers on and snug. The belt can vary from a brushed leather belt to a tailored belt with a brass enclosure. Belts can sometimes have a holster for a knife or blade, as well as a gun. Although a knife is more common amongst typical pirates, guns were also carried for protection and intimidation. Again, depending on the type of pirate the shopper wants to be, not all of the items may be relevant to what he decides to wear.
Footwear
Captains typically had the best shoes, again because they were the most prestigious on the ship. Leather made with laces or a buckle, the shoes stayed polished. The typical seaman might not have matching shoes, never mind something to secure them on their feet.
How to Buy a Men's Pirate Costume on eBay
Shopping and buying on eBay offers you several options in terms of costumes and accessories. If you want to buy fake blood or a parrot to keep on your shoulder, you can do that on eBay. While shopping, if you have any questions, you can ask the seller directly. If sizing is unknown and the post simply says that one size fits most, double check and ask to be sure. Although some sellers permit you to return an item if it does not fit, it can be a hassle if you need the costume sooner rather than later.
Seller Feedback
After typing in your search, whether it be simple, ornate, or other pirate costume, be aware of what you are viewing. Beyond the price and a thumbnail view of the item, you will also see a ribbon next to select posts. This ribbon indicates that the seller you are reviewing has received positive feedback from previous buyers. After each transaction eBay requests that the buyer leaves feedback regardless if it is positive or negative. This information can help you purchase more wisely, but also helps future buyers purchase just as wisely.
Conclusion
Buying a men's pirate costume on eBay is not a complicated task. Even if you do not know the type of pirate you want to be, you can review other pirate costumes and ensembles without leaving your home. Sometimes a seller offers multiple parts of a costume so you can buy coordinating pieces, the whole set, or individual items. Although buying from the same seller reduces shipping costs, you are still able to purchase from multiple sellers. Reviewing the size of the item is perhaps just as important as reviewing the condition, since you want to be sure the outfit you spend time assembling also fits appropriately. Purchasing intelligently is your best bet in ensuring you are buying exactly what you need to complete the look you are going for. Regardless of the occasion or party the costume is intended for, you should be sure you are comfortable with the decision in outfit and be sure the outfit matches your personality.