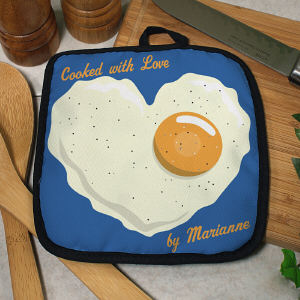 Technically, a pot holder is simply a piece of material that is used to cover the hand when grasping a hot tray or dish. Pot holders are a necessity in every kitchen whether it be casual or commercial as it is not safe to handle hot objects without adequate protection for hands and fingers. Because they are so ubiquitous, many people think of pot holders as decorative as well as utilitarian objects. Pot holders may have a cloth loop at one corner so that they can be prominently displayed. This is actually a good way to store them because it keeps them within easy reach when heat protection becomes necessary. Pot holders are sometimes used in conjunction with an oven mitt. When lifting a heavy hot item, cooks may want to use both hands. While two pot holders will certainly address this situation, some people prefer to put their dominant hand into an oven mitt and use a pot holder in their non-dominant hand.
Materials in Pot Holders
The material used to make a pot holder may be quilted cotton or blends of cotton with other fabrics. Sometimes large strips of fabric are woven together in a tight pattern to form a pot holder that appears to be handmade. Indeed, some pot holders of this type may actually be handmade since they are a popular craft item, typically produced by using kits available on shopping sites such as eBay. Additionally, pot holders may be made of silicone and other space age materials.
Traditional Types of Pot Holders
The typical and traditional pot holder is a square of heavy cotton, often quilted with decorative topstitching. This type of cotton pot holder is adequate for holding hot objects for relatively brief periods of time.
Doubling Up Cloth Pot Holders
Because the heat of a tray or pan will leach through the cotton eventually, these pot holders cannot be used to hold hot objects for more than a few seconds. Some avid cooks address this challenge by using more than one pot holder at a time, folding one over the other to provide a thicker layer of insulation between hand and heat. This approach is effective, but heat will still eventually leach through the double layer. In addition, it creates a situation in which one pot holder sliding against another may make carrying or transport of a hot pot somewhat more difficult.
Silicone Pot Holders
A more advanced form of pot holder has developed in answer to the need for additional heat protection. These pot holders are made of silicone and other space age materials instead of cloth and provide excellent heat protection. Indeed, simple squares of silicone provide such outstanding heat resistance that they can also be used as trivets – a hot pot can be set atop them to shield the counter beneath from heat damage. Silicone pot holders sometimes have a small square of material missing in one corner. This forms a hole that allows the pot holder to be hung from a hook if desired. While cloth pot holders are typically available in a huge range of patterns and motifs, silicone pot holders are most commonly a single solid colour. However, many different colours are available. In addition, silicone pot holders are sometimes available as novelty items that have odd shapes, such as a long-playing record album. Some silicone pot holders bridge the gap between pot holders and oven mitts, such as one in the shape of a moulded dog's head that forms a sort of glove over the thumb and fingers when the hand is inserted into it. However whimsical, most novelty silicone pot holders still tend to be of a single colour.
Purchasing Pot Holders
Because pot holders are largely regarded as a decorative element, they are often sold in combination sets that are intended for display. A common approach is for such sets to contain both an oven mitt and a pot holder. This combination, in fact, is often marketed as a "kitchen set."
Kitchen Sets
Kitchen sets may have the oven mitt and pot holder look exactly the same in terms of their colours and patterns. In other cases, the two may be complementary to one another, sharing a common motif but not appearing exactly the same in terms of their materials. A more extensive kitchen set consists of an oven mitt with two pot holders. These can form a charming display when hung on hooks since the combination allows for a symmetrical arrangement of elements around a centrally positioned oven mitt. Another common option for kitchen sets is for them to include decorative dish cloths in addition to oven mitts and pot holders. Kitchen sets are often designed to reflect a certain seasonal theme or element. Cooks that like to use them frequently change the kitchen set currently on display to match the time of year. Hence, kitchen sets displayed in October may include pot holders that are themed around the idea of fall foliage. These may be put away in December to make display space for pot holders that reflect snow-covered pine trees, Santa Clause, or other elements reminiscent of a merry holiday season.
Styles of Pot Holders
Contrary to popular belief, pot holders actually come in a wide range of styles.
Common shapes for pot holders
The square is such a common shape for a pot holder that many people do not even realise that other shapes are readily available. However, there is no inherent reason why pot holders should need to be in the shape of a square. Any shape, as long as it is large enough to provide adequate coverage for the skin of the hand, can serve just as well when it comes to pot holders. Many pot holders are actually rectangular rather than square since their length is perceptibly longer than their width. These pot holders can be good choices for individuals who have relatively long fingers. To be effective at its primary task, a pot holder must provide full coverage for the length of the hand and fingers. Because pot holders are often themed around seasonal events, some shapes are easier to find than others, particularly when looking on sites like eBay during the correct phase of the year. Pot holders intended to help celebrate Valentine's Day, for example, may well be square with heart icons printed on them, but they might also actually be fashioned in the shape of a heart. At Christmas time, pot holders shaped like trees, snowmen, and decorative ornaments may be in vogue, while near Easter, bunny-shaped or chick-shaped pot holders may predominate in both high street stores and online outlets such as eBay.
Oven Mitt Hybrid Pot Holders
Many pot holders that look like traditional rectangles are actually oven mitts in disguise, containing a flap of cloth into which the hand can be inserted. These pot holders can be used in the traditional manner, simply folded over the edge of a hot tray or around the handle of a cast iron pan that has been in the oven. However, because they can double as gloves, they can also provide the peace of mind that comes from having one's hand and fingers completely enclosed in heat protective material.
Find Pot Holders on eBay
The online auction site eBay makes finding pot holders quick and easy. Begin navigating to the eBay homepage then type "pot holder" into the search box at the top of the page. This will bring up a list of auctions. To get the most relevant results, select Cookware, Dining & Bar from the pane on the left, then when the screen has refreshed, select Pot Holder from the Type category. This will drill down further and present a list of pot holders currently for sale on the site. The other tick boxes that can be seen directly to the left of the listings allow for more filtering options. In the same section, buyers can specify whether they would prefer to see new or previously owned pot holders, and whether they would prefer manufacturer's tags to be intact. Shoppers with a more specific idea in mind can also search using the terms of their choice, such as "silicon Christmas pot holders."
Conclusion
Everyone who cooks will sooner or later need a supply of pot holders. One reason that pot holders are available in such a variety of seasonal themes is that these indispensable cooking aids also double as decorations, brightening a kitchen and helping to spread holiday and seasonal cheer. An excellent place to look for and buy pot holders is the online shopping site eBay, which provides helpful search tools and filters that allow users to quickly and efficiently find the exact type of pot holder desired.