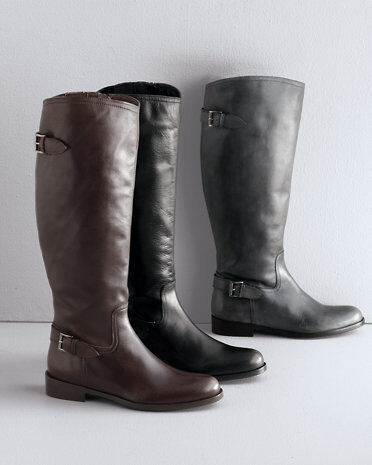 Riding boots are a necessary part of any rider's outfit. To keep a rider safe and comfortable while in the saddle or out in the yard, riding boots need to be properly fitted. Riding boots are designed to fit men, women, and children. Ranging significantly in price, properly fitted riding boots can keep a rider comfortable in the saddle for years to come.
Riding boots are sold at specialty equestrian stores and selected sporting goods stores. Buyers can also find riding boots for sale online at various sites, including eBay. eBay sells a wide range of new and used riding boots from various top named brands.
Understanding the importance of buying riding boots that fit properly can help a buyer make a wise purchase decision. In order to know which boots fit correctly, buyers can benefit from being aware of the differences between leather and rubber boots and knowing how to measure their foot and leg to get an accurate fit.
Importance of Buying Properly Fitted Riding Boots
Riding boots are as necessary a part of a rider's outfit as a helmet. In just the same way a helmet needs to fit properly, riding boots also need to fit properly. When horseback riding or working around horses, it is important for the rider's safety and comfort to be wearing a pair of properly fitted riding boots at all times.
Properly Fitted Riding Boots for Comfort
Riding boots are designed to offer the rider comfort while on the horse. Designed from durable leather or synthetic material, riding boots protect the inside of the rider's leg from chafing against the side of the horse, rubbing against the stirrup, and being pinched by the saddle. A riding boot also protects the outside of the rider's leg from being rubbed up against fences, trees, and bushes. The lining of the riding boot is designed to provide padding for the sole of the foot. Riding boots are made to be thin enough for riders to maintain a constant feel and contact between their leg and the horse. A rider's comfort while mounted is important for him or her to maintain a correct riding position.
Ill-fitted riding boots that are too tight can pinch around the rider's ankle and prevent the ankle from flexing and bending as it needs to in order to maintain a correct riding position. Tight-fitted riding boots can also cause discomfort around the rider's calf, restricting blood flow to the leg and foot. Riding boots that are too big can pinch riders behind the knee, restricting them from bending their leg as necessary. A rider is likely to lose contact and feel with the horse if the riding boot is too big.
Properly Fitted Riding Boots for Safety
One of the most important reasons for purchasing properly fitted riding boots is for safety. A riding boot is not only designed for comfort but also to keep the rider safe while mounted. The boot's heel is high, around 2.5 cm or more and stops the rider's foot from slipping through the stirrup and getting caught. The toe of the boot is slightly narrow and rounded, providing easy access for the foot in and out of the stirrup as and when necessary. It is also sturdy, protecting the toe from being trodden on by a horse's hoof while on the ground. A smooth sole ensures the foot does not catch on the stirrup bar.
Riding Boot Quality
Consumers have the choice of purchasing leather riding boots or synthetic riding boots. Each type offers a different fit, feel, and level of comfort. They also vary significantly in price and quality.
Leather Riding Boots
Leather riding boots offer top quality, comfort, fit, and safety. Although more expensive than synthetic boots, buyers are recommended to purchase a pair of leather riding boots if their budget can allow, especially if they are to be used frequently. Made from soft and supple cowhide or pigskin, leather boots soften and mould to the shape of the rider's foot and leg, helping to maintain a correct riding position.
Durable enough to protect the leg from pinching or chafing, this type of material is thin enough to allow the rider to keep a good contact and feel against the side of the horse. Waterproof and breathable, leather riding boots are ideal for use in summer or winter.
Rubber Riding Boots
For a less expensive option, rubber riding boots offer many similar features that leather boots offer. Rubber boots require less care and maintenance than leather boots, as they do not crack or dry out if they get wet. They require no conditioning and are simply wiped clean with a damp cloth and mild detergent.
When looking to buy a pair of rubber riding boots, buyers need to ensure a correct fit. Because rubber does not mould to the shape of the rider's leg, an ill-fitted rubber boot can cause blisters, pinching, and sore tired feet. Unlike leather, rubber is not breathable, so it can be hot to wear in summer and, depending on the lining, can be cold in winter. If considering a rubber riding boots purchase, it pays to buy a pair for the seasons. If one plans to ride all year round, then a summer and a warmer winter pair are likely to be necessary.
Long Riding Boots
Long riding boots are commonly available in leather and rubber. Extending up to the rider's knee, properly fitted long riding boots are the more popular choice of boot for adult riders. Used for dressage, show jumping, eventing, and hunting, long riding boots that fit the rider correctly provide all the protection and comfort one needs while on or off the horse. Long riding boots may be pulled on and off, or they can feature a long zipper that runs up the back of the entire length of the boot. Boots with zipper closures are far easier to get on and off.
How to Measure Long Riding Boots
When measuring for long riding boots, the rider should be wearing riding pants and appropriate socks. The foot measurement of a long boot should be the same or similar to shoe size. The calf measurement is taken at the widest part while the rider is standing up. To get an accurate measurement of the boot height, the rider's leg is measured from the heel to the back of the knee. It is important to stand up, with the knee slightly bent in the correct riding position to get an accurate measurement of height. The following table provides a sizing guide for women's long riding boots and the corresponding measurements. Measurements are in centimetres.
| | | | | | | |
| --- | --- | --- | --- | --- | --- | --- |
| Size | 6 | 7 | 8 | 9 | 10 | 11 |
| Slim Calf | 30.5 - 33 | 33 - 34.3 | 33 - 35.5 | 34.3 - 35.6 | 35.6 - 36.8 | 36.8 - 38.1 |
| Regular Calf | 33 - 35.5 | 35.5 - 36.8 | 35.5 - 38 | 36.8 - 38.1 | 36.8 - 38.1 | 38 - 39.4 |
| Wide Calf | 35.5 - 38 | 38 - 40.1 | 38 - 40.6 | 39.4 - 41.9 | 40.6 - 41.9 | 40.6 - 43.2 |
| Height | 45.7 | 45.7 | 47 | 47 | 47 | 47.6 |
It is important to realise that long boot size measurements can vary between different brands. It always pays to try on a pair of long riding boots before making any final purchase decision, as there are several foot and leg measurements that are required in order to find properly fitted riding boots.
Paddock Boots
Paddock boots come in two styles, jodhpur boots and mucker boots. Jodhpur boots, usually made of leather, extend to just above the ankle and are designed for everyday riding and yard work. Pony club riders and children commonly wear jodhpur boots. With an elastic band on each side of the ankle, these boots are easily slipped on and off the foot. Pairing jodhpur boots with a pair of chaps, they provide similar protection and comfort that more expensive long riding boots offer.
Mucker boots are designed for yard and paddock work. Made from waterproof synthetic material, they are well-padded, able to keep feet warm, clean, and dry in winter, and cool and comfortable in summer. With a hard toe to protect against a horse's hoof, mucker boots cover the ankle and often extend up to the calf. The top part of the boot is soft and padded with a wide leg that makes getting in and out of them quick and easy. They usually feature Velcro tabs to adjust the leg of the boot to fit comfortably and snugly. Mucker boots are not designed to be worn while riding.
How to Measure Paddock Boots
Properly fitted paddock boots keep the wearer's feet comfortable, safe, dry, and warm. Paddock boots are measured in the same way as normal shoes. When trying on paddock boots for size, be sure to wear riding pants and socks as normal. It is helpful to note that leather jodhpur boots can feel stiff and uncomfortable until they are worn in. Mucker boots are well-padded and do not usually require any time to break in.
Find Properly Fitted Riding Boots on eBay
Properly fitted riding boots are easily found on eBay. You simply type "riding boots" into the search bar on eBay's home page to see an overview of what is available for sale. You can narrow down the search results by typing in something more specific, such as men's Ariat jodhpur boots or women's size 7 long riding boots. Some buyers prefer to search for their specific type of riding boots using eBay's search categories. These include searching by boot type, gender, brand, size, price range, or condition.
Once you have found a pair of properly fitted riding boots, be sure to read the listing description carefully, taking note of payment methods, delivery options and pricing, and the seller's returns policy. Also check out the seller's feedback rating to see how other buyers have found their service. Listings that feature the top-rated seller badge mean these sellers consistently achieve 4 and 5 star ratings, receive excellent feedback, provide accurate listing descriptions, and ship items quickly.
Conclusion
Properly fitted riding boots provide important comfort and safety protection for a horse rider. Riding boots may be made from leather or synthetic rubber material. Each type has its advantages and disadvantages. When looking to purchase a pair of properly fitted riding boots, buyers should first identify what type of boot they require, whether it is a long riding boot for dressage work, a jodhpur boot for everyday riding, or a mucker boot for yard work. In order to find properly fitted boots, buyers use their normal shoe size. For long riding boots, buyers also require their calf size and lower leg height.
To find the perfect pair of properly fitted riding boots, consumers can head online to eBay. With their simple search methods, secure online payment options, reputable sellers, and vast selection of different types of boots for sale, many find their new or used pair of riding boots at a competitive price.