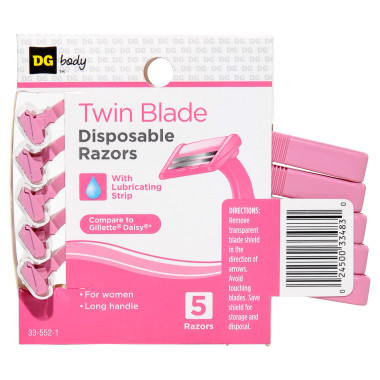 eBay is a great place to search for and purchase your ideal razors. With a great variety of razors available it is simple to buy good quality, affordable razors in bulk. The filtering preferences on eBay are a useful way to narrow the search down to the items of your choice.
With affordable plastic or disposable razors available in bulk, there is also a range of electric razors with several changeable heads, acting as a base for several types of razors at once. Buying razors in bulk is straightforward and quick. This guide will explain the easiest way to buy them and how to use the search preferences to find the most suitable deal.
Types of Razor
Although razors are simple and straightforward items, there is a surprising range of different types. Consider which type of razor is the most suitable before buying them in bulk. Before making your purchase, ensure that you are investing in the correct type of razor. The main types are broken down in the chart below:
| | |
| --- | --- |
| Type | Description |
| Straight Razor | The straight razor or "cut throat" razor consists of an entirely exposed blade, allowing for freestyle shaving. The razor trims hair by rotating on a pin, which is attached to the handle. The blade is protected when folded in to the handle. Since the blade can be sharpened, this razor is suitable for buying in bulk since it can last. |
| Safety Razor | More protective of the skin, the safety razor can consist of one to several disposable blades making it easy to clean and restore meaning minimum skin irritation. This type can come with disposable blades; alternatively the entire bag of razors could be disposable. |
| Mains Electric Razor | To switch the mains electric razor on, it must be plugged in to a main socket. This saves any hassle with batteries or rechargeable units. These are not disposable but could have changeable razor heads to create a five-in-one product. |
| Rechargeable/ Battery-Powered Electric Razor | The rechargeable electric razor can be plugged in to a charging unit in a bathroom, leaving it mobile for trimming hair. The battery-powered electric razor does not need to be plugged in anywhere and is therefore suitable for the frequent traveller. Although not as affordable as the more common "buy-in-bulk" razors, this razor can have several heads, making it several different razors at once. |
There is a wide variety of razors on offer but as well as taking these into consideration it is also worth exploring the impacts and advantages of differing blade numbers. Razors differ in their effects according to the number of blades they have:
Single-Edged Razor
The single-edged razor consists of a rigid rather thick blade. With only one blade to maintain, the single-edged razor is unlikely to hold hairs, hair gels or other unwanted debris.
Double-Edged Razor
The double-edged razor cuts hair with the accuracy of two blades without pulling on the skin. The double formation runs smoothly across the surface.
Multiple-Edged Razor
With a smooth, close shave, the multiple-edged razor has more blades meaning more contact with the skin and fewer hairs missed. Available with three to five blades, there is less bulging of the skin between blades, which leaves a smoother result.
Characteristics of a Razor
| | |
| --- | --- |
| Characteristic | Explanation |
| Material | When buying razors in bulk, it is likely that the razors will either be made with an affordable plastic frame or be entirely disposable. This means getting a large bag of razors at a very affordable price. |
| Maintenance | As discussed above, unless you decide to buy several electric or straight razors in bulk, plastic or disposable razors are easy to rinse and are thrown away when their use has expired. |
| Size and Shape | Razors differ in their size and shape according to their type. A typical disposable razor is small, light and simple. |
| Colour | eBay sells a range of different coloured razors . Bags of differently coloured disposable razors can be bought. Alternatively buy a few long-lasting razors with coloured disposable blades to match. |
What to Consider When Buying Razors in bulk
· When buying in bulk, it is likely that a lot of items are needed at an affordable price. However, consider the condition the items should be in. Providing that the razors have replaceable blades and can be washed, there is no reason not to engage in a second-hand sale. This may be an even better bargain.
· While searching for razors, get a price range in mind. Search options can be filtered according to pricing preferences with the filtering option on the left hand side of the page. Visit other websites to learn about price ranges and use this filter to sort through and find the best deal.
· As discussed above, the type of razor that a customer looks for when buying in bulk is usually an affordable or disposable razor. However, note the other types of razors on sale; an electric razor set for example could work as a two-in-one nose and ear trimmer . An electric razor could have several heads meaning that it is a few different types of razor in one.
· What sort of material should they be made from? Think about whether the razors should be disposable, with disposable blades, or permanent with disposable blades. Alternatively you might decide to buy several straight, open-bladed razors, which can be sharpened and kept for longer.
· How big should the razors be? Are the razors for travelling? In the case of the latter, perhaps a bag of small disposable razors would be appropriate.
· How often will the razors be used? Should the razors have one or two blades so that they are easily rinsed and cleaned if being used regularly? Or would a multiple-edged blade be better for a frequent user since the skin is pulled less? Consider which number of blades is right for the razor.
Buying Razors in Bulk on eBay
The quickest way to buy razors in bulk is to browse the Internet. You will be presented with many different brands and prices. The easiest way to narrow down the broad search results is eBay. Simply visit the homepage and type the product in to the search bar at the top.
Choosing eBay to buy the razors means using the preference options on the left hand side of the page. Clicking on and selecting the desired preferences can narrow choices of razors down. These include:
- The price range. Use the price range bar to select the price deemed appropriate for the razors.
- The condition of the razors. Buying razors in bulk does not necessarily have to mean investing in quantity rather than quality. Brand new sets of razors are available at an affordable price.
- The category of the item. In this case, razors can be found in the Health and Beauty category and the subcategory of Hair Removal. The categories ensure that the product is found quickly; they also are useful in allowing the customer to browse accessories or similar items within the same field.
- The desired sale format. This is whether the item will be bought immediately, or as part of a bidding or auction sale. If the razors are needed quickly, perhaps an immediate sale is the answer. If a sale price is negotiable, an auction or bidding sale might be right.
- The item's location. For delivery purposes, the location of the item can be viewed and selected at the buyer's convenience.
- The delivery type. The razors might be needed urgently, before a holiday for example. Use the delivery preference options to choose the items that offer, for example, express delivery or free postage and packaging service.
The vast range of razors available on eBay is beneficial because the preference options filter the products to help customers find what they are looking for. Further information on the product is available on the detailed product pages, which are accessed simply by clicking on the product.
Safety Considerations When Buying on eBay
There are some safety considerations to take in to account when buying your razors on eBay. Before making a purchase, check that the seller has positive feedback; if there is any negative feedback, research into this to find out why and what the outcome of the incident was. Be confident in asking the seller any questions about themselves or the product. To do this, simply enter a question in to the question box, which can be found at the bottom of the product page. Previous questions and answers about the seller and product can also be found here. When satisfied that you have found the correct razors, be sure to use PayPal to make a secure payment.
Conclusion
It is quick and easy to buy razors in bulk on eBay. There are many different types of razors available. However, when buying in bulk it is likely that the most affordable, light and potentially disposable razors will be the most suitable. Use the preference options on the left hand side of the page to narrow down the available products.
When choosing the razors, think about how often they might be used; would disposable razors be useful or would razors with disposable blades be more effective? Consider what sort of price is acceptable for the type of razors and their condition. When a decision has been made, take a moment to check eBay's terms and conditions before completing your purchase.