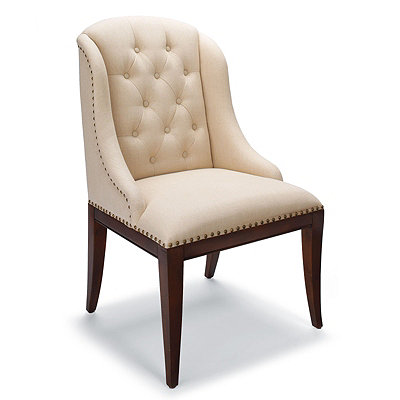 Finding a dining room chair to replace a lost or broken chair can sometimes be challenging. If your dining room set is vintage, the chances become that much slimmer. If you have been searching for a replacement dining room chair to match your existing set but have met with little success, you might want to consider, mixing and matching your existing dining room suite with chairs from another dining room suite. For an eclectic look, you can tie a whole dining room suite together by reupholstering mismatched chair styles.
A dining room does not always have to have perfectly matched chairs. It is easy to redecorate your dining room with mismatched chairs, by fixing a damaged piece of furniture, or by commissioning a new chair be built to your specifications. No matter which way you choose to go, you will find a huge selection of individual replacement dining room chairs on eBay.
Locate Dining Room Chairs Based on the Manufacturer
Before you can replace dining room chairs, you will need to identify the brand of furniture. Usually there is some sort of identification such as a label or maker's mark on the dining room furniture. To find that label, turn the dining table over and look at the bottom for any kind of label that may be stapled, taped, or burned into the wood. Sometimes there may be a serial number on the leaf, if it has one, or on a table leg. Check the bottoms of the chairs as well. Oftentimes, the label is attached to a chair, and could be hidden under the cushion or fabric. If there is a cushion, you should remove it and look underneath it for a label or other identifying feature such as a serial number.
If the dining table or the matching sideboard has any drawers, open them and look at the bottoms of the drawers. Furniture manufacturers often put identifying marks behind cabinet doors. Look through any informational booklets that may have come with the dining room furniture. Once you have determined who made the dining room set you contact them to find out if you can buy replacement dining room chairs. If the dining room set is decades old, the manufacturer may no longer be producing that set. If that is the case, you may have to take your search online.
Design Your Own Dining Room Chair
If you have looked everywhere and you are still unable to find the exact chairs to match your dining room table, you can always choose to design your own chair using the original chair style as your template. Contact furniture companies who sell unfinished pieces, or even those who have showrooms with many designs and styles, and ask about having a bespoke replacement chair made to your specifications. With this option you will be able to customise your dining room and match the chairs perfectly. Keep in mind that this option may be more expensive than other methods of replacing dining room chairs. Fortunately, there are other, much less expensive options for replacing dining room chairs, like mixing and matching different dining room chairs.
Mix and Match Different Dining Room Chairs
Everywhere you look, there are modern dining room sets with mismatched pieces of furniture. You can match pieces by cushions, colours, or materials. The mismatched look is very popular. However, mismatching dining room chairs can be tricky. Simply throwing different pieces of dining room furniture together could end in disaster. To ensure that your mismatched dining room furniture is stylish rather than garish, follow a few basic decorating rules. Keep in mind that mismatched pieces should still retain at least some small measure of matchability to tie the set together.
Keep to a Single Colour or Pattern
Use a colour common to all the pieces in the dining room set to tie in mismatched pieces. You also have the option of choosing a complementary colour from the colour wheel to create a striking yet balanced look and feel to your dining room. You can do this by choosing dining room chairs that are all the same colour wood, or you can paint the chairs to match. You can also reupholster the chair cushions with matching fabrics.
Whether your particular fashion sense dictates a striped, floral or geometric pattern for your dining room chair cushions, stick to one pattern or similar pattern. For instance, you can have floral patterned dining room chair cushions, where the types of flowers vary from one cushion to the next. If you go with a striped pattern, consider striped cushions, but with different colours, and with varying widths. Have the direction of the stripes vary from one cushion to another.
Use Different Chairs From the Same Time Period
Keep your decor within a single time and design era. Every piece of your dining room set can have a slightly different look while still looking cohesive. You can reupholster the cushions to match, and keep that design thread running through all the pieces in the dining room set. You don't have to conform to strictly matched dining table and chairs. Complementary patterns keep the dining room chairs looking as though they belong together. Find some way to restrict your design choices, whether by designer, country of origin, era, or motif. You want the overall look to appear deliberately mismatched, as opposed to incoherent and messy.
Break All These Rules
Just remember that your dining room chairs are just that, your dining room chairs. Do not be afraid to break the rules and create a look for your dining room that is truly all yours. If it feels right to you, then just do it. Create a look that is right for your home and reflects your style by matching chairs that others may think would never work together. You might be amazed at how your style sense shines through in these instances. The result being a dining room set that is completely original.
Fix Your Dining Room Chair Yourself
If you are just not interested in mismatching or designing a chair for your dining room, or you have searched for days or weeks online without success, you might want to fix the chair you were looking to replace.
Diagnose the Problem
Before you jump in, determine what the problem is. Does your dining room chair have loose joints? You can find this out by having someone lean on the chair while you examine it from down on the floor. If the chair moves or gives at all under pressure, you will see it. Look at all of the joints to determine which one is the culprit, but also look at where the seat back meets the seat. None of the joints should be able to move, so if there is any movement, you can tighten or replace bolts or screws.
Take a Closer Look
Take the chair to a workbench and take a closer look at the offending joint. If the joint is a mortise and tenon joint, which is formed by a tenon peg inserted into a mortised cavity, it could be out of alignment or simply not fitting snugly.
Check Leg Joints
If the dining room chair has wooden blocks or metal angle irons that connect the legs to the seat, bolts or screws may have become loose from normal wear and tear on the chair You can tighten the nut on the bolt, but be sure that there is a washer under it or you may drive the nut into the wood of the seat.
Replace or Repair any Broken Pieces
If your dining room chair has spindles, keep in mind that it has them for a reason. If a cross brace is broken, gently remove it and replace it with a new cross brace. If it is a broken spindle, this will present a more difficult fix, as these should only be replaced by a qualified carpenter who can create a matching spindle on a lathe. If your dining room chair has been glued together but is unstable, remove any old glue with warm vinegar and simply apply fresh glue to all joints using the appropriate wood glue. Allow the glue to dry overnight.
How to Find Replacement Dining Room Chairs on eBay
To begin searching for the perfect dining room chairs on eBay, simply enter keywords that best describe your dining room set into the search bar at the top of any page on eBay. For example, if you enter "maple dining room chairs" the site generates a results page with listings for you to browse through. You can sort the results to hone your search. For example, you can narrow your search down to only listings for maple dining room chairs that have cushions. It is important to to read the listings carefully, taking note of the size and dimensions of the dining room chairs.
No doubt you will have questions for the seller. If you need more information to help you come to a purchasing decision, simply go to their contact link which is located on their member profile page. To get to the seller's member profile page, click on the seller's username. While there, consider reviewing the feedback left by previous buyers. The sellers with the highest feedback scores are referred to as eBay Top-Sellers. You can sort the listings to only show listings for dining room chairs listed by top-sellers.
Conclusion
The dining room is one of the most important rooms in the house. Families gather in dining rooms for meals and for special occasions like birthday celebrations and feast days. Because this room is a vital part of your household, you should decorate it to reflect your own personal style and taste. No longer do you have to adhere to some stuffy vision of a dining room where all the pieces match perfectly.
If you need to replace a damaged chair, first consider a easy repair. If the chair cannot be salvaged, the next course of action is to contact the manufacturer and hope they still manufacture that chair. If you come up short, consider looking for a mismatched chair. Select a mismatched chair that is made of the same wood or is the same colour as the other chairs in the set. You could try and alter the chair slightly by reupholstering it. Whether looking for a matching chair or a mismatched dining room chair, you will find thousands of dining room chairs to choose from on eBay.