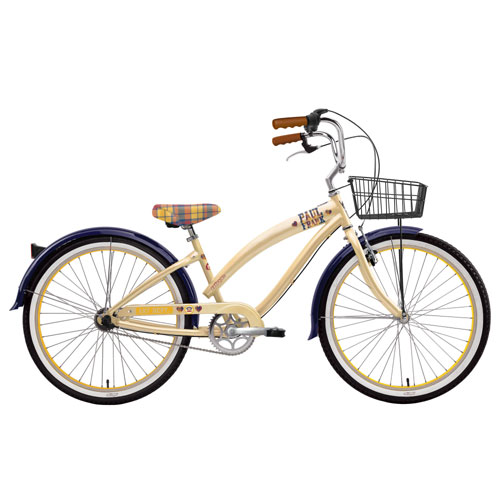 Those considering buying a vintage bike might be attracted by the quirky looks and the character of these classic models. It is important to state, though, that owning a vintage bike is not the same as buying a brand-new one.
Owners new to the genre will need to familiarise themselves with the ins and outs of vintage bike accessories, so that they know what they need, and where the best place to get hold of them is. Chances are that the items you want will not be available close by, and that's where the online world comes into its own, particularly a site like eBay.
Those who already own a vintage bike will know the importance of getting hold of the replacement parts that will keep their bike on the road. eBay's bike parts category is probably the best place to find those hard-to-track-down spare parts.
This is a guide to those areas of the bike that need checking most carefully and to getting hold of the replacement bike parts your vintage bike will need most, many of which can be found on eBay.
Things to Check
Maybe your vintage bike was bought on eBay. When it arrives, an all-round check should be in order. There are several key features that warrant a thorough check.
Gears and Brake Cables
This is easily done. It is simply a case of looking at the cables to see if they are rusty, corroded or frayed. Cables in top condition are vital for cycling health and safety. If they are in poor condition, it might be possible to find the standard cables you need for your model on eBay.
It is always a good idea to have a trusted bicycle mechanic check over the gears to make sure they are in good working order. Again, they could be a safety factor if they are not properly adjusted.
Tyres
The bike might be vintage but there's no reason why the tyres should be. If they do not have good tread or the rubber has cracked, then they will be a safety issue and, at the very least, will deflate very quickly.
Brakes and Levers
The brakes and levers should also be checked and adjusted to make sure they are in good condition. There must also be plenty of rubber on the brake pads. All of these items can be found at a range of affordable prices on eBay.
Rims
Rims must be free-spinning. If they do not spin freely, then they will need to have their bearings serviced. They might need to be 'trued' by a mechanic.
Bearings
It is also important to service the bottom-bracket bearings on vintage bikes, as well as those in the headset and wheel axles. They must be cleaned, regreased or replaced. It is possible to overtighten the cones or bottom bracket and headset. If so, the vintage bike will break down before long.
Driver Train
Other issues that are common in vintage bikes include the drive train – this means the chain and cogs, which should be cleaned and oiled diligently. Using degreaser on the wrong parts can damage the bike. If the vintage bike has a crack in the tubing, this could indicate some kind of accident. If the paintwork is cracked, this could show faults with the steel tubing. The joins in the tubing are also another classic place for cracking.
Forks
Another potential issue with vintage bikes is that of bent forks. Check the bike from the side to see the angle and alignment of the fork. A bike mechanic can help with this.
Information About Vintage Bike Parts
For vintage bike enthusiasts, old parts in good condition can be a reason to get up in the morning. Scouring eBay for specific vintage bike parts can become all-consuming, and there is no shortage of material.
Vintage bikes have a number of unique parts that make them special and that help endear them to people.
Balloon Tyres
Balloon tyres are unique to vintage bikes. Their introduction was intended to offer a smooth ride when riding on rougher terrain. Dating from the early 20th century, they are one of the key features that separate modern bikes from vintage bikes.
Frames
Getting the right frames for vintage bikes can increase the sense of nostalgia. Frames are one of the key areas that keep the vintage bike looking vintage – after all, there are good safety reasons connected with buying modern brakes, but there is no reason why the frame should not be authentic.
Spoon Vintage Bike Brakes
Spoon brakes, which have also been called plunger brakes, were the very first brakes ever fitted to bikes. They were a feature of penny farthings – the Victorian bikes with a large front wheel – and carried on in use until the introduction of the pneumatic tyre.
The spoon brake operated through a leather pad that came in contact with the front tyre to slow it down. Operation was through a hand lever, although some spoon brakes worked off foot pedals.
Spoon brakes were not very durable and tended to suffer with bad road and weather conditions. They wore out quickly. The spoon brake was phased out in the 1930s on adult vintage bikes and in the 1950s for children's bikes. Spoon brakes can be hard to get hold of, but some examples of spoon brakes occasionally surface on eBay.
Duck Vintage Bike Brakes
Duck brakes first came into being in the late 19th century. Operation was by a handlebar lever that operated rollers on each side of the tyres, which slowed them down. The brakes were generally made of rubber or wood. Until the rider pulled the lever, the rollers were kept away from the tyre. A long lever behind the handlebars also provided further braking. These brakes were more effective than spoon brakes in terms of stopping ability as well as modulation. The duck vintage bike braking system was efficient and was the system of choice for the best riders of the era. Duck vintage bike brakes are rare, but can usually be found on eBay.
Rim Vintage Bike Brakes
Rim braking systems on vintage brakes brought about the modern braking systems we rely on today. It can be relatively easy to find rim braking systems for vintage bikes, especially with online shopping channels such as eBay. Friction is applied from brake pads to the wheel rim, slowing down the tyres and therefore the bike.
In the past, brake pads were traditionally made from rubber, leather, or cork and operated with a lever on the handlebars. They tend to be lightweight, cost-effective and simple to look after, but have their limitations in the wet. They can also result in rims wearing out fast.
Original Brakes are not Obligatory
Vintage bikes can be lovely, but some aspects are less so. Braking systems that were in use 100 years ago, such as the spoon brake, duck brake and original rim braking, were great at the time. But technology has moved on and traffic and road hazards have got considerably worse.
For these reasons, it may be wise to exercise a little caution when looking for braking systems for vintage bikes. The old braking systems are nothing like as safe as the braking systems we know and love today, and don't bring the bike to a halt anything like as smartly as is recommended.
The braking system is one area where authenticity should probably take a back seat to safety if you're planning to ride your bike in modern traffic conditions or using your bike as a regular form of transport. After all, many hobbyists restore and collect vintage bikes with the goal of only showcasing them, and not actually using them.
Find Replacement Parts for Vintage Bikes on eBay
Now that you are sure about the specific replacement parts you want for your vintage bike, eBay could well be the best place to find them. To find the parts you need
Navigate to the All Categories portal on eBay
Click Sporting Goods, Cycling and Bike Parts.
Simply key in the replacement part you're after.
You can narrow down your search by completing component type, bike type, condition, brand, or material in the filter on the left.
eBay Keyword Search for Replacement Parts for Vintage Bikes
Search the eBay listings for particular keywords, such as 'bike parts' when looking for replacement parts for vintage bikes. For example, if you want a Sturmey Archer 3-speed Toggle Chain Gear Indicator, type Sturmey Archer into the search box, then customise the results with the Advanced button.
Another big help is eBay's Search Tips page, which can provide advice on searching for vintage bike parts with keywords.
If you are struggling to find the precise vintage bike part you want:
Try looking in eBay Stores
Inform the eBay Community of what you want by using the Want It Now function.
It is also possible to save a search on My eBay, and eBay will email you any matches.
Buy Vintage Bike Parts with Confidence
Before you bid for vintage bike parts on eBay, it is best to know precisely what you want to buy. You should also carry out plenty of research into the seller and know how you are protected through eBay and PayPal. Read the details in the vintage bikes listings and factor in postage costs into the final price that you will pay. If the vintage part you want is expensive, ask the seller to insure the product when they mail it. For more information about vintage bike parts, ask questions by clicking the Ask a Question link at the bottom of the listing page.
Know the eBay Seller
Get as much information on the eBay seller as possible to make sure your eBay transaction is positive and secure when buying vintage bike parts. Ask these important questions when buying vintage bike parts.
How good is the seller's feedback rating?
How many sales has the seller made?
What is their positive-negative ratio?
What do buyers say about their vintage bike parts?
Does the seller offer money-back guarantees on vintage bike parts?
What are the terms and conditions?
Conclusion
Consider carefully whether buying certain parts for vintage bikes might compromise safety. For example, old bubble tyres and duck brakes might look great, but if you're going to ride the vintage bike regularly, you're going to need to feel safe. Consider buying newer brakes or wheels on eBay while maintaining authenticity with original frames, mudguards and handlebars. Buying parts for vintage bikes is so much easier than it was 20 or so years ago, with the advent of online shopping and the emergence of sites like eBay. So, shop with confidence and enjoy your cycling.