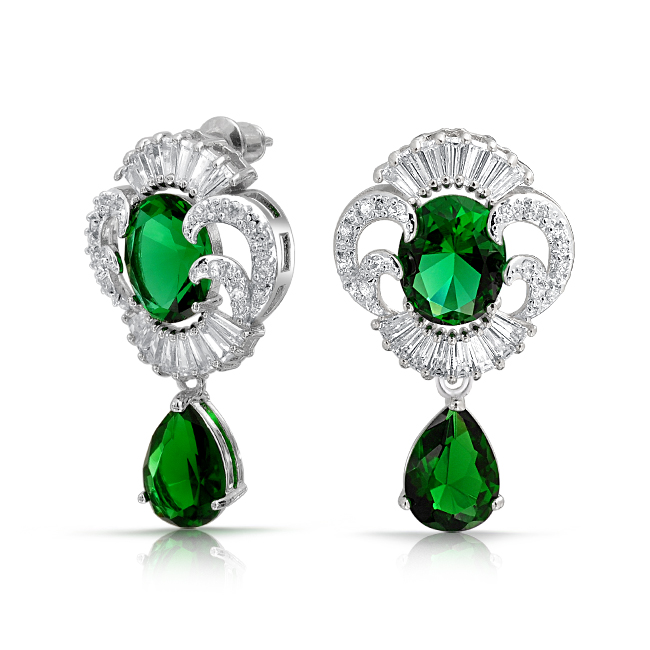 The Art Deco style emerged in the 1920s and lasted until the start of the Second World War. It influenced everything from jewellery and fashion to architecture and design. Art Deco was originally called Art Moderne and the era was given the name Art Deco in the 1960s by a British art historian named Bevis Hillier, who drew the name from the period's emphasis on decorative arts. The name is also a reference to the Exposition Internationale des Arts Décoratifs et Industriels, held in Paris in 1925, often noted as the beginning of the Art Deco period. The Art Deco style regained popularity in the 1980s, and since then has remained a popular influence in jewellery because of the elegance and glamour evoked by the period.
Vintage Art Deco jewellery is available to buyers who are prepared to search for it, but reproduction pieces are easily available. When buying reproduction Art Deco jewellery, it is useful to consider the differences between reproduction and authentic jewellery, the characteristics of the Art Deco style, and common jewellery items of the period. Reproduction Art Deco jewellery is available from bricks and mortar jewellery shops, department stores, accessory shops, and online sites such as eBay.
Reproduction vs. Authentic Art Deco Jewellery
Before making a purchase, buyers should understand the difference between reproduction and authentic pieces of jewellery. Authentic, or vintage, Art Deco jewellery was made at least 80 years ago. Reproduction pieces are those based on original Art Deco designs, but they have been made more recently. These can be new or used. Pricing for reproduction and vintages pieces depends on a variety of factors, such as the quality of the craftsmanship, which can vary. So, whether to buy a reproduction or authentic item is a matter of personal taste and budget. However, the ready availability of reproduction pieces makes them a convenient choice for anyone who wants a touch of vintage style, but would rather not research and verify a product.
Characteristics of the Art Deco Style
Art Deco was preceded by Art Nouveau, a style that emphasised flowing lines and natural motifs. In contrast, Art Deco was the product of an age marked by industrialism and glamour. Art Deco drew inspiration from all over the world, including China and ancient Egypt. Art Deco is among the most easily recognised artistic styles, even among amateur art and fashion enthusiasts. Art Deco is characterised by geometric shapes, bold colours, and contrast. Reproduction Art Deco jewellery has distinctive shapes, motifs, materials, and gemstones.
Art Deco Shapes
Art Deco features geometric designs with block patterns that drew their influence from the artistic movement Cubism and architecture. Buyers should look for reproduction Art Deco jewellery with squares, rectangles, and triangles, as well as some circles and arcs.
Art Deco Motifs
In addition to geometric patterns, popular designs from the Art Deco period drew on motifs from cultures across the world. The discovery of King Tutankhamun's tomb in 1922 led to an increased interest in Egyptian motifs such as scarabs and sphinxes. Art Deco also drew inspiration from traditional Chinese art motifs as well as African tribal art, in particular, the use of geometric patterns. Even transport motifs, such as cars and planes, were used frequently. These motifs remain popular in reproduction Art Deco jewellery.
Art Deco Materials
In the Art Deco period, traditional yellow gold gave way to white metals, such as platinum and palladium, as well as rhodium used to coat white gold. Silver, copper, and brass were also popular. These metals are still used today in reproduction Art Deco jewellery.
Art Deco Gemstones
Onyx and other black stones were a common choice for Art Deco jewellery, but other bold gemstones were used, such as diamonds, rubies, emeralds, and sapphires for fine jewellery, or imitation stones of the same colours for costume jewellery. Stones such as coral, jade, opal, aquamarine, and lapis lazuli where commonly used. The cut of the gemstones was particularly important in the Art Deco era. The interest in geometric shapes and new technology made cutting and polishing stones simpler. Two common options were emerald and baguette cuts, both of which are rectangular and have step cuts. The emerald cut features truncated corners that give it an octagonal appearance. The shield cut was also popular and is recognised in triangular stones with two edges that bow out slightly. All of these cuts can be found on reproduction Art Deco jewellery especially as modern cutting techniques makes their production much easier.
Popular Reproduction Art Deco Jewellery
The Art Deco period popularised particular styles of jewellery, including pendants, cocktail rings, earrings, and bangles. All of the jewellery was designed to complement the fashions of the time: long pendants and dangly earrings drew attention to low necklines and short bobbed hairstyles; bangles adorned arms that would have been covered by long sleeves in past eras. Look for reproduction pieces with the same characteristics as authentic Art Deco jewellery.
Reproduction Art Deco Necklaces
Pendants were a particularly popular type of necklace in the Art Deco era, especially when adorned with precious gems or imitation stones that caught the light as the wearer moved. Art Deco pendants also helped to emphasise the spaghetti strap dresses that were popular at the time. In addition to geometric patterns, flower pendants were a popular choice and are regularly found in reproduction Art Deco jewellery. Egyptian-inspired or tassel pendants are an alternative, as are long strings of beads and pearls that are often associated with the flapper girls of the 1920s.
Reproduction Art Deco Rings
Art Deco rings were big and bold, making an obvious statement. Often these pieces had a single large stone, usually an emerald, or baguette cut, with smaller stones set around it, such as rubies, emeralds, jade, or mother-of-pearl. The band was often plain, so the gemstone could be the focal point. Reproduction Art Deco rings display the same bold use of stones, but may replace precious and semi-precious gemstones with imitation stones.
Reproduction Art Deco Earrings
With the popularity of short, bobbed hairstyles, dangly earrings were a quintessential accessory for the Art Deco period. These earrings often matched the pendant to create a cohesive set of jewellery. Reproduction Art Deco jewellery has the same look, set in white gold or platinum.
Reproduction Art Deco Bracelets
Long sleeves disappeared in dresses of the 1920s, so bracelets became very popular. This includes bangles, which have no clasp, and cuff bracelets that have ends that do not close completely. Bangles and cuffs bracelet often had cut-away filigrees with ornate geometric patterns. Link-style bracelets were often made of platinum and encrusted with gems. These styles can be found today in reproduction Art Deco bracelets.
Buying Reproduction Art Deco Jewellery on eBay
eBay has a large selection of reproduction Art Deco jewellery. To start searching for items, visit the homepage and enter a keyword, such as "reproduction art deco jewellery" in the search box to find the items that match the keywords. You can filter the results by category, then further narrow your choices by factors such as condition or price. Read the seller's listing carefully to determine whether the item is a reproduction or vintage, and which stones and metals are used. Also, look for information about the size of the jewellery. If you have any questions, you can always ask the seller via eBay's "Ask a question" feature.
eBay Buying Basics
If you have never made a purchase on eBay, you need to create an account and set up a preferred payment method. Sellers vary in which payment methods they accept, but PayPal is widely supported, secure, and convenient. Visit the eBay Help Centre to learn more about paying for your items.
When browsing for reproduction Art Deco jewellery, you should also pay attention to the seller. Check his or her feedback history to see what other buyers have said about items they have purchased and their interactions with the seller. eBay distinguishes sellers with positive ratings and good customer service by labelling them as Top-rated sellers, which is indicated by a badge on the listing page. After buying the reproduction Art Deco jewellery, you should leave feedback for the seller.
Conclusion
The Art Deco style flourished in the 1920s and 1930s, and it has remained a powerful influence in jewellery design since its revival in the 1980s. Buyers can still find vintage pieces, but reproduction Art Deco jewellery is more widely available. Buyers should learn about the characteristics of the Art Deco style before purchasing reproduction jewellery.
Reproduction Art Deco jewellery features geometric patterns and multicultural influences. It also uses bold colours and contrast, with white metals and black stones a popular colour combination. Diamonds, rubies, emeralds, and sapphires were all popular in the Art Deco era, and less expensive, modern reproduction jewellery may use imitation stones. Art Deco reproductions often use emerald, baguette, or shield gemstone cuts, as these rely heavily on geometric patterns. Reproduction Art Deco jewellery may include long pendants, bangles, cuffs, link-style bracelets, and long dangly earrings. eBay sellers offer a selection of reproduction Art Deco jewellery for a touch of 1920s style.