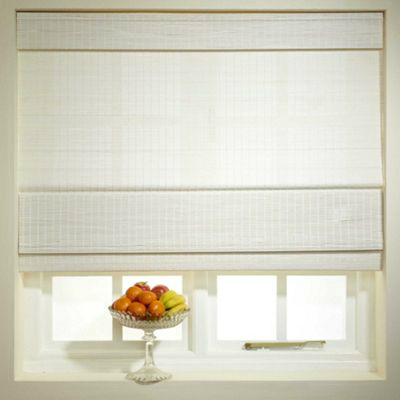 Roman blinds are a type of window covering used to block out the sun, and shade a room. They are made from various fabrics, which are designed to gather into evenly sized pleats as the blinds are raised. Roman blinds are made for both indoor and outdoor use. They can be used outdoors in a patio or gazebo, where they control the temperature and level of light. Roman blinds are available in a wide array of sizes and can be custom-made for non-standard sized or shaped windows.
Roman blinds can be bought in different colours, fabric patterns and textures, ranging from vintage designs to bold floral prints that are revealed once the blinds are lowered. Roman blinds can be bought in DIY shops, homeware stores, and department stores. When purchasing Roman blinds at retailers such as eBay, buyers should consider the features of the blinds, the different types of fabric used, and learn how to measure window spaces so that the Roman blinds can be installed correctly.
Features of Roman Blinds
During the construction of a Roman blind, solid fabric panels are mounted onto slats. The slats are then connected to cords that pull the slats together as the blind is raised, forcing the fabric to fold into pleats. The size of the pleats in the folded blind can make a difference. The closer the slats are to each other, the smaller the pleats and the less obscured the window is when the blind is folded. Roman blinds can be fitted to a variety of fixtures. This allows buyers to create a more customised look when compared to other drab window coverings. Fixtures often include rods with ornamental detail from which the Roman blinds are then hung.
Other components of Roman blinds to consider are UV protection and washability. Recommended methods of care should be highlighted on the fabric's care label and generally entail vacuuming, dusting, and spot cleaning. This helps to remove allergens such as pet hair and dust.
Adjusting the Height of Roman Blinds
Roman blinds are usually opened with a cord mechanism that adjusts the height of the covered area of the window. So, some areas of the window can be exposed, while others are blocked out. When standard Roman blinds are lowered, the fabric is unfolded and presents a relatively smooth appearance. There are also hobbled, or teardrop, Roman blinds that are designed with additional fabric which overlaps when closed. This allows the vertical panels to still be visibly distinct when the blinds are closed, creating a softened, pleated look.
Linings for Roman Blinds
Thinner, unlined blinds are ideal for buyers who prefer sheer or a voile fabrics, which allow more light to diffuse into a room, even when the blinds are closed. Some Roman blinds are manufactured with special lining. Lining adds insulation and blocks out light. Buyers have the option of white and cream standard lining. These colour options limit some of the light. This is the most frequent choice for Roman blinds that are used as more of a decorative item rather than for functionality. White and cream standard lining may be paired with curtains for optimal coverage. Blackout lining blocks out all light and provides a higher level of thermal insulation compared to standard lining. This is not typically used in conjunction with curtains. Roman blinds can also be interlined, which means that special fabric is added to strengthen and stabilise the blind for a more luxurious feel and increased insulation.
Types of Fabric for Roman Blinds
The fabric used in the construction of Roman blinds can vary considerably. For indoor use, buyers may choose to use unique fabrics or popular textiles such as silk, hemp, cotton, and linen. Wood can also be used to create a natural look in a room, while adding a touch of warmth. As a cheaper alternative, buyers can opt for synthetic fabrics. For outdoor use, bamboo, reed, or a more durable fabric is often preferred so that the blind can withstand severe weather conditions.
Buyers should choose a fabric for their Roman blinds that matches the interior of their home and other fabrics in the room. Those with floral patterned sofas and chairs should choose a fabric for their blinds that is a block colour. The colour and weight of the fabric can also help to set the ambiance of the room. Buyers that enjoy a brighter room should opt for a lighter fabric, while heavy textures such as microfibre and suede in a dark colour can give the room a sultry appearance. Buyers should consider their living habits. Those who have pets may prefer to avoid darker coloured blinds as pet hair is more visible, which means that the blind requires more upkeep.
Measuring Roman Blinds
Roman blinds can be designed to fit inside or over a window frame, depending of personal taste. Selecting the inside mount helps to highlight a home's beautiful window frames and creates a tailored, clean look. Alternatively, selecting an outside mount covers up imperfections and adds width. Outside mounts are usually installed a few inches on either side of a window opening. Buyers should keep this in mind when taking measurements and always measure to the nearest eighth of an inch: buyers should avoid rounding measurements. When taking measurements, buyers should also differentiate which measurement is the width and which is the height: the width measurement should be indicated first, followed by the height.
Measuring Roman Blinds for an Inside Mount
When measuring for an inside mount, buyers should measure the opening width at the top, centre, and bottom of the window, and record the narrowest width of the three. Similarly, buyers should then measure the height at the left, centre, and right, and record the longest measurement. Some manufacturer's may deduct between 1/16 and 3/8 inches from the width on each side so that the blinds do not rub or scratch the window frame. Buyers should always communicate clearly with a seller to see whether or not deductions are made.
Measuring Roman Blinds for an Outside Mount
When measuring the width for an outside mount, buyers should add at least three inches to each side of the window opening so that there is a minimum light gap and privacy is increased. Buyers must also allow for the height of the blind rail in their measurements. After taking height measurements, add a minimum of two and a half inches to allow space for both mounting brackets above the opening and enough overlap at the bottom.
Buying Roman Blinds on eBay
eBay gives buyers access to a diverse variety of Roman blinds from all over the world. Buyers can browse through eBay's wide selection of Roman blinds by using the category search. This guides buyers through listings and helps them to narrow down choices, leading them to their desired Roman blinds. For a more selective search, or to search within a certain price range, buyers should use eBay's advanced search feature.
When browsing and searching, buyers sometimes see "Top-rated seller" icons. This icon is intended to inform buyers of the most reputable sellers in the eBay community, giving buyers confidence when purchasing items sold by these sellers.
Searching by Location
Depending on the budget, buyers may want to limit their search to items being sold close to home. Blinds tend to be heavy and bulky, especially if already assembled. To find local sellers, buyers can filter the listing pages by item location. This allows buyers to limit the distance from a specific postcode. By using the "Sort" drop down feature, buyers can arrange listings by distance in order of nearest location.
Buyers should always communicate clearly with the sellers to see if they allow for local collection. This information should be listed under the item description. While some sellers may not allow this delivery type, others are willing to work with buyers to help to eliminate postage, packaging, and insurance costs. If any information is not present in the listing, or if the buyer has any questions, they can contact the seller directly using the "Ask a question" link.
Conclusion
Roman blinds can block out various degrees of light, giving more control over the look of a room. The blinds can also increase the level of privacy around windows. For buyers who work at night or who sleep late into the day, blackout linings are a good option. Alternatively, those who favour a lighter room may opt for unlined blinds. Buyers should also consider the fabric when making a purchase. The fabric can balance the overall look of a room and should complement the decor. Roman blinds are generally custom sized to fit a specific space, so buyers must take careful measurements to ensure a successful installation.
Those who want to expand the appearance of their window should consider outside mounted blinds, while inside mounted blinds can enhance a window frame. With so many listings for Roman blinds to choose from, eBay can help any buyer to use natural light to create the desired look for their home.