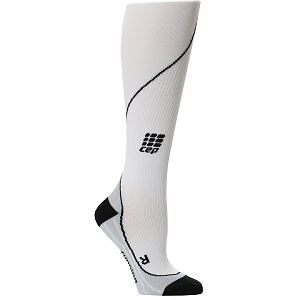 For those who take their running seriously or who have encountered foot problems like blisters when running, specialist running socks are a must. Acting as a complement to running shoes, running socks allow the wearer to get the most out of their sport while helping to minimise the risk of damage to the foot.
A surprising amount of technology now goes into making running socks, and this inevitably means that there are choices to be made before buying a pair. The sensible buyer researches the market to find out about the best materials and design features before investing in new running socks. How much should be spent and what features are required will depend on how seriously the buyer takes their running.
As with many specialist running accessories, running socks may be found in high street sports retailers. However, the prices of goods at these specialist shops are often very high. It may also take a while to find the ideal pair, as the range held in stock is not extensive. Therefore, many runners looking for specialist running socks choose to make their purchase from Internet retailers such as eBay, where the range of running socks available is extremely broad and prices are often much keener. For these reasons, eBay can be an excellent place to buy specialist running socks.
The Design Features of Specialist Running Socks
For those who thought that all socks were pretty much the same, taking a closer look at specialist running socks may come as something of a surprise. They are distinctly different from ordinary, everyday socks, with several adaptations which more than justify the additional outlay they represent.
Essential Elements of the Design
The essential requirement of any runner is for the feet to be comfortable and dry. This means that running socks need to be seamless to prevent chafing. They also need to be made from materials which are capable of wicking away moisture. The material also needs to be lightweight and durable enough to withstand repeated pounding by hardworking feet.
Optional Refinements to the Design
In addition to these essential requirements, there are a range of optional features. Many manufacturers offer a range of running socks, each of which has different features. This allows the buyer to choose which are most suitable or his or her needs.
Anti-Blister Technology
Blistering is a major headache when it occurs. As well as carrying the potential for infection, it affects performance, can be extremely painful, and can stop a training regime in its tracks. Whereas most running socks are seamless, some go further still by using a two-layer system to prevent blisters. The principle here is that rather than the skin rubbing against the sock material, the potential for friction is dissipated by the two layers of material moving against each other.
Individual Toes
Some runners dislike the restrictive feeling of wearing socks. Therefore they choose socks with individual toes to allow for the best possible comfort and natural range of motion.
Padding
There are two schools of thought in relation to the thickness and tactile qualities of running socks. Some runners prefer padded socks, while others like to feel every aspect of the terrain over which they are running. If padded socks are chosen, they should offer good impact protection for the heel and the front of the foot. This can certainly make running more comfortable, and may potentially help to minimise the risk of injury.
Ankle Support
By gripping the ankle with elasticated material, the sock can help provide additional ankle support for a comfortable run.
Arch Support
Elasticated gripper material such as Lycra can help keep the sock in place when running. The tension within the material can also support the arch of the foot.
Dedicated Left and Right Footed Socks
By designing the socks specifically for the left or right foot, they can be made to give maximum comfort and optimum fit.
Ventilating Mesh
As well as using modern materials to speed-up the evaporation of sweat, some socks have mesh uppers to allow for even better ventilation.
Achilles Heel Padding
Another anti-blister measure, this padding reduces the friction that causes chafing and blisters.
Specialised Running Sock Designs
For those who have special requirements, the normal ankle high sock pattern may not be ideal.
Socklets
These low-cut socks stop at the ankle bone, forming a barrier between the foot and shoe but not rising any higher. This actually makes it look like the runner is not wearing any socks. The advantage of this type of sock is one of comfort in hot weather. The essential purpose of the sock is fulfilled by protecting the foot, without any additional material to trap unwelcome heat or moisture.
Compression Socks
The opposite of socklets, compression socks are long socks which rise halfway or more up the calf towards the knee. By use of modern compression materials, they maintain a steady pressure on the lower leg, helping to improve blood circulation.
Ideal Materials for Running Socks
For most clothing it is natural fibres which carry a price premium. This is not the case with running socks.
Natural Fibres
Pure cotton has a luxurious image compared with polyester fibres, and ordinarily pure cotton socks are seen as cool and comfortable in the summer. For running socks, however, cotton is regarded as inferior to modern woven textiles, as it dries out slowly, and lacks the advanced performance of modern synthetics.
Cotton
Cotton is less durable than synthetics, and where running socks are made using this fibre it is normally blended with polyester, and probably with one of the more elastic synthetics such as polyamide or Lycra. This improves its durability and helps to ensure a close fit.
Wool
Similar considerations apply to wool, which is seldom used for running socks. If it is used, it is normally combined with some synthetic yarn, too.
Synthetic Fibres
There are several synthetics which are used in running socks, either alone or together.
Polyester
Polyester is a hard wearing synthetic fibre which is very popular for running socks. There are many different types of polyester, and the sort used for running socks has a structure which promotes the dispersal of moisture by means of capillary action. These special textiles are available under a number of different trade names, which work on similar principles.
Nylon
Nylon is a silky-textured polyamide fibre, which is hardwearing and versatile. Not generally as good at wicking away moisture as the specialist polyesters, it is sometimes used for running socks, either on its own or with other fibres.
Lycra
On its own Lycra is not durable enough for running socks, but as part of a specialist blend it is often used to add form hugging characteristics to the textile from which socks are made. This can be important in areas where the sock needs to grip the foot, such as the heel or arch.
Shopping for Running Socks
If you are thinking of investing in a pair of running socks, the different styles, features, and materials may seem daunting. The first step is to decide which features are really necessary for your needs. If you are running in a cool climate, you may not need advanced materials to wick away sweat, and may be perfectly happy with well-cushioned woollen running socks. If you live in a mild to warm climate, wool may not be a wise choice. To some extent, there is no substitute for trial and error in this process. However, it helps to cast a critical eye over the claims made by the manufacturers, and to prioritise those which seem important to you.
The next step is to start your search. The high street is one option, although you will probably need to visit a specialist sports retailer to find any sort of choice. Even there, the range on offer may be limited, and the prices will almost certainly be high.
To solve this problem, many runners nowadays buy their running socks online. Internet retailers such as eBay carry a large range of running socks, across the range of styles. eBay also carries running socks from well known brand names.
How to Find Running Socks on eBay
Searching for running socks on eBay is easy. Enter a phrase such as 'men's running socks' into the search bar on the home page. The eBay site search engine generates a results page with hundreds of listings that match that search phrase. You can narrow the results down by specifying your size, or other important characteristics, like colour, brand, and sock length. You can also sort the listings so that only those listings posted by top-sellers appear. Top-sellers are those sellers who have the highest feedback scores. After each transaction, a buyer is given the opportunity to rate their experience doing business with a particular buyer. Poor feedback subtracts points, while positive feedback adds to a seller's feedback score. To save on postage, try and buy several pairs of socks from the same seller. If the seller has not specified the size of the socks or details related to the sock material, you can contact the seller and request this information by going into the seller's member profile and clicking on the contact link.
Conclusion
Along with comfortable running shoes, running socks are an essential requirement for the serious runner. Their chief characteristics are the ability to keep the foot cool and dry during intense exercise, and a design that minimises friction. Beyond this, there are many refinements which runners often seek out. These include anti-blister technology, special fibres, extra cushioning to reduce impact injuries, and either low cut or calf-high designs.
Unlike the market for ordinary socks, with running socks natural fibres are seen as less desirable. It is the modern synthetics which attract most runners, for their ability to keep the foot cool and limit chafing.
The range of optional features offered by manufacturers of running socks can make investing in a pair seem daunting. Before beginning their search, a prospective buyer needs to decide which of these features he needs. The high street is not always the best place to find a good selection of running socks, or to find good prices. Many runners therefore buy their running socks online, from Internet marketplaces such as eBay.