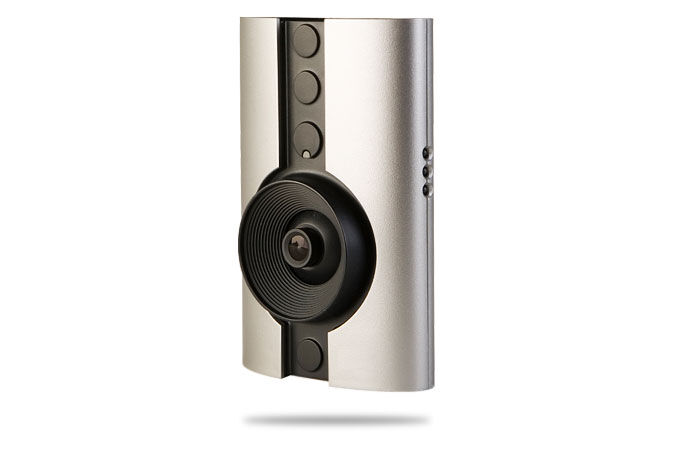 Security cameras can be used to detect threats in the home or at a business. Security cameras can provide a level of comfort to homeowners and business owners by being used to ensure that nobody is trying to break in. If a break in occurs, either police can be called, alarms may go off, or both. Security cameras can be used inside as well as outside, and there are different types of cameras for both uses.
When it comes to security cameras, there is a range of options depending on what you need it for. If you are looking for more of a nanny cam type of discreet, indoor camera, a mounted ceiling camera or other small camera might be right for you, but if you want potential burglars to know you mean business, a standard outdoor, recordable camera that can be seen by outsiders is a good choice. A recording option allows you to play back footage or keep it to show to the police in the event of an actual break in or attempted break in. Choose a camera that is right for you based on the camera's features, price, and range.
What to Consider Before Buying Security Cameras
Before buying a home security camera, it is helpful to know where the camera are placed so you know how much room you have and what size of camera might be needed. You also need to know how many cameras you may need. For outdoor cameras, you may want to place one at each entrance, as well as business cameras.
A camera with night vision might be handy for people that want to see who approaches their home or business in the dark. Cameras range in price according to the quality, features, and the recording options; the best camera for you is both the right price and encompasses the security features that are most important in a camera.
Types of Security Cameras
There are several common types of security cameras come up in a search. There are even fake security cameras; do not purchase these unless you want to fool people into thinking you have security, because they do not serve a functional purpose otherwise. Indoor cameras look different from outdoor cameras, so you need to know where it goes before purchasing a security camera.
Wired Cameras
The most traditional type of security camera is a wired security camera. These are a good option if you do not mind people knowing you have security cameras, because with all of the wires and cords, they cannot really be hidden. Cameras that are wired and meant to go outside are also water resistant. Some wired cameras may offer night vision technology, and some are able to record footage.
Outdoor security cameras usually respond with motion sensors, which means they detect any movement and respond accordingly to capture it. A night vision camera is more expensive, and may only be necessary for businesses or homes that do not have bright outdoor lighting at night. For outdoor purposes, you may need more than one camera for the best protection possible. Wired cameras may be tricky to install, and you may have to call on the help of a professional.
Wireless Cameras
Wireless security cameras are easier to install and provide less hassle for the buyer. Newer technology in wireless cameras enables transmission via IP address, which can make sending and recording footage easier. They are a bit more flexible as far as where you can put them, and can also be more discreet. Wireless cameras can be placed inside or outside, and can be mounted, too.
They come in different sizes, such as dome security cameras, and various ranges of distance. Some cameras can come with either wired or wireless options. Some wireless cameras even support cell phones, so you can look remotely with your phone or from your computer. They use Wi-Fi technology to enable this convenient feature, which is great for checking on your home or business remotely.
Hidden Security Cameras
Hidden security cameras are the most discreet cameras you can buy if you do not want anyone to know you are using security measures. They can be extremely small, such as pen size, or they can simply be disguised as something else, such as a smoke detector, an alarm clock, photo frame, ceiling domes, or in vases or in some cases, stuffed animals. Hidden cameras are effective to be used as nanny cams or if you have housekeepers come into the home, or when dealing with business associates that you want to keep an eye on.
Sometimes hidden security cameras are simply just small cameras that are not disguised as anything, but they are little enough to avoid immediate detection through the naked eye and can be placed behind a plant, mounted on the ceiling, or on a shelf without being easily noticed.
Recordable Security Cameras
Some security cameras can record footage onto a DVD, VCR tape, or with a DVR recording system. With newer security cameras, footage can be recorded digitally and saved as computer files, which can be compressed to take up less memory, but easy to access if necessary. There are some types of recordable cameras that only record when they are timed to do so, or by motion detection.
Recordable security cameras can also be used to record footage to mobile devices, and be viewed on cell phones. You should check to see if the security camera you are purchasing supports your operating system to use this feature, such as Android or iPhone platforms.
Features of Common Types of Security Cameras
When it comes to security cameras for the home or office, these are the main types that you see when shopping, and this is a quick guide to the most beneficial features for each type of security camera.
| | | | |
| --- | --- | --- | --- |
| Wired | Can be a visual deterrent | Water resistant | Night vision option |
| Wireless | Easy to install | More discreet | Wi-Fi capability |
| Discreet | Hidden from view | Smaller and more portable | Easy to use, more affordable |
| Recordable | Motion sensor recording | Mobile phone recording capability | Saves footage for later if needed |
The security camera purchased should encompass all of the features you need to ensure you feel safe and secure with the use of a camera. Having a camera that is easy to install and operate can be a big plus for you if you are not too adept with electronic devices. Mobile capability is a great feature for you if you want to check your cameras while you are away from home.
Security Camera Additions
There are some extra items you might want to consider when you are buying a security camera. For outdoor security to scare away potential burglars, you may want stickers to put in the windows that announce the fact that you have security cameras. You may need mounting brackets or other tools to install outside cameras, and you might need additional wires or cables to get all of your security gear up and running.
How to Buy Security Cameras on eBay
You can buy all of the security cameras and camera extras you need for a low, affordable price on eBay. Search security cameras to bring up the general options that are available in this category, or tailor your search by looking up more specific terms such as wireless security cameras. Make sure the equipment you need to install the security cameras comes with it, or see if the seller can bundle other items you need with the cameras for a low shipping rate.
Purchase security cameras from merchants that are Top-Rated Sellers, and have lots of amazing, positive feedback from other buyers. Discuss the cameras with the sellers and make sure you are getting exactly what you need. To alleviate shipping costs and make the purchasing experience more convenient for you and the seller, suggest a personal meetup to pick up your security cameras if the buyer happens to be local to your area. If you want to go all out with security, consider a home security system, which may come with a multitude of cameras that work together to create an enhanced home security system.
Conclusion
Whether you are keeping an eye on your kids in the playroom, a nanny, or a housekeeper, or simply making sure your home or business is secure, security cameras can bring you the peace of mind you need. Security cameras can come with a variety of different features to please you, such as night vision or infrared technology, mobile viewing and recordability, and motion sensor detection. Some security cameras are so small and discreet; you can use them just about anywhere without being detected.
Selecting the right security camera can provide you with the comfort of knowing that in the event of a break in, burglary, or other type of event, you have cameras to record and alarm the intruders. Footage can be used to help arrest an intruder, or find out if a nanny is doing her job properly. Keep an eye on the people and properties you care about with the aid of security cameras. The price of the camera equipment is a small price to pay for your safety and peace of mind. The presence of cameras can also be a wonderful deterrent to would be criminals, and put a stop to an event before it happens.