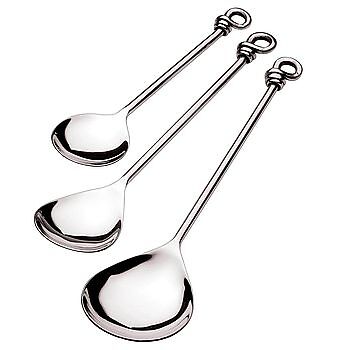 Cutlery has been around for many hundreds of years, beginning life in the form of hunting knives used by Stone Age people to kill their prey and hack the meat into manageable chunks. These early knives were made of flint, with metal coming into the picture later on. Sheffield was the centre of knife making as far back as the 12th Century and remained so well into Victorian times, when a Sheffield knife was widely known for its quality and craftsmanship. Spoons date back to ancient Egypt and Rome, and are mentioned in the Bible. The first English ones were brought here by Roman soldiers and were most likely used for cooking rather than eating. Many materials were used to make spoons from shells lashed onto knives to wood, brass, and pewter. Individuals had their own spoon and knife and were expected to bring them to the dinner table. Forks are a later addition to the cutlery family; it is thought they came about as an implement to hold meat steady whilst it was carved.
Materials and Styles of Serving Cutlery
There are lots of different styles and shapes of serving cutlery, as well as various materials that they are made from. It is partly a matter of personal preference which style and material a buyer chooses, although there are advantages and disadvantages to each type.
Sterling Silver or Silver Plated
This is a traditional material for all types of cutlery, although it is now generally used only for special occasions in most households. Pure silver is too soft to make good utensils, so sterling silver is used. Silver plated utensils have a silver coating fixed onto a base metal by the process of electrolysis. Both materials need to be carefully stored to avoid tarnishing, and the value of these utensils is what makes them unlikely to be used for everyday meals.
Stainless Steel
Stainless steel is a steel alloy with at least 10.5 to 11 per cent chromium content. This produces an alloy that is resistant to corrosion and rust, although it may stain under poor conditions, such as high salinity or low oxygen. Stainless steel is a good material for cutlery and serving cutlery, as it is relatively cheap, strong, durable, and easy to manipulate into the required shapes. Utensils made of stainless steel are not suitable for use with non-stick baking or cooking pans and pots as the hard metal can damage the non-stick coating. Serving utensils are often made of stainless steel as they are a long lasting and cheaper alternative to silver, but also have the smart look of silver serving spoons and knives, making them suitable for use at a formal dinner. The disadvantage of the metal is its conductive qualities that can make the handles too hot if they are used for cooking or serving really hot foods. There are metals available with lower conductivity, and anyone wanting metal utensils that may be used for hot dishes should bear this in mind
Plastic or Nylon
This is a more modern alternative to the metal utensils, and with the recent advances in plastics, these utensils are better able to cope with the heat involved in cooking. They are suitable for use with non-stick cookware and are easy to clean and maintain without the possibility of corrosion staining that comes with stainless steel utensils, therefore, there is no need to polish the pieces in order to make them look good. However, they are not really appropriate as serving utensils at a dinner party as the look of these plastic utensils does not go with the silverware on a well-laid table, and plastic does not make a good cutting edge for serving knives.
Combined Materials
There is also the option of utensils that are made of a combination of materials; plastic or rubber handles are not conductive and are also more comfortable to use than metal ones. Metal utensils are stronger for serving larger amounts of food, so combining the comfortable non-conductive handle with a strong metal utensil end is worth considering.
Types of Serving Utensils
There are many types of serving utensils to cover all the possible needs, from soup ladles to cake knives via salad forks and spoons, there is a solution to neatly serve any type of meal.
This pair of serving utensils is traditionally a large fork and spoon shape and is often made out of wood, which is ideal for a less formal lunch party and serving a cold dish. This is usually two separate utensils, but can be made up of a fork and knife joined at the top to create an actual pair of tongs.
Spoons and Ladles
Soup ladles and large spoons for serving all kinds of foods are very common; stainless steel or silver being the most commonly found for serving purposes in front of dinner guests or customers, where plastic versions are often found in kitchens if food is served behind doors.
Cheese Knives
These knives are designed specifically for serving cheese. They are a standard knife with an upturned end; this enables the user to pick up and distribute the cheese easily. Cheese knives are a useful addition to a set of serving utensils.
Cake Slicers
These are wide, flat, spatula-shaped utensils with a tapered end and a cutting edge. This allows cakes to be sliced and then scooped up and delivered to plates without disturbing the structure of the cake. Cake slicers are generally for use in front of guests and tend to be attractive, often being made of silver.
Sugar Tongs
These are a classic utensil that form part of an English tea service, and they allow people to pick up sugar cubes more easily than with a teaspoon; sugar tongs usually have a matching sugar bowl.
Pickled Onion Fork
This is a small fork with a long handle that allows users to spear pickled onions from their vinegar. It often has a spring that pushes the onion off the end of the fork onto a plate.
Spatulas or Fish Slices
These are generally used for turning food whilst it is cooking, but can also be used to serve pies and dishes such as lasagne. They can either be plain or slotted; the slotted version allows juices to run off between the slots.
Spaghetti Spoons
These spoons are ladle shaped with a deep bowl and prongs around the rim to grip the spaghetti so that it does not slip off onto the table or floor. Spaghetti spoons tend to be plastic, but may be stainless steel if they are to be used at the dinner table.
Carving Knives and Forks
Carving utensils are often used in front of guests at a dinner table; a carving fork holds the meat in place whilst the knife is used to slice it. These are almost always metal, usually stainless steel, as the carving knife needs to be very sharp, and the fork will be designed to match it.
Buying Serving Cutlery on eBay
The fastest way to find serving cutlery on eBay is simply to enter the specific search term into eBay's search box. A list of all items matching the term will be displayed, and from that page, options can be narrowed down further using the pane on the left side of the page. Alternatively, results can be found by going through eBay's list of categories. If at the homepage, click on the Home & Garden link on the left side of the screen. Once the page has loaded, hover over Furniture & Living, then click on Cookware, Dining & Bar from the dropdown menu that appears. Finally, click on Cutlery to see a list of items in that category.
Conclusion
Anyone wanting to buy serving cutlery should consider its eventual use before making a choice. If it is to be a functional piece, then a cheaper plastic utensil may be the best option. For serving cutlery that will be on show at dinner parties, then a more attractive stainless steel or silver alternative will be better. For the collector, the rarity of a piece may be the most important factor, although some may just look for utensils that appeal to them, maybe due to an attractive design or unusual function. There is a huge choice of serving cutlery available on eBay; anyone looking for a specific piece has a good chance of finding all but the rarest of items. From functional kitchen utensils that are used for cooking and plating up dinners to attractive tableware that matches the rest of the place settings, the right piece shouldn't be difficult to find.