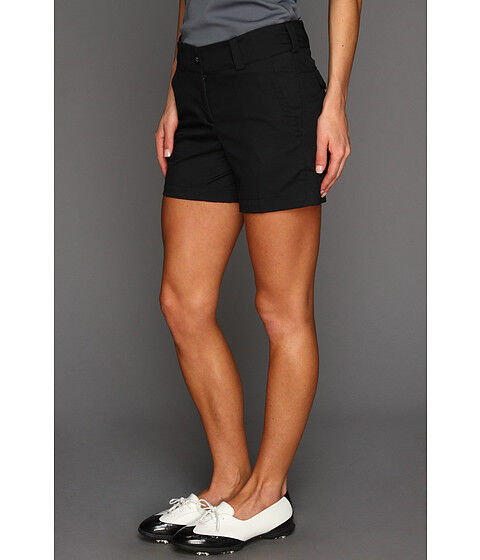 Hot weather means it's time to put those pants away for another season and start showing off a little more leg. With all of the different styles of shorts currently available, how much leg you want to reveal is entirely up to you. A conservative pair of Bermuda shorts or capris works well in the office, while hot shorts are best saved for nights out on the town or perhaps partying at a club. Women's shorts are best worn during the summer and spring for the most part. Be sure to pack along a pair for vacations in warm weather during the winter months as well. When buying shorts, chose the right material, style, and fit to truly flatter your legs instead of having them work against you. While you can always buy shorts in a department store or clothing store, more and more women are choosing to use an online website like eBay.
Short Styles
If you were shopping for shorts lately, chances are you noticed just a fraction of all the different styles available. Just because a pair of shorts looks highly flattering in a magazine catalogue or on a store mannequin, this does not mean they will look the same on you. Take your body type into account when shopping for shorts to make the entire process much easier. Simply by knowing which type of shorts flatter, and which types to avoid, one can quickly pinpoint appealing styles.
Short Length
The traditional rule of thumb, is that mid-length shorts are good for everyone, tall or short. If you hold your arms down at your sides, the hem of mid-length shorts ends just below your fingertips. In other words, they hang below the thighs and above the knees. Besides capris, which are often referred to as just short pants, Bermuda shorts are the longest of the bunch. Bermudas are made to hang down to your knees and are tight around the waist, while being slightly baggy at the hem. They are a terrific choice for tall women, but their long length may sometimes overwhelm the legs on petite women. On the other hand, short shorts, often called hot pants, have an extremely high hemline either mid-thigh or slightly higher. If you are small, these shorts will make your legs look extremely long.
Short Waistlines
Selecting a pair of shorts with the right waistline, makes all the difference in the world. Full-figured women and those like the pear body type, who have disproportionately large bottoms, should stick with a low waist short. In most cases, the waistline should start below your actual waist, usually right above the hip bones. Since shorter waistlines contain less fabric, they make your hips and thighs seem smaller than they would in a high waistline pair of shorts. Anyone who wants to look rounder on their bottom, is better off selecting a high waist short. In this style, the waist is directly below your navel, allowing the extra fabric to accent your curves.
Short Pockets
Some styles of shorts come with pockets while others do not come with any at all. For practical reasons, most women prefer shorts with at least two front pockets. However, if the cut emphasises baggy pockets, remember that it is only going to draw eyes to your hips. If you are comfortable with the size of your hips and backside, then there is no need to spend another moment worrying about pockets. If you feel like this area of your body is too large, then avoid choosing a style with pockets. Back pockets in particular can look truly stunning on small bottoms that need an extra boost, but they only add additional weight to full sized bottoms.
Short Fabrics
To the surprise of no one, shorts come in exactly the same materials as pants. Jean shorts, especially those with a cutoff hemline, are typically symbolic of summer. Cotton and linen shorts are especially comfortable in the hotter weather because the fabric is highly breathable. Runners and other athletes often choose nylon shorts, while work professionals can swap their pair of cotton twill pants for a pair of cotton twill shorts. Ideally, breathable fabrics work best for shorts, but you should ultimately select a material based on what feels best for you. For some women, nothing beats the feeling of well-worn jeans while other prefer a relaxing fit provided by cotton shorts.
Caring for Shorts
Ultimately, the material you select is going to affect how you care for your shorts. The good news is that most shorts, besides linen, are machine-washable, so you do not have to worry about expensive dry cleaning bills. However, certain fabrics have special care requirements. Pure cotton, for example, shrinks when it is washed. For this reason, manufacturers often blend cotton with other fabrics so that the shrinking is not as evident. You can help prevent shrinkage by only washing cotton in cold or slightly warm water, and then drying the clothes on a delicate setting. Jeans are better off with as little washing as possible, since the denim becomes brittle over repeated washes. One still must wash their jeans, but try wearing them for two or three days between washes to preserve the denim.
Sizing Shorts
Fit is crucial when it comes to choosing the right pair of shorts. They should be snug around your waist and backside. Droopy, sagging shorts create an unflattering figure that takes the attention off your legs and redirects it to your waistline. A good rule of thumb is to choose the same size shorts as the pants you currently wear, but always try on any clothes you buy in the store prior to purchase. For online shoppers, measuring yourself is the best approach. Use a measuring tape to record the size your waist and hips and then find out where they fit on a size chart. This measurement is your accurate size and the one you should buy.
| | | | | | |
| --- | --- | --- | --- | --- | --- |
| UK Size | 6 | 8 | 10 | 12 | 14 |
| Waist (cm) | 60.5 | 63 | 68 | 73 | 78 |
| Hips (cm) | 86 | 88.5 | 93.5 | 98.5 | 103.5 |
Some designer brands may run small or large, so keep this in mind. The above chart only lists average sizes. Consult the designer or manufacturer's website for an accurate size chart if you suspect the sizes are different.
Shorts and Shoes
One of the best ways to make your legs look truly flattering in shorts is to pair them with a nice set of heels. You do not have to go all out and select a platform sandal, especially if you dislike wearing heels. Even a modest shoe with a tiny kitten heel would do the trick. Heels make the muscles in your legs stand out, so wear them with a pair of your favourite shorts for the best look. Sandals work best in the spring and summer, and you can always add a pair of booties for early fall.
Buying Shorts on eBay
If you are tired of fighting with the crowds at the mall, or don't want to deal with high retail prices anymore, then eBay is your ideal online destination. Forget desperately scanning through the racks to find your correct size or favourite colour. eBay has a gigantic selection of shorts in all styles, colours, and sizes. Different sellers from all over the world use eBay's electronic platform to sell their items and smart buyers can usually scoop up stellar deals. If you aren't too picky about buying everything new, eBay also has a fabulous selection of gently used shorts. Buying pre-owned shorts passes on the savings to the buyer, but even brand new shorts can be found at exceptional prices.
Finding Shorts on eBay
Get started on eBay by learning how to use the search engine to your advantage. eBay's search engine instantly crawls through all current auction to return results that only match your search terms. For example, if you just want to browse the selection of cutoff shorts, then use the terms "women's cutoff shorts" to find the widest results. Chances are that you will come across a pair of shorts that you might have never considered otherwise. However, if you are looking for a specific type, then use a more narrowed search. If you want a pair of Abercrombie & Fitch jean cutoffs, then narrow down the results by using "women's jean cutoff shorts Abercrombie & Fitch". Manipulating the search engine in this way allows you to explore many different auctions to find the best deal.
Conclusion
Shorts are a warm weather staple that every woman needs to have in her closet. Since you are already going to buy a pair of shorts, you should aim to choose a style that flatters your legs and looks sensational on your body. By understanding your body type, you can easily learn which styles work for you and which ones work against you. Of course, none of these fashion rules are set in stone, so if you are tall and you absolutely have to buy that pair of sequined hot pants, then go right ahead. Generally speaking, women who stick to these guidelines have an easier time making good decisions while shopping. Another consideration is the fabric material and the fit, especially with cotton shorts that tend to shrink when drying. Select a fabric that you prefer, and then you can easily find your correct size on eBay. Pair your new shorts with heels and enjoy your fantastic legs.