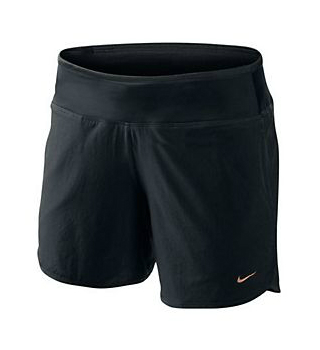 Finding a great fit and look for different body-types is all about knowing which style looks good. Plus-size women have curves that can be accentuated and flattered when worn with the proper fit and styles. It is important to have some basic tips handy before starting to make a purchase. Shorts can look just as good on plus-size women as on any other women, they just have to be worn correctly, as is true for every body type. There is no need to hide curves under layers of fabrics when shorts can be fun, and flattering. Shorts are an essential to every wardrobe, especially during the warmer months. This guide covers tips on how to dress for the plus-size body type, information on different cuts and styles of shorts, types of fabrics and which fabrics work with certain sizes and cuts.
Tips for Wearing Plus-Size Shorts
When purchasing plus-size shorts, women should make a few important considerations focused around size, trends,colors, prints, and fabrics All of these factors make a difference in how the shorts fit and appear on a plus-size woman.
Wear the Correct Size
Wearing shorts of the correct size is important for coming up with a stylish look. It is tempting to try to wear sizes too small, but they will appear tight and will likely feel uncomfortable. On the other hand, clothes that are too big do not hide extra pounds, they add bulk and sag and can make the wearer appear dishevelled. Make sure to take proper measurements and find the correct size before starting to shop.
Do Not Always Follow Trends
While it is tempting to follow what is trendiest, it is best to keep in mind what works best with specific body types. When picking out shorts do not get caught up in the flow of what is popular at the time when it may not be suitable for a plus-size body. A variety of trends can work well with different types of body, and it is advisable to research trends for different body types before deciding what will work.
Incorporate Bold Colours
It is widely accepted that black is slimming, and while this is true and black should be incorporated, a pop of colour can add a bold statement and confidence to an outfit. This is not only true for tops and accessories, but also for coloured shorts, when paired with black or more subdued tops and shoes, can come across as stylish and confident.
Be Wary of Prints and Frills
Printed fabrics bring a lot of chaos to shorts and make them appear larger than they are. This takes away from the natural curve of the plus-size woman, and instead moves the emphasis onto the hips and thighs. Frills have a similar impact on an outfit and should therefore probably be avoided. For shorts, focus on more simple designs, with classic cuts and patterns or solid colours, as they enhance the area without taking the focus off the rest of the body.
A Note About Fabrics for Shorts
Heavier fabrics are recommended to avoid riding up and creating an unappealing v-shape in the groin, and causing discomfort. Denim is a thick fabric that will not typically ride up. Denim also comes in a variety of colours for many different styles. Fabrics that incorporate a stretchy material, like a lycra, bend and flex with movement, and add to comfort. Although it is best to stick with heavier fabrics, lighter fabrics are fine when wearing a more loose pair of shorts, like a comfortable culotte short.
Types of Shorts
Mid-length shorts are a flattering option for most body types. Mid-length shorts cover more skin but also allow more of the leg to be seen than longer shorts, which make the body appear longer. To elongate and thin out physical appearance, wear solid colour shorts as opposed to shorts with patterns on them. Also, wearing bold coloured tops can draw the eye up the length of the body. Wearing heels with shorts can act to lengthen the body as well. Shorter lengths are not recommended for shorts for plus-size women as they tend to bunch and can cause chafing and discomfort.
Culottes
The culotte is a mix between a skirt and a regular pair of shorts and is usually plus-size friendly. It is important to find the correct size that drapes well. The term culottes can be used to describe any trousers or shorts that hang like a skirt. A short culotte is a comfortable, feminine, and lightweight option for a pair shorts.
Tweed and Tapered Shorts
Tweed shorts are thin, textured shorts that cover up lumps that the body may have by using different textures and colours. Tweed also dresses up a pair of shorts, making it a good material for the office or an evening out. Tapered shorts tailor in and hug the thigh and are generally not a good option as they can make the thighs and hips appear wider.
Bermuda and Drawstring Shorts
Bermuda shorts are a longer short that cover areas that the wearer may want to hide while also allowing comfort and ventilation. Bermuda shorts are a more conservative comfortable option for staying cool in the summer. Choosing a smarter material can dress up the Bermuda shorts, making them a good option for the workplace and travel as well as more casual events.
Drawstring shorts are a more casual short, usually made of more loose-fitting and lightweight material, although jeans and heavier materials are at times made with drawstrings as well. Drawstring shorts are comfortable and good for daytime outings, and for casual occasions. They are difficult to dress up so are generally not a viable option for work or for dressier occasions.
Pockets
While pockets can be helpful when carrying items, they also add more bulk, making shorts appear larger, as well as making the body look larger. This is not an ideal look for a plus-size woman, as it will disrupt the natural curve of the body and also make an outfit appear much more casual. Smaller pockets are alright to wear with shorts, but be wary of larger pockets that will make the hips and thighs look larger than they actually are.
Sizing for Plus-Size Shorts
Use a measuring tape to measure the waist and hips to ensure the correct size. As stated in the previously mentioned tips, the size of shorts is very important as it will ensure comfort and also allow the desired level of coverage. Below is an approximate plus-size sizing chart for women.
| | | | | | | | | | | |
| --- | --- | --- | --- | --- | --- | --- | --- | --- | --- | --- |
| Size (cm) | 14 | 16 | 18 | 20 | 22 | 24 | 26 | 28 | 30 | 32 |
| Waist (cm) | 80 | 86 | 92 | 98 | 104 | 111 | 118 | 125 | 127 | 129 |
| Hips (cm) | 101 | 107 | 113 | 119 | 125 | 131 | 136 | 142 | 149 | 156 |
The sizing chart above is only approximate but can help with knowing the rough size of shorts to start looking for. Size varies from manufacturer to manufacturer so you might not always be able to go by the letter size. If choosing to purchase shorts in a junior size, always double check the brand's own size measurement chart as junior sizing generally differs from women's sizes.
How to Buy Plus-Size Shorts on eBay
The variety of styles, colours, and prices of plus-size shorts available for purchase on eBay is extensive. Plus-size shorts can also be found on other online sites as well as in brick and mortar stores although eBay is as good a place to start looking as any. You can begin your eBay search from the homepage by typing in 'plus-size shorts for women', and you can then specify different styles, colours and sizes and start to narrow down your search. Look for plus-size bundles from individual sellers on eBay to get more clothing for the same postage price. You can see a more detailed product description by clicking on item details.
Be sure to look over the seller's feedback on eBay and to browse the seller's other auctions. In the plus-size category for women, browse the options to view a variety of different shorts that are available. Also make sure you check the brand's sizing with your measurements to ensure a proper fit.
Conclusion
Plus-size women can look great in a nice pair of shorts if they are the proper fit and style for their body type. There are lots of options available for many different occasions. Shorts can be a great way to keep cool in the summer while looking extremely stylish. They can be dressed up with heels, or be comfortable simply for lounging around in. It is also important not only to choose the right size but also to avoid excess bulk that would distract from the body's natural curves.
Coloured shorts are a great way to add a bit of that extra something to an outfit, and can look bold and stylish. Patterns on shorts with excessive use of colour can distract from the whole outfit and make the thighs and hips appear larger than they are. Heavier materials are a good choice for shorts as they do not ride up and make the wearer uncomfortable. With these tips, one can pick out comfortable, stylish shorts for a variety of outfits and occasions. eBay boasts a wide variety of plus-size shorts to help start the buyer out on the right path.