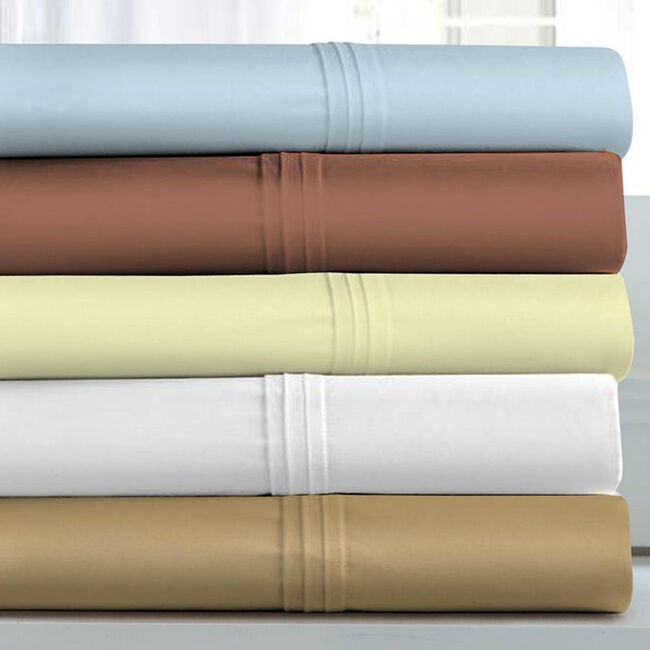 The average person sleeps an average of seven to nine hours per night. In other words, humans sleep for about a third of their lifespans. With that in mind, it is no wonder consumers invest considerable resources into their preferred bedding. One of the most essential items on an individual's bed is the sheets. Silk sheets are one top-end choice for this bedding accessory. Silk is a natural protein spun by silkworms. While silk sheets are typically more pricey than their cotton or satin counterparts, they often can outlast other sheets when properly cared for.
Silk sheets also help keep cold air out in the winter, and bring relief from hot temperatures during the summer months, making them multi-faceted for year-round comfort. Silk sheets can be purchased at bed and bath speciality stores, department stores, and online. Before purchasing silk sheets that are several factors to think about including the types of silk, caring for silk, the benefits of silk, how to purchase silk sheets, and how silk sheets compare to other types of sheets.
Types of Silk
Silk sheets are made from two different types of silk. This distinction is important because it plays a role in determining the price and texture of silk sheets. Determining the correct type of silk for you should involve a delicate balance of cost and comfort.
Cultivated (Mulberry) Silk
Cultivated silk or mulberry silk is the highest quality silk available for use in silk sheets. As a result, it is also the most expensive type of silk sheet. Cultivated silk is made by silkworms that are raised in captivity at exacting conditions, including a pure diet of mulberry leaves. Cultivated silk is then woven from long continuous filaments. The resulting silk product is one of the strongest fabric threads available, making it extremely durable and long-lasting. Cultivated silk is characterised by its smooth, fine texture and light, uniform colour appearance.
Wild (Tussah) Silk
Wild, or tussah silk, is considered by many to be a lower quality silk than cultivated silk. This makes wild silk sheets more affordable to the average purchaser. Wild silk is made by silkworms in the wild, as the name suggests. As a result, these silkworms are subject to varying conditions, eating more than just a pure diet of mulberry leaves, such as oak leaves. As a result, the tannin in the leaves affects the colour of the silk product from these wild silkworms. Wild silk is woven, not spun silk, which makes these silk sheets less durable. Wild silk ranges from an off white to a dark tan colour, and has a rougher texture with little lustre.
Caring for Silk Sheets
Aside from general affordability, the effort it takes to care for silk sheets is another reason that people choose not to purchase silk sheets. However, many people will find that the quality and comfort silk sheets provides will outweigh the cons of silk sheets, including caring for silk sheets.At all costs, silk sheets should be hand-washed for at least the first few washings to help maintain the integrity of the silk. Because silk is a very strong fibre, hard detergents and soaps should be avoided to prevent breaking the fibre structure down. Two recommended gentle detergents to use when washing silk sheets are Woolite and Charlie's Liquid Laundry Soap.
After the First Wash
After the first few washes, silk sheets should only be machine-washed on the delicate cycle in warm-cold water. Additionally, while most fabric softeners are safe for use, bleach and stain removers should be avoided. Silk sheets should then be air-dried out of direct sunlight for the best results.
Benefits of Silk Sheets
There are a number of benefits derived from investing in a set of beautiful silk sheets, regardless if a consumer decides to go with wild or cultivated silk. First, the amino acids in the natural silk is projected to have beauty benefits. Experts say that silk sheets can help delay wrinkling and are good for hair. In addition, silk sheets provide cooling comfort in a variety of climates and temperatures from the very hot to the bitter cold. Silk is breathable, but also creates a natural drape over the body, trapping heat. Silk sheets are made from natural elements, making them a wonderful hypoallergenic option. Silk sheets are also extremely durable when contrasted with cotton or satin sheets, making them a long-lasting investment. Finally, silk sheets provide a soft and luxurious sleeping experience that is hard to come by with other sheets.
How to Purchase Silk Sheets
Just like when looking to purchase cotton or satin sheets, there are few things to think about in order to purchase the correct set of silk sheets based on preference and size. Momme weight, thread count, and mattress size are also factors that must be considered before the purchasing process begins.
Momme Weight
Unlike other sheet fabrics, momme weight must be considered in addition to thread count when purchasing silk sheets. Momme weight is the Japanese's standard way of measuring the weight of silk, and is usually designated by the abbreviation "mm". Momme weight is determined by using a piece fabric that is 91.44 centimetres long and 114.3 centimetres wide. For example, if the piece of fabric weighs 6.8 kilogrammes than it has a momme weight of 15. Silk sheets are considered good quality if they fall within the range of 12-19 "mm" with the quality increasing as the number gets higher. The higher the momme weight, the more silk is used, and therefore the more durable and less prone to damage the sheets.
Thread Count
Like other types of sheets, thread count should also be factored into the purchasing decision. Thread count refers to the number of horizontal and vertical threads woven into 6.45 square centimetres of fabric. Typically, the higher the thread count, the smoother and softer the silk sheet will be. Quality silk sheets have a at least a thread count of 400.
Mattress Size
It's important that the silk sheet set is the appropriate size for the bed. This requires measuring the height and width of the mattress. Most mattresses come in standard sizes of twin (99 x 190 cm), twin XL (99 x 203 cm), full or double (137 x 190 cm), queen (153 x 203 cm), king (198 cm x 203 cm), and california king (182 x 213 cm). Therefore, consumers can look for this label instead of searching for measurements, if the mattress fits one of these standard sizes.
Comparison
In order to make the most informed decision possible, the following chart outlines the average lifespan, cost, and significant features of both types of silk sheets compared with other types of sheets available. The positive and negative features of each fabric is denoted by a plus (positive) sign and a minus (negative) sign.
Fabric

Features

Average Lifespan

Cost

Silk

+ smooth and luxurious feel

+ good for all climates

- expensive

- a lot of work to care for

Long

$$$$

Polyester

+ cheap

- retains stains easily

- not as comfortable as other fabrics

Long

$

Satin

+ good for all climates

- more expensive than most fabrics

- can be slippery

Medium

$$$

Cotton

+ affordable

+ soft feel

+ easy to keep clean

+ versatile

- less luxurious than other fabrics

Medium

$$

Flannel

+ good for cool climates

- pills easily

- too hot for summer

Short

$$
As this chart summarises, there are advantages and disadvantages to each type of sheet fabric. Although silk sheets are expensive and more work to care for, the lifespan, versatility, and luxury silk sheets provide may outweigh these disadvantages.
How to Buy Silk Sheets on eBay
Purchasing a quality set of silk sheets can help you maximise the third of your life that is spent sleeping. Silk sheets can be purchased at bed and bath specialty stores, department stores, and online. eBay has a wide variety of silk sheets available at affordable prices. For example, if after doing the right research you decide to splurge for quality mulberry silk sheets, eBay can help. To see what is available, type mulberry silk sheets into the keyword box within the eBay website. After clicking the search button, a list of available purchasing options will be populated for you. If you're searching for white silk sheets, these can be found on eBay using the same method.
Purchasing silk sheets is an investment. eBay provides a rating function to help ensure you are purchasing from reliable individuals. Identification as a Top-rated Seller, implies that the seller provides consistent products, ships accurately, and charges fair postage. Providing you with this feature helps make the buying process easy and safe.
Conclusion
After taking all of the many the different factors into consideration, the durability and comfort of silk sheets often outweighs the cost. Whether buying wild or cultivated silk sheets, the advantages of purchasing silk sheets range from delaying the wrinkling process, to protecting against allergens. Further, while more time-consuming than other fabrics, caring for silk sheets alone should not deter an individual from otherwise purchasing a set of desired silk sheets.
Doing the right amount of research into the different types of sheets available, can help a consumer decide if silk sheets are right for them. Similar to purchasing other sheets, desired mattress size and thread count should be determined. However, unlike purchasing other types of sheets, consumers should be sure to familiarise themselves with the concept of "momme weight" before shopping for silk sheets. For those willing to put forth the money, silk sheets can produce benefits for years to come.