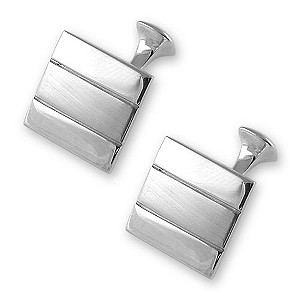 Adding a bit of flair to a daily wardrobe requires a keen eye and a few selective accessories. Silver cufflinks add a bit of classic style to both formal suits and more informal shirts as well. The fine detail and quality construction of specific silver cufflinks, provide just the right touch for those in need of a fashion standby. Individuals who head to the office clad in a suit each day sometimes struggle to find a way to stand out, but a fine pair of silver cufflinks can do the trick.
Unfortunately for some, silver cufflinks can be quite expensive, especially those produced by brand name designers. Utilising an online marketplace such as eBay, however, allows individuals to peruse through hundreds of used and new silver cufflink options. When setting out on a shopping venture, understanding the types of cufflinks available, the quality of silver to look for, and the different style options makes purchasing a pair of silver cufflinks much less stressful.
Types of Silver Cufflinks
Individuals browsing the various types of cufflinks available are likely to run into four style types. Although more than four style options exist, only four are commonly found. The common style types include bar cufflinks, torpedo cufflinks, chain link cufflinks, as well as silk knot cufflinks. Understanding the terminology that sets these main four styles apart, makes the cufflink shopping experience somewhat more manageable.
Bar Cufflinks
Bar cufflinks are designed with a simple, classic aesthetic that is not overstated. The design of bar cufflinks includes two silver balls that are commonly connected by a bar. The bars that are included in such cufflinks are often free of complicated design elements. Some bar cufflinks, however, include decorative elements such as stripes, squares, or insignias. These cufflinks are designed to be simple and easy to wear. Without any moving parts, bar cufflinks are easily removed and added to shirts of all types.
Torpedo Cufflinks
Perhaps the most pervasive silver cufflink style is the torpedo design. This type of cufflink is constructed with a round or square face that is attached with a clip to stay in place. Torpedo cufflinks can easily be placed into a shirt by pushing them through the hole in the cuff and securing the clip. Silver torpedo cufflinks are easily found and are an integral part of many men's wardrobes.
Chain Link Cufflinks
Chain link cufflinks are likely the most formal and aesthetically pleasing option in concern to silver cufflink style. Chain link cufflinks come with two decorative faces that are either plainly designed or elaborately constructed. These cufflinks are connected by a small chain, making them a unique and stunning option. Those interested in wearing chain link cufflinks might have difficulty finding such an accessory. With online marketplaces such as eBay, however, extremely formal options such as chain link cufflinks are offered on a daily basis. Consider pairing chain link cufflinks with formal wear such as black suit and tie combinations.
Silk Knot Cufflinks
As an option that is cheaper than traditional silver cufflinks, many individuals choose to wear silk knot cufflinks. These cufflinks are designed to simply hold a cuff together and are often made of elastic. Silk knot cufflinks are designed as a utilitarian accessory rather than an attractive, decorative option. Consider wearing silk knot cufflinks with everyday wardrobes. Formal occasions, however, call for a more substantial and stylish cuff link option.
Types of Silver
When shopping specifically for silver cufflinks, understanding the actual material options is an important step in making the most desirable purchase. There are many qualities and types of silver, but cufflinks made of silver usually come in one of three options. Silver plated and sterling silver cufflinks are more expensive, high quality options designed for formal wear. Cufflinks that are simply silver coloured, however, are somewhat less expensive, and are usually worn in informal and daily wear occasions.
Silver Plated
Silver plated cufflinks are strikingly attractive accessories which look very similar to their more expensive sterling silver counterparts. Since silver plated offers a similar lustre as completely silver options, many individuals select silver plated cufflinks as a cheaper option. In fact, most cufflinks that are labelled as 'silver' and not 'sterling silver', are actually just plated with the precious metal.
Silver Coloured
Cufflinks that showcase a silver colour are a more inexpensive solution to a silver shine aesthetic. Often, these types of cufflinks are covered in nickel or another metal which is cheaper than silver. Although not as valuable and lustrous as silver plated and sterling silver options, silver coloured cufflinks are still attractive for the price. Silver coloured cufflinks can be worn with both formal and informal dress.
Sterling Silver
Those in search of an attractive accessory that maintains its value are drawn to sterling silver cufflinks. These cufflinks are constructed completely with silver from inside out. Sterling silver cufflinks can come in varying silver percentages that range from 0.925 silver and higher. Although there are some pure silver options that near 99 per cent purity, such options tend to be prohibitively expensive.
Silver Cufflink Style Options
When choosing a design aesthetic and silver type, many shoppers forget to consider overall style. Those who like to dress with a more understated style should stick to more plainly decorated options. Aesthetics which feature pronounced shapes and insignias are geared more towards cutting edge dress styles. Themed style options are adequate for those who pay attention to coordination in detail between belts, shoes, cufflinks, and tie bars. Make sure to find a silver cufflink style that fits the wardrobe of the individual.
Upkeep of Silver Cufflinks
Those who own a fine pair of silver cufflinks should make sure to keep their accessories in good repair. Silver plated and sterling silver cufflinks should be consistently polished in order to maintain their lustre. A bit of wax and polish helps to avoid any tarnishing that might occur. If a single pair of silver cufflinks is worn daily, make sure to polish such cufflinks as much as once a month. Pairs of cufflinks that are not made of silver are of less importance in concern to upkeep. All cufflinks, however, must avoid contact with water in order to extend the lifespan of the accessory.
Used Silver Cufflinks
In order to purchase the ideal cufflink without paying a less than ideal price, many individuals choose to wear used silver cufflinks. Used silver cufflink options are often found through online marketplaces such as eBay. Make sure to inspect images of silver cufflinks in order to avoid an accessory that is in disrepair. Deep scratches should be a warning to consumers buying used silver cufflinks. Individuals who are on a budget, but want to own a pair of silver cufflinks, should choose a used accessory.
How to Buy Silver Cufflinks on eBay
Purchasing silver cufflinks tends to be an expensive process that leaves some with a sense of distaste and confusion. With a small amount of product knowledge, however, such issues can be avoided. Once you select the type of cufflink you want, consider using eBay as a purchasing option. The sellers on eBay offer a wide array of cufflink options that tend to be somewhat less expensive than accessories purchased through other methods. With both used and new options, consumers are able to find almost any type of cufflink desired.
Once you have decided to use eBay to purchase a pair of silver cufflinks, simply visit the eBay home page and begin the process of browsing by specific wants and needs. From here, visitors are able to enter in specific keywords such as 'silver bar cufflinks' to find hundreds of options. Simply enter the search term into the search bar and press on the search button to turn up results. If the search results for a specific product are overwhelming, consider using eBay's advanced search option to narrow down the field.
Conclusion
Silver cufflinks are an accessory that every man's wardrobe should include. With various style and silver types available, however, purchasing such an accessory can be a headache. Make sure to understand the four different cufflink construction options, as well as the different silver qualities available. When shopping for silver cufflinks, make sure to keep in mind the various grades of silver that are used in cufflink design. Higher quality silver usually equates to higher quality cufflinks.
In order to save a bit of money, consumers should also consider purchasing used cufflinks as a way to stay within a budget. Searching for both used and new cufflinks in the same place, however, tends to be quite difficult. With online marketplace such as eBay, consumers are able to browse through both used and new options when shopping for nearly any type of item. With advanced search features, finding the right set of cufflinks on eBay is both quick and easy. Once the right pair of silver cufflinks is purchased, remember to keep such accessories in good repair for a lifetime of enjoyment.