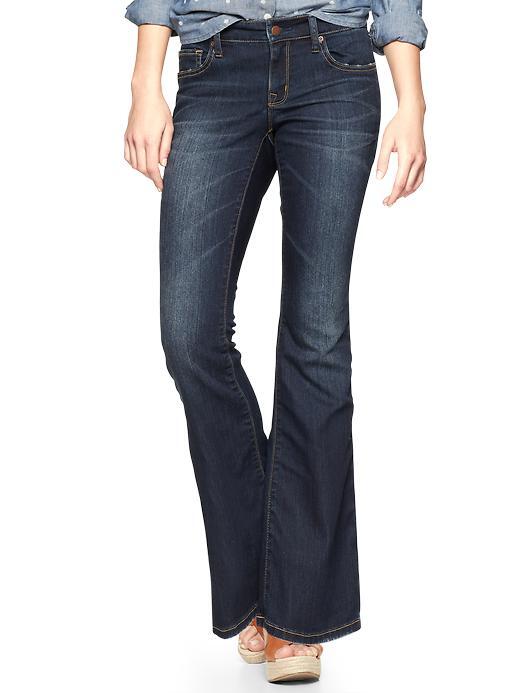 Where once a pair of blue jeans was the loose-fitting garb of the workman, not worthy of a second glance, today, jeans represent a staple of every woman's wardrobe and they have taken on overtones for women of sexiness, feistiness, and a can-do attitude. That original basic garment has re-invented itself in multifarious forms, and is the uniform of the rock musician, the busy mum, and every species of cool chick. Many people see it as the ultimate democratic apparel, spelling equality, since for virtually everyone, no matter their build, it is an indispensable item.
Curvy women are not left out of the loop, by any means; the industry caters specifically for the more well-endowed woman, with slimming jeans intended to make the very most of the wearer's natural assets. Confidence-giving figure-flattering jeans are an excellent investment, due to the freedom the wearer gets to enjoy; hence, it is not worth scrimping on them.
With slimming jeans for curvaceous women being included in the collections of the major retail fashion chains, and on sale in outlets that specialise in casual clothing, as well as in smaller, budget shops, they are not difficult to find. Online, too, slimming jeans are easily accessed, with eBay, one of the foremost sources. Before purchasing slimming jeans, curvy women need to understand how to wear them, aspects that the jeans need to contain, and the types of slimming jeans available.
What Jeans Can Do for Curvaceous Women
For a garment that in its earlier incarnations was rather stiff and unforgiving, denim jeans have come a very long way. Innovations in fabric production mean that the original sturdy cotton twill, designed for toughness and durability, has been transformed and soft, light, and above all, stretchy variations on the theme have been developed to the huge relief of those who possess neither skinny twig-like limbs nor narrow boyish hips.
The timeless denim look achieved when a curvaceous woman pulls on her blue slimming jeans is both reassuring and liberating; reassuring because what, in theory, is a restrictive item of clothing can actually fit snugly and comfortably even around larger girth, hips, and thighs, and liberating because once on, jeans can be entirely forgotten. This, and their equalising effect, accounts for the universal popularity of jeans.
Aspects to Weigh When Contemplating New Slimming Jeans
There are a few considerations that come into play during the decision-making process for the well-endowed lady who valiantly applies herself to a slimming jeans search. The great news is that virtually all of the same variables are relevant both for the purchase of standard jeans and custom-designed shape-reducing jeans.
Length
Ask yourself whether the jeans are long enough to end just above the sole of your shoe or boot. For this test to work, it is wise to have decided which heel height you plan to wear with the jeans. An illusion of height is the first rule in countering the chunkier body shape, and longer-looking legs are the best way to create that illusion. If to be worn with boots, be sure to look for good long bootcut jeans. As they have no real hem, jean legs that need to be let down are a no-no.
Colour
The basic slimming rule with garments is to choose darker, rather than light colours; the safe route to go down is to choose black or dark-washed jeans. Ask yourself whether the original indigo shade is important to you and, indeed, whether you are happy to pay the additional price normally charged by the makers of jeans dyed using natural indigo, with its more uneven and authentic look. The shopper who is happy with the widely used synthetic dyes has, understandably, a wider variety of choice.
Jeans Shape
Very important in an age of multiple jeans shapes is to ascertain which of the distinctive cuts is the most appropriate and comfortable for the individual wearer. Jeans are full of personality, something that comes out as much in their shape as the colour in which they were washed by the manufacturer and in external decoration, such as studs, cut-out patterns, or embroidery. These can cling lovingly to the leg, as in skinny jeans, or leave some space below skin and flesh as in wide-leg jeans.
Pocket Types and Positioning
Not always thought of, the placing of pockets really influences the appearance of a pair of jeans. Slanting pocket slits on the front can help to minimise a larger tum, for example, but it is rear pockets that can make the biggest difference. Small patch pockets, for instance, placed high on the buttocks, do nothing for the more ample bum. Low-slung pockets that extend below the cheeks can have a ruggedly flattering effect.
Classification of Slimming Jeans
Slimming jeans have taken off so notably since their inception that buyers have a fascinating selection of styles from which to choose. The makers and designers have increasingly concentrated on cunning ways to reduce bulge and quite literally to slim down the larger woman's figure.
Stretch Jeans
With the addition of elastane or a similar synthetic stretch fibre to the denim in weaving the fabric for a pair of jeans, the miracle of stretch jeans is achieved. The elastane may amount to little more than 3 per cent, yet it allows the wearer maximum movement with minimum garment bulk. No woman's wardrobe is complete without stretch jeans, equally popular in black as in blue, or even white, but it is on the curvaceous female wearer that stretch jeans come into their own, making those curves look sexy rather than fleshy. High-waisted stretch jeans are best for the fuller figure, as they prevent the unflattering appearance of a muffin-top.
Lift and Shape Jeans
Working on a similar principle to the uplift bra, lift and shape jeans are made from extra-soft denim that moulds itself to the body and is cut in such a way that a degree of tension is created in the bum area, sufficient to raise up each buttock and give the wearer a silhouette that looks a whole dress size smaller.
Tummy Tuck Jeans
Whether bearing the description tummy tuck jeans, or alternatively tummy control jeans, these jeans possess a secret in the form of a concealed tummy-reduction panel, sometimes in the form of an inner girdle, which holds in the flesh without discomfort.
Magic Jeans
Available both in hip-skimming and high-waisted styles, the various brands of magic jeans contain Spandex to exert maximum elastic strength. Some magic jeans are constructed from more pieces than basic standard jeans, one of these pieces being a panel for each leg that narrows as it descends from waist height to ankle, appearing to be a stripe, rather than a triangle. The effect aimed for is a considerably reduced hip area.
Buying Slimming Jeans on eBay
Who would choose to trundle out on a time-consuming mission to track down, first, a few suitable shops, then mull over the merchandise in each one, often only to come home empty-handed? Even if the right type of slimming jeans is in stock, finding the perfect fit can be a matter of luck, and the hassle is often considerable. The convenience of browsing on eBay helps buyers to reach a decision under less pressured conditions. When looking to encase your curves in the ever-flattering option of a pair of well-cut slimming jeans, a good look through the items that are returned on an initial search acquaints you with all the shapes and slimming styles. Searching according to label or designer is a good way to weigh up the relative merits of the various producers of form-flattering denims.
When you have a firm idea about the type of cut and some preferences in terms of colour and make, a narrower search using your trouser size is now ideal. Unlike dresses and tops, jeans do not necessarily carry the standard UK sizes from 10 to 22, but very often are classified by waist size and leg measurement. It is important, therefore, to get to work with a measuring tape and ascertain those vital statistics.
Conclusion
Whether original indigo in colour, deliberately faded, stone-washed, shrunk, distressed to look faded, dyed a non-traditional shade, sawn-off, or turned up, once the owner of a pair of jeans has fallen in love with them, that bond tends to last to the death. The pain of parting with much-loved jeans comes as much from sentiment as from the knowledge that they are really difficult to replace.
For curvy women, the nirvana of having stumbled upon the perfect flattering pair is something not to be underestimated. If the label and model does not in the future cease to be produced, then all is well. It can, however, be advisable to stock up by buying an identical second pair to keep in reserve, assuming weight gain or weight loss does not occur.
A big advantage of online shopping is that keeping up with the lines being put out by a favourite brand is easy, as the online route is more reliable than the hit-and-miss process of asking sales assistants for information. Similarly, online shopping cuts out the step of researching who the stockists are for a particular jeans product and where they are located. As innovations or new trends in slimming jeans emerge, the clued-up shopper can access information easily, and can immediately find the latest products on sale. This way, the time that has been saved can be spent getting out and having fun in those great jeans.