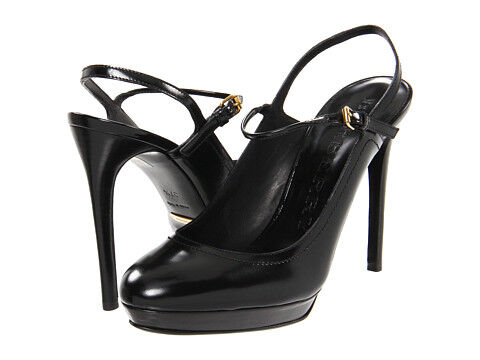 Slingbacks are a type of women's shoe with an open back, and are characterised by a simple strap that crosses behind the heel or ankle. The strap may contain a buckle made of metal or plastic. The strap can just slide down the heel without the buckle being undone, which makes slingbacks easy to put on and adds to their popularity. Alternatively, the strap may be elastic, helping it to conform more easily to the wearer's foot. Slingbacks are available in a wide array of styles ranging from casual to dressy. They also come in a range of heel heights from flat to high, and may have an open or closed toe. Slingbacks are made from various materials, including matte and patent leather, suede, canvas, and satin. When purchasing slingbacks buyers should consider the various types, how to keep them from slipping, how to care for them properly, and how to size them correctly. Slingbacks are available from shoe shops and department stores, as well as online retailers, such as eBay.
Types of Slingbacks
Slingbacks are available in two main types. Deciding which one to choose should be based on personal taste along with the intended function of the shoes.
Casual Slingbacks
Casual slingbacks, like Crocs, are designed for comfort. These shoes are easy to slip on and off. Crocs are lightweight, slip-resistant, and functional shoes. They were first designed as beachwear, but have expanded in purpose and now can be seen in urban environments as their popularity continues to grow. These shoes were first manufactured by Crocs shoe company, although many different firms now produce their own versions of this style of footwear.
Crocs are known for their bright colours and exaggerated shape. Their toes and uppers feature holes, which are called ports, that make the surface resemble Swiss cheese. The back of the shoes have a thick strap which can be worn across the heel or flipped up making the shoe more of a slip-on clog. This strap is the reason why Crocs can be described as slingbacks. Crocs are designed to be loose fitting, supporting the wearer's foot without applying any pressure. There are therapeutic versions of Crocs for women who are on their feet for prolonged amounts of time or who experience foot and back pain.
Dressy Slingbacks
Dressy slingbacks are suited to more formal occasions. These shoes are a fashionable alternative to traditional closed-back shoes, and range from court shoes to stilettos.
Heel Height for Dressy Slingbacks
The heel height of court shoe slingbacks is usually no more than an inch or so, whereas stiletto slingbacks usually have a three to six inch heel. High heel slingbacks can make a woman's legs look longer and leaner, especially when paired with skirt of knee length or shorter, or a pair of capri or straight legged trousers. These shoes are flattering to all body types.
Materials for Dressy Slingbacks
Leather and suede are appropriate choices for dressy slingbacks that are worn to the office. Silk and satin slingbacks are ideal for evening wear.
Toes for Dressy Slingbacks
As well as heel height and fabric, buyers should consider whether the dressy slingbacks should have open or closed toes. The choice often depends on the environment and the weather, with open toes best suited to summer events, like an outdoor formal party, and closed toes for winter events, such as an indoor wedding reception.
How to Keep Slingbacks from Slipping
Slingbacks can slip off the wearer's heel if the strap is not sized correctly. A strap that slips continuously can lead to blisters. In order to compensate for an incorrectly sized pair of slingbacks, many women find themselves clenching their toes in an attempt to hold the shoes in place. Instead of inflicting unnecessary discomfort by doing this, women can simply make a few adjustments to the shoe's fit.
Loose Adjustable Slingback Straps
If the heel strap has buckles, then finding the right fit may simply be a matter of tightening the strap in order to eliminate extra space at the heel. If the strap is still loose and cannot be adjusted further, then consider taking the slingbacks to a shoe repair shop to have an extra hole made in the strap.
Loose Non-Adjustable Slingback Straps
Straps that are not resizable may require more work, for example, if the straps immediately slide off the woman's heel, they may have become stretched or have lost their elasticity. In this case, consider taking the slingbacks to a shoe repair shop to have the straps shortened. If the straps do not fall off immediately, but just slide gradually during the day, consider using a rubber insert. The rubber insert helps the strap to grip the wearer's feet.
Caring for Slingbacks
Slingbacks can become susceptible to stretching if the shoes are not properly maintained. This results in reduced support and an ill-fitting strap. Taking care of slingbacks ensures that they remain comfortable and last a long time.
Frequency of Wearing Slingbacks
It is wise to limit the wear of the slingbacks to every other day. This allows the straps to retract to their original length and prevents any permanent stretching and loss of wearability associated with overuse.
Storing Slingbacks
It is best to store slingbacks in a cool place that is not too dry, especially if they are made of leather. Extreme temperatures and dry air can cause leather to become hard and crack. In order to help the slingbacks retain their shape, women should periodically try the shoes on. Some slingbacks are sold with a plastic heel piece, allowing wearer's to place the insert inside the shoe when they are not being worn to maintain their length. Alternatively, women can use a boot shaper or stuff the front of the shoe with socks. Women should avoid hanging their shoes by the straps. This causes the straps to stretch and may compromise their elasticity.
Sizing Slingbacks Correctly
When searching for slingbacks, buyers should ensure that the straps fit the wearer's feet snugly without pressing into the heel. Feet tend to swell throughout the day, so shopping in the afternoon may better reflect a woman's actual shoe size. It is a good idea to buy slingbacks that have an adjustable strap. This feature will allow wearer's to alter their fit as the straps expand with use.
Buying Slingbacks on eBay
When searching for slingbacks on eBay, enter a key phase into the search box on any page, for example, "slingbacks". This yields a long list of results that can be browsed through. If a more specific pair of slingbacks is desired, then use a more detailed phrase, such as "white slingbacks". This returns a shorter, more relevant list of results. When you have found a pair of slingbacks that you would like to buy, pay close attention to the description of the item. Reading the full listing carefully and looking at the photos gives you a better idea of the condition of an item, and by getting to know the seller, you can feel more confident about purchasing from him or her.
Understand Item Condition
The photos may draw you to a particular item, but pay attention to the detailed item information in the listing. This should include information about the material, size, colour, and features of the slingbacks. Sellers must use standard terminology to describe the condition of their items and each listing includes a brief definition of the item's condition in the item specifics section.
Research the Seller
By analysing detailed seller ratings and reading reviews from past customers, you can decide if you are comfortable purchasing from a particular seller. For a quick way to find the best sellers on eBay, look for those who have been awarded Top-rated seller status. The seller should provide details about payment methods, the postage and packaging costs, and if they have a returns policy. If any of this information is not contained in the item listing, or if you have any questions about the item, then feel free to contact the seller using the "Ask a question" link.
Conclusion
Shopping for slingbacks on eBay provides you with a large range of items to choose from, many available at a fraction of the cost of high street retailers. Whether buying slingbacks for the purpose of comfort or fashion, every buyer can find interesting and unique slingbacks to fit their style. Casual slingbacks are ideal for everyday use, allowing wearer's the ease of slipping the shoes on and off. Dressy slingbacks are known for their style and can be found in a wide array of heel heights. Dressy slingbacks can be worn on a variety of occasions from a day at the office to a wedding.
Women should take precautionary measures to prevent their slingbacks from slipping. This includes properly caring for the shoes in order to preserve the elasticity of the straps. Caring for slingbacks properly also ensures that they last for a long time. With so many slingbacks to choose from, eBay can help any woman to find the perfect pair.