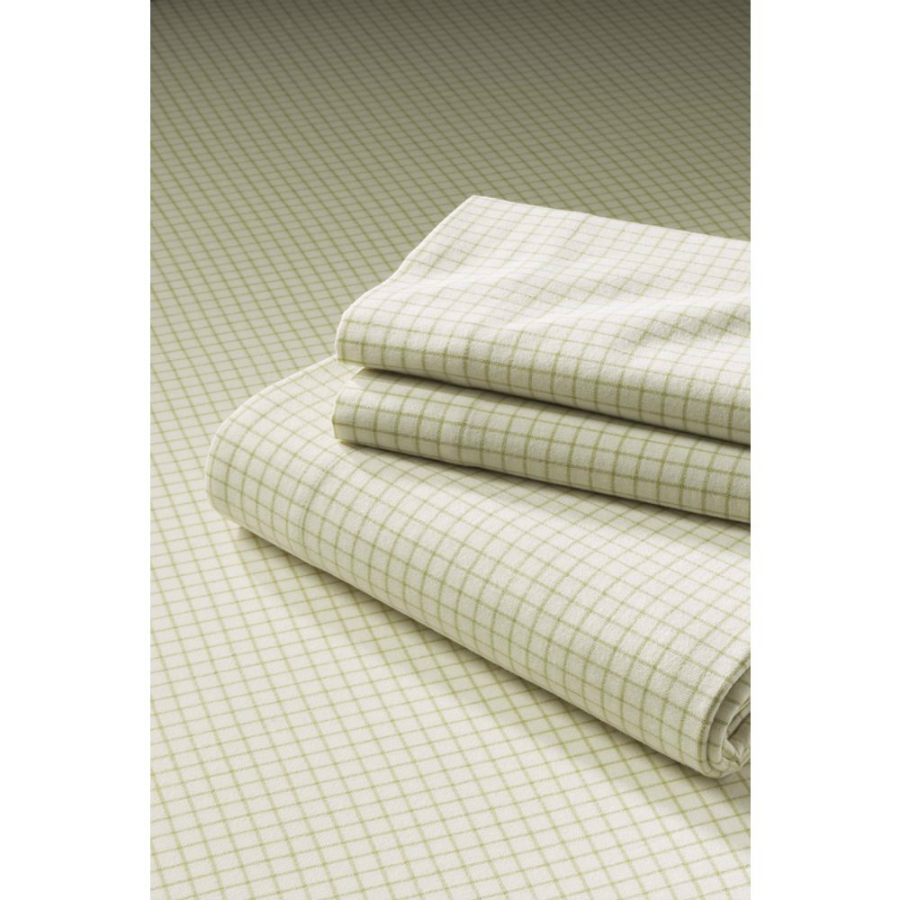 Sheets are bedding essentials that are used to protect the mattress and make it last for many years, as well as keeping the sleeper warm. Sheets also have other purposes. As they come in many colours, they are part of your bedroom style, and it is important to consider how they feel on the skin. Different weaves and fabrics can have rather different feels. A soft sheet offers additional comfort and luxury. When buying soft sheets it is useful to be familiar with the thread count and different sheet fabrics in order to decide which one meets your needs for softness: what one person considers soft may feel rough to your skin, so it is best to touch the fabric before using it on the bed. In general, fabrics can be classified as natural and manmade. Study your existing sheets to get an idea of the level of softness that you desire. Soft sheets are available from homeware shops, department stores, supermarkets, and online from retailers, such as eBay.
Thread Count for Soft Sheets
The thread count represents the number of threads per square inch of fabric. The higher the thread count, the denser the fabric. Different types of bed sheets have different thread counts. Basic cotton has a thread count of 150. Cotton that has the thread count of 180 is used for high quality sheets that feel soft, while 200 is even better. However, a higher thread count does not always mean a better quality fabric. Linen has a lower thread count than cotton, but it is still luxurious and one of the most popular sheet fabrics. Moreover, cotton with a very high thread count is silky and fine, but not very durable. The sheet's softness depends on the yarn's quality. Often a cotton sheet with a thread count of 200 can feel finer and softer than a poor quality sheet that has a thread count of 400. The thread count is not the only factor that matters. The fabric and its finish also play a significant role, as do the yarn size and ply.
Yarn Size and Ply for Soft Sheets
The yarn size indicates the thickness of the yarns that the fabric is made of, where a higher yarn size indicates a finer yarn. One square inch accommodates more finer yarns. On the other hand, ply refers to the number of individual yarns that combine a strand. Single ply is woven from one yarn, while 2-ply fabric uses two yarns that are twisted together. 2-ply fabric has a thread count twice as high as that of single yarn fabric.
Natural Fabrics for Soft Sheets
Natural fibres for bed sheets are produced directly by plants or animals and include cotton and silk. Sheets made of natural fibres are generally easy to care for because they can be washed at high temperatures and they are also known for their softness.
Cotton Soft Sheets
Pure cotton consists of 100 percent cotton and is the most widely used fabric for bed sheets because of its durability and breathability, which makes it suitable for all seasons. Long fibre cotton creates strong, soft, and smooth bed sheets, while short fibre cotton is rougher and sheets made of this have a poorer quality. Sateen is a cotton fabric with special weave and it feels like soft satin when touched.
The genuisa cotton plant is used to produce premium quality cotton. Its fibres are longer and its yarn finer when compared to ordinary cotton. Sheets made of genuisa cotton are very soft and they get even softer when washed.
One of the finest cottons is Egyptian cotton, which has long fibres and feels soft to the touch. Originally, it was made in Egypt, as the name implies, but today other countries also produce it.
Linen Soft Sheets
Pure linen is breathable, comfortable, and drapes around the body because of its loose weave. Linen sheets keep you cool in summer and warm in winter. The flax plant that is used to produce linen is one of the strongest vegetable fibres, which makes linen stronger than cotton. Therefore, linen sheets feel rough at first, but they become softer after washing and obtain a slight sheen.
Silk Soft Sheets
Silk is breathable and hypoallergenic. As it wicks moisture away from the skin, it is suitable both for summer and winter, keeping the body temperature at an adequate level in all situations. Silk can often have a satin finish, which makes the sheets extremely soft to touch.
Flannel Soft Sheets
Flannel is another type of natural sheet fabric that was traditionally made of wool. Today, flannel is most frequently made of cotton. Thanks to a special brushing process or loose weave, flannel offers softness and does not irritate the skin. Flannel sheets are good for colder bedrooms, so they are perfect for the winter.
Manmade Fabrics for Soft Sheets
Most common manmade fibres are polyester and acrylic. They endure frequent washing and retain their shape, but they are not as breathable as natural fibres. Natural and manmade fibres can be blended for the best results.
Percale Soft Sheets
Percale is a type of high quality combed blend that consists of 50 percent each of cotton and polyester. During the combing process, shorter and rougher poor quality fibres are removed, which results in a smooth and soft fabric. The thread count for percale has to be at least 180.
Microfibre Soft Sheets
Microfibre is a synthetic fabric that consists of polyester and polyamides. Microfibre sheets are soft to the touch and they are also very thin. Therefore, microfibre sheets are good for those in a warm climate or those that want a soft sheet for summer.
Polycotton Sheets
Polycotton also contains polyester and cotton, and combines the best features of each. Polycotton is breathable and does not wrinkle easily, so it is easy to care for. However, it does not offer much softness.
Soft Sheet Types
Sheets are divided into two large categories, namely fitted and flat. Fitted sheets have elasticated corners that keep the sheet in place on the mattress. Fitted and flat sheets can be bought separately, or in matching sets. Choose the fabric carefully in order to ensure a soft sheet as both come into contact with the skin while sleeping.
Sizing for Soft Sheets
When buying a soft sheet, it is important to match it to the mattress size. Fitted sheets are used directly on the mattress and typically have a standard depth, but some extend further for deeper mattresses. Choose a fitted sheet that covers both the mattress and the mattress topper for the best protection. The dimensions vary according to the type of sheet as shown in the table below. These are standard UK sizes and the size names are commonly used for beds. So, if the bed is king size, look for sheets labelled, king size. If in doubt measure your bed and compare this with the dimensions of the sheets from the seller.
| Mattress Size | Fitted Sheet Size (cm) | Deep Fitted Sheet Size (cm) | Flat Sheet Size (cm) |
| --- | --- | --- | --- |
| Single | 90 x 190 x 30 | Not applicable | 180 x 275 |
| Double | 140 x 190 x 30 | 140 x 190 x 34 | 230 x 275 |
| King | 150 x 200 x 30 | 150 x 200 x 34 | 275 x 275 |
| Superking | 180 x 200 x 30 | 180 x 200 x 34 | 305 x 275 |
| Emperor | 200 x 200 x 30 | 200 x 200 x 34 | 320 x 290 |
The first number in the sheet size represents the width, the second is the length, and the third is the depth, which is only used for fitted sheets. Flat sheets are generally larger: the fabric needs to reach over the edge of the bed in order to be tucked in.
Buying Soft Sheets on eBay
When buying soft sheets, if you have no preference for a kind of fabric, then you can start your search on eBay by using simple keywords, such as "soft sheets". Type your keywords into the search box on the main page and then look through the results. However, sellers may not list a sheet as being soft, so it may be best to research the fabrics so that you can search accordingly. For example, your search could be for "Egyptian cotton sheets" or "double flat sateen sheets".
Sizing matters when you buy a sheet, especially when you do it online. In a bricks and mortar store, you can study the packaging and read the dimensions, but on eBay you should contact the seller if this information is not included in the item listing. If the item listing refers to "single sheet" or "king size sheet", then double check the actual dimensions to be sure of a good fit. Also, pay attention to whether the sheet is fitted or flat.
Conclusion
Sheets are close to your skin when you sleep, so they not only have a functional purpose of protecting the mattress and keeping you covered, they should be made of a fabric that feels good for you. Although this is individual, there are some general guidelines about different fabric types. The thread count influences the feel of the fabric. Generally, a higher thread count in cotton refers to a better fabric, but it is not the same for linen. Sheets that have finer yarn are softer and feel good on the skin.
Cotton is the most popular natural fibre used for sheets, but not all of its varieties are equally soft and smooth. For a soft sheet, opt for sateen, genuisa cotton, Egyptian cotton, and high quality long fibre cotton. Silk and flannel are other natural fabrics that are used for soft sheets, with the former being best for use all year round and the latter for winter because of its warmth. Microfibre is the softest synthetic fabric.
While in the buying process, pay attention to the size of the soft sheets. Request extra information about the dimensions of the sheets if they are only listed as single or double. Searching for a soft sheet by its fabric yields the most accurate results on eBay.