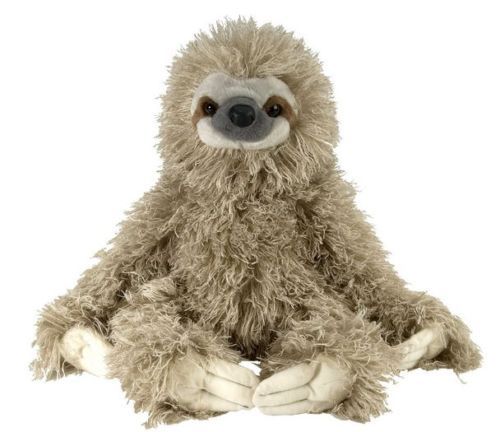 The curious creatures of the world around us have fascinated humans since the birth of time. From ferocious jungle leopards to streamlined sea turtles, Mother Nature has provided us with a tapestry of beguiling animals which roam the world. With their intense curiosity, children seem naturally drawn to this spellbinding spectacle of animals.
There's no better way to encourage children's exploration of the animal kingdom than to pair their eager inquiring minds with the charming stimulus soft toys can provide. eBay lists thousands of soft toy animals, both new and used, making choosing the right soft toy for your child both simple and easy. This guide provides some pointers on things to consider when beginning your search.
From Pillows to Puppets
Toys can play a huge role in children's development. A child's abilities grow rapidly with time and choosing a soft toy suited to their developing senses can provide a huge boost to that process.
Soft toys come in a huge variety of configurations to suit infants at every stage of their development. Soft toys are made to be enjoyed and some are simply huggable, loveable soft bundles of warmth that can provide a child with great companionship. Others, like rattles and hand puppets are designed to entice imaginative children to play in specific ways. Animals are fascinating objects and all soft toy animals, from farmyard to the ocean, can be useful in encouraging a child's development of role-playing and language skills.
Safety and Soft Toy Animals
Children are notoriously industrious at dismantling almost anything, and it's from this starting block that most soft toys are designed. When selecting a soft toy animal that is going to be played with by a child, it's important to ensure the toy is well constructed enough to leave in the hands of any chewing, pulling, energetic infant.
Fortunately for caring adults, soft toy production is regulated, and toys which meet these strict safety rules display a mark to demonstrate it. This mark is called the 'CE' mark and can help buyers judge whether a toy is suitable to be played with by an infant. The Toy Safety Regulations of 1995 lay out these principals and state:
Physical & Mechanical Properties
Must be sufficiently strong to withstand the stresses to which it would normally be subjected;
Be designed & constructed so that any edges, protrusions, cords, fastenings or moveable parts do not inflict injury;
Toys & component parts intended for use by children under 36 months shall be of such dimension to prevent accidental swallowing or inhalation;
Toys & their packaging must not present a strangulation or suffocation risk;
Flammability
Toys should be composed of materials which are not readily flammable and inhibit the spread of flames.
Paint and Protective Coatings
Levels of Antimony, Arsenic, Barium, Cadmium, Chromium, Lead, Mercury and Selenium must not exceed specified maximums.
Electrical Properties
Toys must not have a power source exceeding 24 volts and must be adequately insulated and protected to prevent shock or burns.
Hygiene
All toys must meet hygiene and cleanliness requirements to prevent the risk of infection, sickness & contamination.
Radioactivity
Toys must not contain radioactive elements likely to be detrimental to the health of children
It's the responsibility of each manufacturer or importer to judge that their toy meets these regulations. Their guarantee of this is symbolised by the 'CE' mark which should be clearly displayed on the toy and its packaging. On soft toy animals the 'CE' mark is most commonly carried on a small fabric label attached to the toy. If a toy isn't suited to infants younger than 36 months, that should also be shown alongside the 'CE' mark.
The final judgement of whether a toy is suited for a child lies with their parent, carer or guardian. If buyers have any questions about buying a soft toy, eBay makes it easy to get them answered: get in touch with the seller directly by clicking the "Ask seller a question" button which can be found on their profile.
From Tiny to Tall
To say that there are as many soft toy types as animals would be doing the natural world a disservice, but it's not so far from the truth. The selection of soft toy animals available on eBay is dazzling. As well as a fantastic range of animal types and differently styled designs, soft toy animals are also available in a huge range of sizes.
Many people will be able to relate to memories of giant tiger toys reserved as prizes for the sharpest shooters at town fairs. Soft toys of this scale, though perhaps not suited to a day out in the pram, can be fantastic fun for infants. However, a soft toy's size is not always immediately obvious from pictures of the item without a sense of scale. Remember to make a quick check on the soft toy's size before purchasing to ensure the toy intended to be used as an everyday companion won't struggle to make it through the front door.
Little hands, messy play
Almost any soft toy animal designed with children in mind will have taken into account how gloriously messy our youngsters can be. Soft toy animals can usually be freshened up with a quick vacuum through a mesh screen to lift off dust and light dirt.
Fabrics that soak up liquids can also be susceptible to stains, so it's important for those wanting to keep their soft toy animals fresh that the toy can be washed clean.
Soft toys usually list their options for cleaning on their labels. At the very least, one should be able to sponge most toys down with warm water. More durable soft toy animals with young infants in mind use stuffing and surface fabrics that can be machine washed with detergent.
Many sellers list cleaning information in the descriptions of their soft toy animals, but if they have not and buyers would like to double check an item's suitability, it's always best to check with the seller using eBay's simple "Ask seller a question" feature.
Buying Second-Hand Soft Toy Animals
Second-hand or pre-owned soft toy animals can offer an affordable choice for canny shoppers, and eBay offers a great range. Many rare and vintage items not available from traditional retailers are also available through eBay's bustling marketplace.
When buying second-hand, keep in mind that the toy may have been produced before current safety regulations came into effect. Even comfortable toys are susceptible to the ravages of time, and they may be less sturdy than when originally manufactured. This is of less concern to collectors, but for those buying second hand stuffed toy animals for their children it's important to keep safety in mind.
Check pictures of the toy to see that any small parts are not coming loose - look for eyes, buttons and other small detachable parts which could pose a choking hazard if a determined youngster worked them free.
If your heart is stolen by a particular soft toy animal that is looking a little deflated, it's worth bearing in mind that taking it on a quick trip to a local sewing shop could see the soft toy re-stuffed and revitalised.
How to Buy Soft Animals Toys on eBay
Now that you've worked out which soft toy animals you want, find them quickly on eBay. To start shopping, go to the Toys & Games category. Click the Soft Toys & Stuffed Animals portal.
Categories: The Categories list on the left side of each page will help you narrow down your listings by item type. You'll find links for for Disney, Unbranded, Russ, Gund and Steiff . As you refine your search you'll be able to narrow down your choice by subcategory.