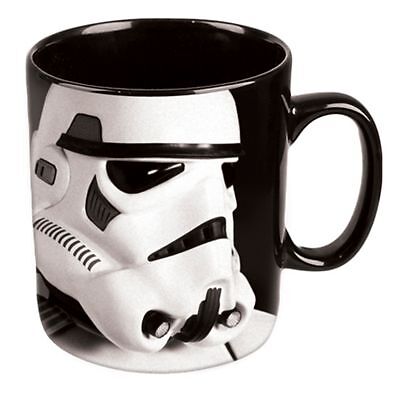 Your Guide to Buying Star Wars Collectable Mugs on eBay
Kitchen mugs have been styled in various ways for years in different colours and with different patterns printed on their exterior. It makes drinking out of them more enjoyable, not just for youngsters but for adults too, and can brighten up the aesthetics of a kitchen.
The mug will often follow a certain theme, a sports team for example, or be addressed to certain family members. The Star Wars brand, one of the biggest film franchises of all time, has manufactured many mugs with its own theme.
For a low cost item such as a mug, many people decide to shop online, as there is an extensive range of choice along with some great deals to be found. With this in mind, this guide will look specifically how to buy Star Wars mugs online and specifically look at auction website eBay.
Information on Mugs
Mugs are predominantly used for consuming hot drinks, invariably tea or coffee for people in the UK. The majority of them are made from ceramic materials, which will conduct heat when hot liquids are poured inside. To combat this, they will be built with handles so picking them up is made achievable.
Mugs tend to be more popular than traditional teacups as they are larger and thus have a higher volume. Most models of mugs will hold approximately between 200ml and 500ml depending on their design.
As opposed to teacups, which have a slender and more distinguished profile, mugs are more robustly built with thicker walls. This helps to keep the liquid inside insulated. The bottom of mugs will invariably be conclave, meaning that they do not touch the surface in which they are placed.
Materials
Mugs commonly found in households up and down the UK will be made from ceramic materials, be it earthenware, stoneware, porcelain or bone china. Ceramic mugs, usually porcelain, are the most suitable material to use due to their high melting temperature, making them suitable for holding hot liquids.
Forming a mould is relatively simple too; this means that countless numbers can be made at a low cost. The white or plain exterior of ceramics is also makes it easy to paint different designs and colours also. Some other materials used to construct mugs include enamel, steel and plastic although these are not as common.
A Look at Star Wars
Star Wars is the name given to a film franchise that was created in the late 1970's by American director, George Lucas. The success of the films has made Star Wars one of the most recognisable brands in the world, not only in the world of film but in the form of books, computer games and other merchandise also.
After the first film was produced in 1977, two more sequels were released in the 1980s, which were well received by critics and fans alike. The story of Luke Skywalker , Princess Leia and Darth Vader added a human element to the story set in a futuristic universe with different alien races. In 1999, the first of three prequels were released that regenerated the popularity of the film throughout the 21st century.
The success of the multi-million pound franchise has led to thousands of products incorporating the Star Wars logo, characters and scenery on their design. Mugs are one of these products and are a popular item for fans of the film to purchase.
Different Characters
The intergalactic nature of the fictional Star Wars world and numerous races that are included in the story mean that there are a lot of options when coming to choose a mug. As well as basic Star Wars designs and logos, various characters are often displayed too. They include:
- Luke Skywalker
- R2-D2
- Yoda
- C-3PO
Buying Considerations for Star Wars Mugs
· Ask yourself whether a Star Wars mug will be a wise investment, and if it is needed in the first place. Although it is preferable to have a wide selection of mugs at your disposal, for example, in case some are being washed in the dishwasher, or if offering some friends a drink. However, owning too many will only cost money better off spent elsewhere and take up space unnecessarily.
· Storage is an important factor to consider also. Is there a suitable cupboard or a mug rack where the mug can be placed?
· Think about the size of the mug and whether a smaller or larger model will be appropriate. Some people like to have a big caffeine fix at the start of the day and bigger mugs can provide this.
· A high quality mug should be able to cope with numerous dishwasher use without the design on the side wearing off. In addition, if a microwave will be used to heat up the contents of the mug, then look out for models that can be placed inside one (ceramic ones usually are). Mugs that are advertised as oven safe will be microwave safe also.
· Is the mug being bought as a present? Mugs can make great presents for numerous occasions, be it Christmas, Father's day or a birthday, so think if the recipient will appreciate a mug with Star Wars images printed on the side. Some people keep and use their favourite mug for years so buying one, as a gift, can become a special and sentimental present. Some people may take a liking to a particular character, so also bear this in mind.
· The cost of mugs is generally on the low side, although some specially designed versions – for example those moulded in the actual shape of R2-D2 – can stretch to around £30. However, due to the wide accessibility of mugs, many can be found for around £5 and under. Shopping on eBay offers the chance to buy one for less, especially if using the Auction format .
· Buying online and on eBay in particular is perfect for buying items such as mugs. The item doesn't necessarily need to be carefully analysed first hand before a purchase is made. A whole host of various Star Wars mug designs can be evaluated online next to each other and also be delivered to the front door.
Buying a Star Wars Mug on eBay
This section will look at how to search out and make a bid for a Star Wars mug on the auction website, eBay. For newer users, it is advisable to check out the site's buyer protection programme policy, as documented in the Safety Centre, before completing a transaction.
Keyword Search – to bring up all the most suitable results, then use the keyword search term located at the top of any eBay page. For a broad range of results, enter ' Star Wars mug ' or for more refined listings enter something more specific like ' Star Wars Stormtrooper mug '.
Category Search – eBay has many different categories and sections in which items can be listed. Mugs are generally found within the ' Collectables' main category, and then the ' Kitchenalia ' section within this.
Narrow the Listings – when in the Kitchenalia section, select ' Mugs ' from the left hand side of the page. Now, the chance is presented in this menu to narrow down the listings by selecting refinements suited to your requirements. Choose between such aspects as the material, theme and character portrayed into the mug's design. Selecting in which condition you'd prefer the mug to be in is also an option, be it new or used.
Sort the listings – rearranging the results so that they are presented in a more favourable manner is an option also. Find the 'Sort' button next to the search bar and then select between such aspects as the lowest priced items and those ending soonest.
Read the item's description – after a particular Star Wars mug has been selected, make sure to read the description of it in as much details as possible. This applies for used mugs in particular. Also look out for the postage and payment details to see if they are suitable for your needs. eBayers who accept PayPal are advantageous to find, as this is the recommended payment method.
Check out the seller – click on the actual profile of the seller of who has listed the particular Star Wars mug. Assess their previous activity on eBay to see if they are a trustworthy person or company. Their eBay rating should be as close to 100 as possible and comments should be of a positive nature.
Conclusion
The Star Wars brand is one of the most recognisable over the world; the success of the films first released in the 1970's still have a popular and cult following today. Further films released in the 21st century have further invigorated this passion, leading to Star Wars merchandise again becoming popular in the market.
Printing on mugs is a common way the Star Wars theme is portrayed, with a range of the film's different characters printed out on the mug's exterior. Use the Search Tips in this guide to pinpoint the perfect Star Wars mug , either as a treat for yourself or a gift for someone else.