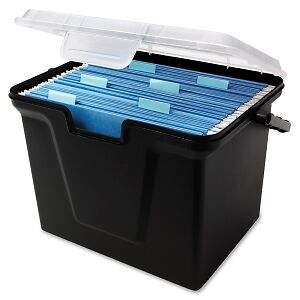 Storage boxes are a part of any household, providing short and long term safe spaces for items that are not required to be on show in the home, or for items that are not needed on a daily basis. Storage boxes are a more secure and convenient alternative to freestyle stacking and come in a variety of designs, sizes, and materials suitable for all items and storage plans. The range can be viewed and purchased online or in DIY stores.
Uses for Storage Boxes
Storage boxes can be used for both safekeeping and decorative purposes. Attractive storage boxes or those that have been personalised to fit in with home decor can be used as on-display storage, housing small items that are needed regularly, but should not be left lying around the house. Basic storage boxes can be used for attic, garage, or basement storage, housing items that are either required infrequently, or have sentimental value. Storage boxes can also be used for packing away the contents of the home in preparation for moving house. Keeping items of a similar nature together can reduce the risk of contents becoming lost, and can aid the unpacking process. Storage boxes can also keep breakables safe during transit.
Choosing Storage Boxes
With so much choice online, the storage box market can appear a little overwhelming, but the choice can be narrowed down by focussing on the type of storage required. The items that require storage will dictate whether the search should be for generic or specialised storage boxes, while the purpose will determine the design and materials.
Types of Storage Boxes
There are many different types of storage box to cater for all needs, ranging from lightweight and basic to more heavy duty and intricate.
| | |
| --- | --- |
| Moving Storage | Moving storage is a rather generic term for boxes used to transport items in a secure manner. While plastic boxes are common for larger goods, heavy duty cardboard is also popular for smaller or lighter items. |
| Attic Storage | Attic storage boxes can also be used in lofts, basements, and garages, sometimes in less than ideal conditions. Therefore, they're usually made of plastic rather than permeable materials like cardboard or wood. |
| Decorative Storage | Decorative storage may be made from wood, wicker, or even good quality cardboard and are usually painted or designed in such a way as to allow for them to be placed on display. |
| Toy Storage | Toy storage boxes may be quite traditional painted wood, or more contemporary, made from plastic and shaped to resemble popular playing bricks. |
| Clothing Storage | Clothing storage boxes are usually quite large, and can be made of wicker or a mix of plastic and vinyl which allows for a sturdy yet flexible type of box. |
| Specialised Storage | Specialised storage is that which has been designed specifically for certain products, usually those which are fragile, fiddly, or of an unusual shape which cannot easily fit into standard storage boxes. |
Storage Box Design
Storage boxes are available with many difficult physical features which help make them more convenient. These features often help owners access their items easier, quicker, and in a safer manner, while other features create space saving solutions for the home.
| | |
| --- | --- |
| Lidded Storage Boxes | Lidded storage boxes can be used to contain items that are particularly fragile to reduce the risk of damage. They can also be used for items that are particularly susceptible to dust or damp. |
| Hinged Storage Boxes | Hinged storage boxes include a lid which hinges rather than being removable. Wooden boxes often have hinged lids, especially toy boxes, allowing for children to access their toys easily by themselves. |
| Towered Storage Boxes | Towered storage boxes can be used in small rooms and homes to best utilise the area available. Often on individual drawer rails, lower boxes can be accessed without removing the higher boxes. |
| Stackable Storage Boxes | Stackable storage boxes are similar to towered storage, but the boxes are simply placed one on top of another with the use of stacking points which provide a support for the higher box to rest upon. |
| Open Storage Boxes | Open storage boxes can be used for items that are needed frequently, and may be decorative to allow for use within the home for storing items such as shoes or remote controls. |
Storage Box Materials
Storage boxes are available in a wide range of materials ranging from flexible and lightweight to tough and sturdy which are suitable for adequately storing all manner of goods and items.
| | |
| --- | --- |
| Cardboard | Lightweight cardboard boxes can be used for low value or very small and light items, although storage boxes tend to come in a more heavy duty cardboard. It's an inexpensive material which makes it popular. |
| Plastic | Plastic boxes are more durable than cardboard and can withstand damp and dust well. They protect items from water damage and are popular for long term or towered storage. |
| Wood | Wooden boxes are often used for toy storage and for decorative storage around the home due to their ability to be coloured or painted in attractive designs. |
| Wicker | Wicker is generally more unsteady than other materials so is primarily used for light storage. Clothes can be stored in wicker boxes, while it also makes for attractive decorative boxes for small household goods. |
| Plastic and Vinyl | Plastic and vinyl boxes are more flexible than others, so they can be used for low cost goods and for soft items like clothes. Their flexibility means they can be manipulated to fit in more unusual shapes. |
| Canvas | Canvas boxes are similar to plastic and vinyl in that they're quite flexible and yet still retain a box structure. They can be used for lightweight storage and for items that can be structurally manipulated. |
| Leather | True leather boxes are somewhat of a rarity, although faux leather boxes are quite popular for on-display storage around the home for small items such as DVDs. |
Specialised Storage Boxes
Specialised storage boxes are useful for items of unusual shapes or properties which cannot be adequately stored in standard boxes regardless of material or design. Hat storage boxes, medicine storage boxes, and shoe storage boxes provide solutions to problematic requirements.
| | |
| --- | --- |
| Hat Storage Boxes | Hat storage boxes tend to tend to be tall and round, and made of a heavy duty cardboard. They are used not only to protect the accessory from dust, but also for maintaining the structure. |
| Medicine Storage Boxes | Medicine storage boxes usually contain 7 compartments to divide a week's worth of pills. They can be especially beneficial for the older generation who require organisation assistance. |
| Shoe Storage Boxes | Shoe storage boxes can either be individual, for storing favorite or valuable pairs, or towered to allow for many pairs to be stored in a small space. |
| Remote Control Storage Boxes | Usually decorative, remote control boxes provide an often much needed solution for the lounge or living room. They usually have separate compartments for a number of devices. |
| Battery Storage Boxes | Battery storage boxes are usually made of plastic so the material isn't ruined by any leakages. Compartments separate the batteries, and the boxes prevent the small items from becoming misplaced. |
| Bottle Storage Boxes | Usually made from a very heavy duty cardboard, storage boxes designed specifically for bottles tend to be tall with compartments. They prevent bottles knocking together and breaking. |
Choosing the Right Size Storage Box
Storage boxes don't tend to come in uniform sizes, as a wide range of lengths, widths, and heights is necessary to accommodate all items and storage needs. An exception is made for boxes designed for standard sized items like DVDs. While it's important to choose a box that is big enough to hold the desired items, special care must be taken when storing heavy items such as books. Overloading a storage box could make maneuvering the box difficult, and could cause damage. In some cases, two smaller boxes may a more suitable option than one large box.
Finding Storage Boxes on eBay
The search facility on eBay can be used to look for specific types of storage boxes and is a preferred method for those who have either purchased the same form of box previously or who know exactly what they are looking for. However, to see a range of different storage boxes and browse the selection, prospective customers can click on All Categories, followed by Home, Furniture & DIY and finally Storage Solutions. From here, the selection can be narrowed down specifically to Storage Boxes, and then made more specific by choosing preferred brand, materials, or features.
Conclusion
When looking at storage solutions, the term 'storage box' is rather generic and covers a wide range of boxes, ranging from lightweight cardboard boxes to heavy duty wooden boxes, so it's important to consider all features, materials, sizes, shapes and designated uses prior to making a purchase. Customers should not necessarily pick the first box they see, and should instead research different eBay sellers to find one that meets the specific requirements of their storage needs.