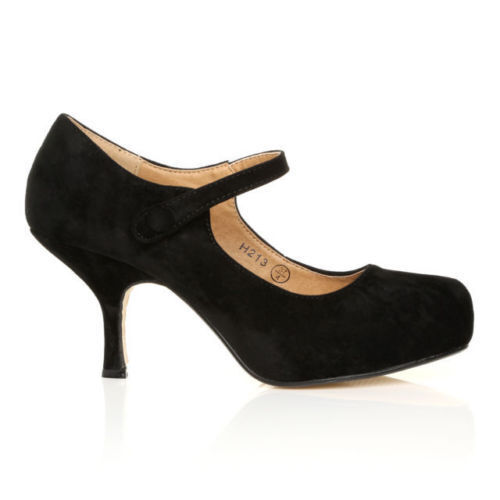 Court shoes are closed-toe, low-heel shoes which are sometimes also known by the moniker as 'pumps'. Worn most often in formal or business situations, they are usually manufactured in leather, patent, and cloth varieties in muted colours to complement traditional business attire. Wearing pumps all day proves quite uncomfortable, however, because users are placing undue stress on their heels, arches, or ankles.
To make sure buyers find court shoes which are not only stylish, but comfortable enough to be worn for long hours day in and day out, there are a simple few guidelines to follow. For example, shoppers should make sure to purchase shoes correctly sized not just to the length of their feet, but also the width. Once they establish just the right type of court shoes to purchase, shoppers may want to consider foregoing traditional retail shopping in favour of shopping online at websites such as eBay.
Finding Court Shoes Which Complement Your Style
Court shoes are often associated with white collar drudgery and plain, uninteresting styles. Luckily, looking for court shoes made of just the right materials and in just the right cut does a great deal to reinvest a bit of interest into any lady's workwear style.
Toe Styles
Avoid sharply pointed toe shoes for workwear court shoes. Not only are they more suited to casual situations, but they quickly cramp the toes, leaving the wearers in agony if they must be worn for hours on end. Individuals may also want to veer away from boxy toes, which look matronly or outdated. Smoothly curved toe styles or those which feature a deeper point that still culminate in a curved end are the best options for remaining comfortable and stylish at the same time.
Toe Ornaments
Some styles of court shoes feature ornaments, such as bows, ribbons, buckles, or other items atop the toe cap. As a general rule of thumb, ladies should avoid shoes featuring such ornamentation, as they often tend to look gaudy or tatty. That said, individuals may risk very small ornamentation features if they draw together an outfit. Small buckles are generally a safe bet, especially if they match the finish of jewellery or a watch band.
Heel Styles
In general, shoppers should look for a heel which does not exceed 2 inches. Ladies who feel uncomfortable walking in heels, trip often, or simply feel ungainly should stick to a flat or slightly raised heel style. Higher heeled court shoes with wide heels are often more comfortable to walk in, but make a shoe look matronly and outdated. For those who prefer wide heels, a shorter heel height is generally recommended. Experimentation in different heel heights and widths helps women find the right balance of heel width and heel for their comfort.
Sole Style
Some ladies work in areas with highly polished or very smooth surfaces. If this is the case, the sole style of the court shoes become incredibly important to the wearers. Rubberized or non-skid sole styles are a must, as they help prevent the wearers from sliding, slipping, or tripping on ultra-smooth floors or surfaces.
Court Shoe Finishes
Court shoes come in a wide variety of finishes, from leather and patent to suede and fabric-faced options. The variety which women should select is dependent on the fashion choices they make for the rest of their attire.
Patent Finishes
Patent is super glossy and bright, and it adds a bit of formal flair to the shoes. But when paired poorly with an outfit, they are disastrously distracting. As a general rule of thumb, ladies should select a patent court shoe specifically to match an outfit, such as a suit set or work uniform, to reflect the dominant colour of the outfit. If wearers enjoy the look of patent, but they are not certain about taking the risk, they should instead consider a shoe which features patent only on the toe cap and heel.
Leather Finishes
Court shoes in leather have the added benefit of lasting for several years, though this also makes them prohibitively priced. Leather is a good option for ladies wanting to invest in a quality pair of court shoes, and leather's timeless appeal makes it appropriate for almost any occasion. Leather is printed, stamped, or tooled as well, and is often featured in court shoes pressed into an arrangement of patterns which add a pleasant bit of depth to a pair of shoes which would otherwise be ordinary. For a distinctive but professional look, try to find leather court shoes which feature such patterning on the toe and heel cap or around the cuff. Wingtip or longwing patterns are a timeless workwear favourite.
Suede Finishes
A more cost-effective alternative to leather, suede court shoes have a matte, slightly nubby look. Though they are worn any time, this distinctive texture is particularly appealing in cool weather months, where they match woollen accessories. Suede is available dyed in a wide array of colours, and suits the task of providing additional brightly coloured options more reliably than court shoes with a leather finish. As suede is naturally textured, it tends to look best when used in shoes without any additional ornamentation or tooling.
Fabric-Faced Finishes
Fabric facing is one of the most common finishes found in court shoes, and is generally a far cheaper alternative to leather or suede-faced shoes. These fabrics are usually synthetic, which is not only cheaper for manufacturing, but generally longer lasting than natural alternatives. For court shoes with a fabric-faced finish, look for options which exhibit just a slightly glossy appearance and have an element of interest, such as special toe or heel caps, a lining around the cuff, or toe cap ornamentation. Fabric-faced finishes are the best way to incorporate a pattern, such as houndstooth or herringbone, into an outfit, and in this way plays well off of accessories displaying the same pattern.
Finding the Proper Court Shoe Size
While many women believe they know their correct shoe size, it is always important to consider re-measuring the foot before making another shoe purchase. This definitively determines the correct shoe size, while also letting buyers know if they should size up or down in the event a manufacturer is known for producing shoes slightly off-sized. Consider the chart below when measuring for a new pair of shoes.
| | | | | | | | | | | | | |
| --- | --- | --- | --- | --- | --- | --- | --- | --- | --- | --- | --- | --- |
| Country | Size | Size | Size | Size | Size | Size | Size | Size | Size | Size | Size | Size |
| Europe | 35.5 | 36 | 37 | 37.5 | 38 | 38.5 | 39 | 40 | 41 | 42 | 43 | 44 |
| U.S. | 5.5 | 6 | 6.5 | 7 | 7.5 | 8 | 8.5 | 9 | 9.5 | 10 | 10.5 | 11 |
| U.K. | 3.5 | 4 | 4.5 | 5 | 5.5 | 6 | 6.5 | 7 | 7.5 | 8 | 8.5 | 9 |
| Cm | 23.1 | 23.5 | 23.8 | 24.1 | 24.5 | 25.1 | 25.5 | 25.8 | 26.1 | 26.5 | 26.8 | 27.1 |
A foot, from toe to heel, should not exceed the centimetres listed above to fit the corresponding size properly. If your feet are precisely that measurement, consider going up one size as a comfort consideration.
Finding Stylish and Comfortable Court Shoes on eBay
Buying stylish and comfortable court shoes on eBay is swift and simple, even for those unfamiliar with eBay. Head to the eBay homepage and find the search bar. Alternatively, the search bar is also located on each of eBay's thousands of internal pages. Click the search bar, and type in the words which collectively describe your ideal pair of court shoes. Some examples of this might be ''chocolate leather court shoes'', ''extra wide suede court shoes'', or ''low heel court shoes''. Click enter, and those listings which match your search should immediately appear. You can then opt to see only those which match a certain colour or size.
In some cases, you may wish to contact sellers with specific questions about an item you are interested in purchasing. Simply browse the listing for the ' Ask a question' link. Clicking it guides you through the process of communicating directly with a seller.
Conclusion
Court shoes need not be dumpy or uncomfortable. With the proper guidelines, ladies look forward to wearing a pair which not only complements personal style, but which are comfortable enough to wear for hours. The best pair of stylish court shoes should be perfectly sized to wearers' feet, with a low heel which does not stress the arches or the ankles. The toes should be able to wiggle somewhat and not feel cramped. The cup of the heels should not bite into the back of the heels. Stylish court shoes should be in darker colours, and ideally match skirts, slacks, or blazers. Black, camel, chocolate, and navy are all ideal options.
Shoppers looking to purchase a pair of court shoes should consider opting against visiting traditional brick and mortar stores in favour of shopping online. Websites such as eBay allow some buyers to snag brand name items at super-competitive prices.