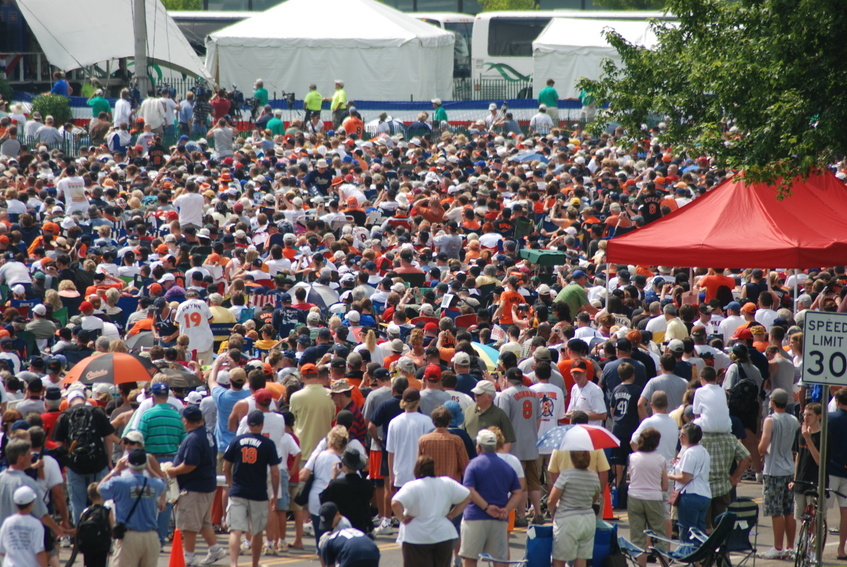 Outdoor concerts are a great way to celebrate the seasons with friends, family, and your favourite musicians. Buyers should familiarise themselves with the seating layout of the venue to ensure that the seats they purchase are acceptable. The process of buying tickets is generally straightforward, and can often be done directly through the venue or performer's website. Outdoor concerts can be extremely memorable experiences, both positive and negative. To maximise enjoyment, in addition to purchasing quality seats, concert goers must be well prepared in a variety of different ways in order to have the best possible time.
First and foremost is that, as with any outdoor activity, weather is always a factor. Generally, outdoor venues consist of a covered stage for the musicians accompanied by an uncovered audience area. The audience area may include normal seating in addition to lawn seating, whereby attendees simply purchase a ticket that gains them admittance to the lawn area. They are then free to sit wherever they like on the lawn. In addition to weather, food and beverages, outdoor furniture, blankets, and other items may increase the level of enjoyment.
Buying Tickets for Outdoor Concerts
Buying tickets for outdoor concerts is an easy process that can be accomplished through a variety of different means. To begin with, the venue itself usually offers tickets to it's own events, either at the box office or online at websites such as eBay. Secondly, the performer may offer tickets through their own distribution channels as well. Ticket brokers exist as third party sellers. They buy large quantities of tickets for high demand events and then after the initial tickets have sold out, ticket brokers sell their purchased tickets at a premium price. Finally, eBay as well as other websites may also offer outdoor concert tickets.
The different avenues for purchasing tickets to outdoor concerts have different characteristics. The chart below illustrates some of the main differences and makes it easier for one to quickly review valuable information.
| Type of Ticket Retailer | Price | Reliability | Sellout Risk |
| --- | --- | --- | --- |
| Venue | Moderate | High | Highest |
| Musician | High | High | Highest |
| Broker | Highest | High | Low |
| Other Website | Varies | Moderate | Varies |
The price is typically highest when purchased through a broker since brokers tend to stockpile high demand tickets so that they can charge higher prices after other options have sold out. Buying from the venue, or musician directly, ensures the highest level of reliability, as these tickets are typically sent directly from the concert operators. Finally, the sell out risk is highest at both the venue and through the musician, since tickets are often first made available through these specific channels.
Packing for an Outdoor Concert
There are many items attendees can pack for an outdoor concert to ensure that they have the most enjoyable experience possible. That being said, it is absolutely critical that concert goers check with the venue and make sure that all the items they intend to bring are permissible. Depending on the venue and other circumstances, certain types of concert gear, and other items such as outside food and beverages, may not be allowed. Once the attendee has confirmed which items are permissible, as well as which items that they should consider bringing include cameras, weather gear, outdoor furniture, food, and beverages.
Cameras
Both video cameras and digital still photo cameras can be an excellent way to memorialise the rare experience that is an outdoor concert. Cameras are great for capturing an on-stage moment, or an "in the crowd" moment of fans, friends, and family dancing or singing along in unison. Snapshots, or still photo cameras, are an effective tool for documenting the entire concert experience. Concert goers should consider the weather, as water can pose a significant danger to high end media equipment. Additionally, users should be sure to turn the flash off to avoid distracting both the performer and the fans around you.
Weather Gear
Weather gear often brings people to think about precipitation. While precipitation is definitely a consideration, temperature is just as significant. Rain gear should always be packed, along with sufficient layers of clothing to keep warm in the event that it becomes cold. Waterproof jackets, pants, hats, and gloves, as well as warm clothes, should always be brought for every member of the party. If the skies decide to open at an outdoor concert, attendees must decide whether to leave or stick around and weather the storm. A good way to make staying at the concert more comfortable is by pack an adequate amount of weather gear.
Outdoor Furniture
Blankets, chairs, tables, portable shelters, and other outdoor furniture may all be permissible. However, venues have different restrictions on these items, therefore it is important for attendees to inquire into this prior to heading to the concert venue. Chairs and tables can make the show more enjoyable by increasing spectator comfort. Blankets can provide a nice place to sit as well as additional warmth should the temperature begin to drop. Pop up shelters can be great for providing shelter from the rain, however these are the most uncertain items in terms of permissibility. Pop up shelters can be high in reach and therefore interfere with other spectators field of view. For this exact reason many venues do not allow such structures to be set up on the concert grounds.
Food and Beverage
Many people may bring their own food and beverage to concerts, either into the venue or in the parking lot prior to the concert. Portable grills, coolers, and tables can all be seen at outdoor parking lots. Various foods are prepared and shared amongst friends. Also, both alcoholic and nonalcoholic beverages may be served depending on the venue. Many venues sell their own food and beverage and may not allow the attendee to bring the items into the venue along with them. At many outdoor concerts, attendees begin showing up much earlier than the show is scheduled to begin in order to enjoy the outdoors possibly by cooking, drinking, and socialising.
Footwear
Footwear is a very important consideration. Firstly, a change of shoes and socks is always a smart thing to pack. In the event of inclement weather, shoes and socks can become soaked and that can be uncomfortable for the wearer. Ideally, either waterproof shoes or sandals in nice weather can be worn. Sneakers and socks are slow to dry and uncomfortable when wet, so it always makes sense to pack an extra pair, at least for the ride home. Footwear is an often overlooked item that can have a big effect on the experience of an outdoor concert.
Musician Specific Attire
To support the musicians, many different types of apparel are available, both before the concert and likely at the venue. Hooded sweatshirts, T-shirts, shorts, jackets, etc., may all be available, and often feature the performer. Often times, the apparel is sold at a premium since the apparel features a specific musician and at the venue. Many shirts outline tour dates, or other noteworthy concerts that have occurred leading up to that particular concert. Musician specific attire can be quite valuable as a collectors item as well.
Family Friendly
Whether or not to bring the family to an outdoor concert is a relevant question. While some concerts are family friendly and may even be oriented at children, some are not at all. It is important to consider who the performer is, as well as what kind of audience they typically attract. At concerts that are not necessarily family friendly, there may be smoking, drinking, and foul language present which may not be acceptable to some parents. It is a good idea for parents to carefully investigate the musician and their following prior to promising to bring their children to an outdoor concert.
How to Buy Tickets For Outdoor Concerts on eBay
eBay makes buying tickets for outdoor concerts easy and safe. The best way for shoppers to begin is with a general keyword search, which is typically done by entering broad search terms into the box located on any page of eBay's vast website. Shoppers can add more terms to the search in order to get more specific results, such as venue or performer. Alternatively, shoppers can navigate eBay's intuitive categories until they arrive at outdoor tickets. Once the broad results are displayed they can be sorted, filtered, and narrowed in a variety of helpful ways.
First, the results can be sorted by price, which is useful for budget conscious shoppers. The results can also be organised by buying format, or even by the amount of time left in an auction. The results can also be filtered based on relevant features such as venue or musician. Outdoor concert tickets are widely available on eBay. This makes eBay the ideal place for shoppers to find great deals on the perfect outdoor concert tickets.
Conclusion
Outdoor concerts are a unique experience that allow concert goers to enjoy the outdoors, while taking in the music of some of their favourite performers. A bit of planning can go a long way to ensure that attendees have the best possible experience. The seats they purchase are the first consideration and whether they are assigned seats, or conveniently located on the lawn, buyers should make sure they are adequate. Next, attendees should inquire with the venue to see what types of items are admissible into the venue.
Depending on what the venue's policies are, concert goers should pack appropriately. This may include packing additional weather gear, clothing layers, blankets, outdoor furniture, cameras, and comfortable footwear. Families should ensure that the concert is family friendly, both in terms of the content and the audience that the concert is likely to attract. If buyers follow these simple steps, they maximise their chances to have a great outdoor concert experience.