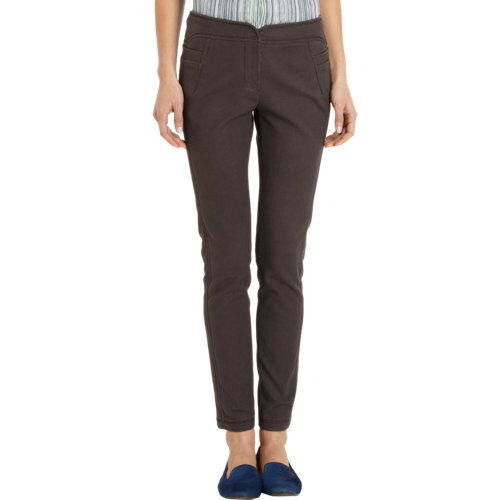 Trousers are available in many styles and fabrics. For most occasions, the traditional wardrobe backup has been a nice pair of black, wide leg trousers. However, there are many styles and colours that would work equally as well. Depending upon the occasion and how formal you want to look, you can find trousers from cropped to palazzo, to the time-tested and proven cotton bootcut trouser. There are trousers available for every body shape and size. No matter what category you fall into, you can find trousers that will boldly emphasise your assets or subtly downplay any flaws.
Every woman has a particular body shape, from hourglass to apple, or boy shaped to pear, and there are trousers to fit each body shape. You can find a pair of slacks that will perfectly complement your particular shape by researching the various styles of trousers and the fabrics choices that are available.
Regardless of which body type you have, you will find the right trousers at traditional high street shops, but for greater convenience and a wider selection, shop at an online venue like eBay.
Every Woman Has a Shape
Every category of body shape will benefit from particular styles and fabrics of clothing. There are six body shapes. There is the tall or boyish frame, the hourglass figure with its abundance of curves, the apple shape, and the pear shape. There are also petite women and plus sized women,
Tall or Boyish Frame
Boyish figures are those that are lean and straight from top to bottom. A boy shaped woman has little natural curve to her body and will benefit from trousers that can provide that extra little oomph that she has been looking for to help create the illusion of dips and hollows.
Hourglass
A woman with an hourglass figure has a shape that is well proportioned through hips and bust, with a narrow waist in between. This body shape is equally curvaceous on the top and the bottom.
Apple Shape
An apple shaped figure has shoulders broader than hips, slim legs and thighs, and a proportionally larger stomach and hip area.
Pear Shape
Ladies with pear-shaped bodies are fuller in their hips and bum than they are in their belly and shoulders, thus the comparison to the pear.
Petite
Women with a petite frames are generally under 160 cm tall, and are tiny but evenly proportioned over their frame. Petite women may be curvy or slender, but will be well proportioned for their height.
Plus Size
The plus size woman is full-figured and may have a larger than average body shape. Those with this body type are usually larger than average overall, hence the 'plus' designation.
A Style of Trouser for Every Shape
Every shape has pluses and it minuses, making it difficult sometimes to find a style of trousers that works with a particular shape. No matter what category your body shape falls into, there are stylish trousers to be found that will play up your attributes and help to minimise those less than desirable areas.
Trousers for Boyish Figures
Trousers with a defined waistband will help draw attention to your waist, accenting the difference between your tiny waist and your hips. A nice belt will help with this as well. Every boy-shaped woman should consider wearing high-waisted styles for this very reason. Tucking in your tops to play up a small waistline and adding fitted tops and jackets will help as well. Sporty drawstring pants or slouchy trousers will help to give the illusion of a fuller frame, as will wearing printed and colourful tops.
Wearing heavier, textured fabrics like tweed, wool and corduroy adds much-needed volume to your thin frame, as will dressing in several lightweight layers. Traditional bootcut trousers helps create length, and pants with detailed pockets are one of the best ways to draw attention to your hips and bum, helping to show them up in the best light possible. Any combination that will help to create a more rounded silhouette will enhance a boyish body and give the illusion of a more curvaceous form.
Trousers for Hourglass Figures
Mid-rise, wide-legged trousers with no pleats help to create a slimming look in the right areas, while still accentuating the more curvy parts. Jeans that are cut higher in the back will help to cover the bum better, and a tapered leg is a good choice to help flatter the hips. If you have an hourglass figure, flared trousers with a slight flare are a good choice, as are trousers with straight-legs, or trousers cropped at the mid-calf. Skinny trousers are not a good style for hourglass figures, as they tend to create a more pear-shaped look, and wide-leg pants will overwhelm the frame. Choose a knit turtleneck or tops with a fitted cap-sleeve to finish the look.
Trousers for Apple-Shaped Figures
The best trousers for the apple-shaped figure are the medium-rise and wider leg styles that create a longer look to leg, as well as smooth out any bumps or bulges. Dark, solid colours work best to flatter an apple-shaped figure. Look for dark, solid colours to draw the eye downward, but steer clear of low-rise trousers as they will accentuate your belly and make it look bigger. Choose an empire style top to draw attention away from your midsection, and deep necklines will draw attention to your face and shoulders to create a more elongated frame.
Trousers for Pear-Shaped Figures
If you have a pear shaped frame, trousers with a slight flare or wide leg in darker shades will flatter your figure the best, because they create a long line from hip to toe. Trousers that fit snugly around the thighs are critical as such trousers tend to accentuate the waist and minimise larger hips. If you find a pair of trousers that fit perfectly everywhere except the waist, you can choose to have them professionally altered.
To accessorise your look, choose a jacket with shoulder pads that will not only dress up your look, but will also provide a more balanced look between your hips and shoulders. Bold multi-coloured shirts and jewellery draws attention away from your lower body and are therefore a good choice as well. Stay away from tapered leg or low-rise flared trousers and opt for styles that will provide a streamlined look.
Trousers for Petite Figures
For petite ladies, creating the illusion of height is very important. A pair of trousers with a front-pleat helps to create the illusion of longer legs. Straight-leg trousers or those with only a slight flare are good choices. Petite woman should be wary of wearing cropped or large print trousers.
Trousers for Plus Size Figures
If you are a plus size lass, choose a wide-leg hem trouser to balance out your figure. Creased leg trousers create a long and lean look, as do trousers with vertical pinstripes. Dark coloured straight leg trousers have a slimming effect.
Types of Women's Trousers
In today's market there is an extremely large selection of ladies trousers from which you can choose, so no matter what your body shape may be you are sure to find something that will fit your particular frame and help you look your best.
Dress Slacks
Dress slacks are available in a variety of cuts and styles, and subtly flared and wide leg styles are the most appropriate for any occasion. For formal wear, choose wide-leg dress trousers, while for the office, straight leg dress trousers are best.
Slacks
This style of trouser is perfect for times when a classic and attractive look is desired. These slacks are made in a variety of colours and from many different fabrics.
Casual Trousers
No wardrobe is complete without casual trousers. This style is available in pull-on styles and drawstring waist styles, capri, cargo and cropped leg styles, as well as lounge pants. Casual trousers suit any occasion and setting where formal wear would be inappropriate.
Palazzos
These are loose fitting trousers with wide legs, and with the correct style shoes, are perfect for casual as well as more dressy occasions.
Denim Jeans
This is the most popular of all types of trousers on the market. Jeans are available in an extensive number of styles and colours, and are available in cuts from skinny jeans to wide-leg jeans and everything in between.
Tips for Choosing Women's Trousers
Heavy fabrics that allow dress trousers to fall smoothly to the hem are a good choice. Choose from fabrics such as wool-rayon-polyester blends, or cotton-rayon-polyester blends. Side entry pockets can gap and look untidy. Trousers without this type of pocket often look better. If any pocket lining is visible, choose a different style or size. If you are looking for a sleeker style trouser, flat fronts are preferable. Wide waistbands will help to avoid any unwanted bumps or bulges.
Tips for Fitting Women's Trousers
For a tailored look that is still comfortable, keep your waistband loose enough to ensure comfort, but not so loose that the hems drag on the ground. Choose a trouser that slides over your hips, thighs, and bottom, and smoothly falls into a straight boot cut or wide legged hem. Avoid trousers that are too tight, and for dress trousers remember that a looser fit always looks better than a tight fit.
Waistband Position
Choose a waistband that rests below your belly button and will rest above the hip, such as a mid-rise style, to create an illusion of a flatter belly.
Rise Length
The length of the rise at the crotch level is critical for ensuring an optimal fit. Rises that are too long will make you look like you have really short legs and a long waist.
Leg Length
Choosing the right leg length is critical for a good look. Too short and you will end up looking like your trousers have shrunk in the wash, and too long will make you look like a child in women's trousers.
How to Find Women's Trousers on eBay
To start your search for trousers that will best fit your body shape, begin by entering specific keywords into the search bar at the top of any page on the eBay site. For example, if you type 'high rise dress trousers' into the search bar, the search engine will return hundreds of of listings of this style of women's trousers. Browse through these listings, or to narrow your search down, you can enter other descriptive keywords to create a more specific search query like a specific brand. For example, you could search for ''French Connection''. Read the item descriptions very carefully. If you need to know more about the size or style, go to the seller's member profile and then on to their contact section to ask any pertinent questions. While in their profile, look into their feedback score. If the seller has negative feedback, or perhaps minimal feedback, choose a seller with an overall positive ratings Remember that reading the seller's feedback, regardless of their feedback score, is equally as important as finding the right pair of trousers.
Conclusion
Wearing trousers that are ill-fitting or that pull in any area of the body are uncomfortable to wear and sap confidence. To ensure that each pair of trousers you buy is your size and complements your shape, make sure you research the various types of trousers, styles, and fabrics. Trousers that fit well fall correctly and fit smoothly across the hips. Choose a pair of silk-lined wool trousers and a pair of pointed toe heels to wear with a nice blazer, or a pair of khaki trousers and a pair of cute flats. No matter which style you opt for, remember to choose the correct fit, style, and fabric that will best flatter your particular shape. Looking great is not an unsolvable mystery. Knowing what your style strengths and weaknesses are allows you to choose the trousers that will best fit your shape. eBay has a wide range of women's trousers to suit a variety of body shapes and sizes.